Since Marshawn Lynch was sidelined following a sports hernia procedure a few weeks back, Thomas Rawls has been the work horse in the Seattle Seahawks' backfield.
In the first quarter of Seattle's game against the Ravens on Sunday, Rawls was taken out of the game and taken to the locker room for further evaluation. He was ruled out for the game, but following the game, Pete Carroll revealed to the media that Rawls had suffered a broken ankle with ligament damage and will miss the remainder of the season.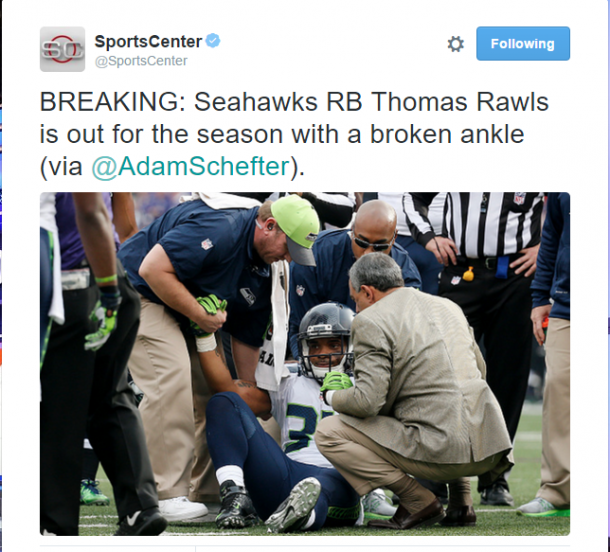 courtesy SportsCenter Twitter / @SportsCenter
Rawls left the game with 44 yards on six carries before leaving the game with the injury.
The undrafted rookie free agent was on pace to cross 1000 yards rushing on the season and finished with 830 yards.
The play in which he went out was a second-and-1 from the Ravens five yard line. Rawls took the handoff and was tackled by a host of Ravens defenders and his ankle was twisted and then was fallen on by a defender which forced him from the game. He walked off the field and went to the locker room mostly under his own power, but there was definitely an issue.
DuJuan Harris replaced Rawls as the lead back and Harris rushed for 42 yards on 18 carries. Fred Jackson was another option for the Seahawks, but went for just 15 yards on seven carries.
Looking ahead to the rest of the season, Lynch is expected back, but there is currently no time table on his return. It looks as if Harris will be the lead back while Jackson will continue his backup role, but things could change. Coach Carroll did say that a running back will take the roster spot of Rawls who will be placed on injured reserve. Derrick Coleman also has a chance to integrate himself into the offense.