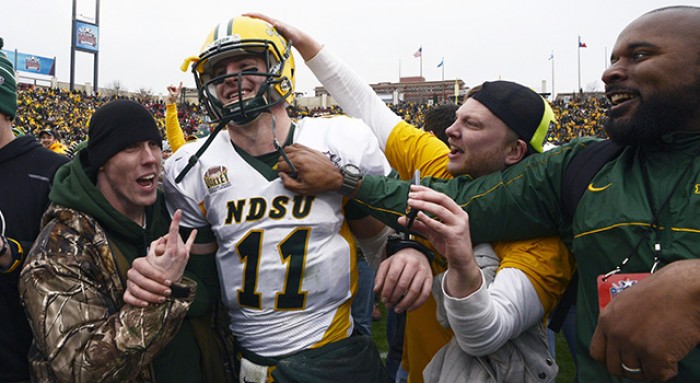 According to Jim Reineking of nfl.com, the Cleveland Browns' newly hired head coach Hue Jackson has begun his search for the quarterback of the future. Coach Jackson was in Mobile, Alabama scouting potential draft picks this week at Senior Bowl practice. That is standard procedure, and one prospect seems to be standing out more than others, coming from the Football Championship Subdivision (FCS). That is North Dakota State University quarterback Carson Wentz.
Wentz has been rising up draft boards fast, and much of that can be attributed to the signal caller's performance in the FCS Championship game. Carson Wentz threw 16-29 for 197 yards, a passing touchdown, and two rushing touchdowns, leading the North Dakota State Bison to a 37-10 victory over the Jacksonville State Gamecocks.
At 6 feet 6 inches and 230 pounds, Wentz, according to Daniel Jeremiah of nfl.com, "cuts the image of a quarterback you want to see at the next level." Having worked from under-center for the Bison, Wentz's footwork is, to Jeremiah, "clean and crisp."
An NFL executive told Mary Kay Kabot of cleveland.com, "If the Browns take Carson Wentz at No. 2 they'd be set for 15 years." Mary Kay Kabot mentioned that the executive is part of a franchise that is not in need of a quarterback and that he added, "He's the best quarterback in the draft. If I were picking at No. 2, I'd take him. It will solve all of their problems and they'd get that team turned around."
Even with the high praise and hype over Wentz, Bucky Brooks and Daniel Jeremiah, who serve as NFL media analysts at nfl.com, believe the Cleveland Browns will draft California Golden Bears' quarterback, Jared Goff. Many other gurus and analysts have the Dallas Cowboys drafting Wentz at No. 4 overall to be the successor to Tony Romo.
If the Browns do, in fact, draft a quarterback, the draftee could be the Browns 25th or possibly even 26th starting quarterback for the franchise since 1999.