We now bring you the second in our series of exclusive 2016 NFL Draft prospect interviews. Our next Draft hopeful is former Harvard University offensive tackle Cole Toner.
About Cole Toner
Cole grew up in Greenwood, Indiana just outside of Indianapolis. He attended Roncalli High School in Indianapolis, Indiana, where he became a football standout and was named one of the top 25 players in the state. Cole also earned a place on the all-state first team.
Not only was Cole a standout on the gridiron, he was also a National Merit Scholar. With his size, athleticism and grades, Cole had no shortage of options for where to play college football. In 2012, he chose to attend Harvard University and majored in Government.
Cole was a three-and-a-half year starter at right tackle for the Crimson and played under long-time successful head coach Tim Murphy. In his four seasons at Harvard, Cole saw 33 games of action.
He was named to the All-Ivy League First Team in 2014 and 2015. In 2015, Cole was selected to the AP, the STATS, and the College Sporting News Fabulous Fifty FCS All-American team, as well as the All-New England team. Also he was selected to the Reese's Senior Bowl and invited to the NFL Combine.
Away from football in his senior year (2015), Cole earned Academic All-Ivy League honors, and he was the recipient of Harvard's Joseph E. Wolf Award.
---
The Interview
Paul Frances (VAVEL): Cole, I'd like to thank you on behalf of myself and VAVEL.com for giving up your time to take part in this interview today.
Cole: It's my pleasure.
VAVEL: How did you first start playing football?
Cole: I started playing in the third grade. My dad and brother both played football and the high school where my parents worked had a lot of football tradition so I knew I wanted to play from a young age.
VAVEL: Growing up as a kid, playing football and watching the NFL, who were the players you modeled yourself on?
Cole: I am a huge Indianapolis Colts fan and grew up in the Peyton Manning era for the Colts so naturally he was my favorite athlete. I also knew the offensive linemen, so I loved watching Jeff Saturday and Tarik Glenn.
VAVEL: Have you always played on the offensive line?
Cole: Sadly, yes. I have great hands and am athletic, so I think my natural position is tight end. Alas, there were weight limits in the football leagues I played in when I was young so I was forced to play in the trenches on both sides of the ball. It turned out well, though.
VAVEL: Coming out of high school, you must have had many offers from colleges. What made you choose Harvard University?
Cole: It was an offer too good to refuse. The combination of the best education in the world, top-notch athletic programs, and, most importantly, a ton of down-to-earth, hard-working, fun, intelligent guys on the team.
VAVEL: You were a three-year-plus starting tackle at Harvard. How has this prepared you for the NFL?
Cole: I have played in a lot of football games, so I have experienced most of what can happen in a football game. Of course, the NFL brings its own challenges and new experiences, but I am a quick learner and can adapt to new environments, so I am looking forward to the experience.
VAVEL: What has the support been like from head coach Tim Murphy and all of the Harvard University coaching staff as you prepare to enter the NFL draft?
Cole: They are superb, as they have always been. Coach Murphy is an incredible coach and mentor, and the whole coaching staff, especially my offensive line coach Jeremy Bandy, was so good to me and my family during my time at Harvard that I am forever grateful. Plus, they molded me into the person and player I am today.
VAVEL: How did it feel to get an invite to the Reese's Senior Bowl?
Cole: It was gratifying, exciting and nerve-wracking. It was gratifying that my play was noticed on a national scale and that I was given an opportunity to play against the best. Also exciting and nerve-wracking because I knew I had not played in such a spotlight before and gone against the depth and wealth of talent that was going to be there.
VAVEL: What was the biggest difference in the preparation for the bowl game compared to a regular game?
Cole: The main difference was that it was two months after my season ended and I had to also train for the combine while also training for the game.
VAVEL: What was the whole Senior Bowl experience like?
Cole: Incredibly fun, competitive, and hectic. It was so cool to meet so many new accomplished athletes and great to compete against them on a big stage. I think I proved that I deserved to be there by having a good week and competing hard.
VAVEL: Did you enjoy talking to the NFL coaches and scouts at the Senior Bowl? What did you learn about what an NFL team expects from you?
Cole: That was the hectic part; there was always another scout and team to talk to. But it was great to meet scouts, coaches, even general managers. One big thing at the next level for offensive linemen is versatility. Your value goes up remarkably if you can play multiple positions.
VAVEL: You are projected as a middle-round draft pick, how are you trying to improve your draft stock?
Cole: Right now trying to improve in my strength, because that is what most teams think I need to work on most. So I am especially preparing for the 225 bench press max at the combine.
VAVEL: Are you training at the moment?
Cole: I am training back at school because I am graduating in May.
VAVEL: How do you plan on making yourself stand out? What separates you from other players at your position?
Cole: I think my combination of athleticism at my size would stand out anyway. But I think I can separate myself with my coachability, personality traits, mental toughness, and intelligence.
VAVEL: Have you been able to reach out to veterans, current or former players for advice?
Cole: Yes, I am good friends with current Baltimore Ravens fullback Kyle Juszczyk, Tampa Bay Buccaneers tight end Cam Brate, New York Giants long snapper Tyler Ott, and Minnesota Vikings center Nick Easton, all of whom I played with at Harvard. I have talked to and sought advice from all of them in the past year or so.
VAVEL: Is there a former or current NFL player that you think you resemble and why?
Cole: I think I am like current Colts tackle Joe Reitz in body type and physical attributes. He was a basketball player in college and has played a lot of positions for the Colts in the last few years and done a good job at all of them, plus he's also from Indy.
VAVEL: Are there teams in the NFL that you feel you are a good fit for?
Cole: Any and every team that wants me is a good fit.
VAVEL: What can the team and its fans who draft you expect? What are you bringing to the table?
Cole: I am a physical player, an athlete, a fun, outgoing guy, and I will work as hard as I can to be a starting NFL offensive lineman.
VAVEL: What's the biggest adjustment to your game do you think you'll have to make next season in the NFL?
Cole: The biggest adjustment will be blocking a combination of speed, size, strength, and quickness that most guys have on the next level, and blocking those players every play of every game.
VAVEL: Growing up as a kid, did you ever imagine you would be playing football in the NFL?
Cole: Quite honestly, I was pretty realistic about my chances my whole life and it was not until I got to college did I start realizing and believing that I could do it.
VAVEL: What would you be doing if you weren't pursuing a career in the NFL?
Cole: I would be partying way more on the weekends and playing way more basketball during my senior spring. Nah, I might be pursuing a job at State Street Bank where I interned the last two summers.
VAVEL: Who has been the biggest influence in your life?
Cole: My parents have been my biggest supporters my whole life. They have provided so much love and support for me and given me so many opportunities to have success in life. I am so thankful for them.
VAVEL: Finally Cole, do you think you can beat Chris Johnson's 40-yard time at the combine and cash in on the $1 million offered by Adidas?
Cole: I don't think I can beat it, I expect to beat it.
VAVEL: Hey, that will be special. I'm going to be looking out for that one Cole.
Once again I'd like to thank you for taking part in this interview today Cole it's been great getting to know you.
Cole: Thanks Paul!
---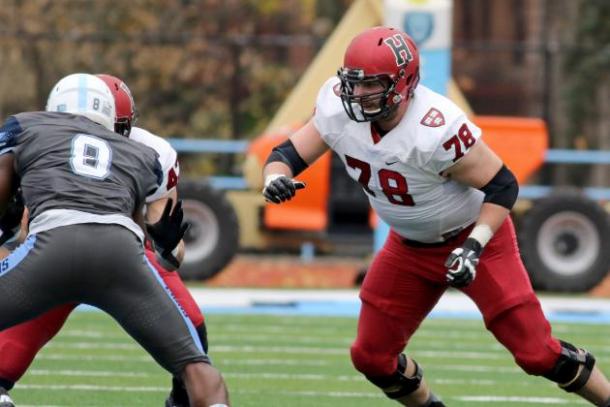 Cole possesses a legitimate NFL build, with a naturally large frame and impressive athleticism. He's quick, with light feet, and shows great balance and fluidity. Cole showed that he's more than capable in coping with a jump-up in competition with a solid performance at the Senior Bowl.
He is a good fit for a zone-scheme offense which requires more athleticism and technique. He has great potential as both a run and a pass blocker and shows the toughness that a lot of offensive line coaches love. With an impressive showing at the combine, it may mean that Cole's name is called even earlier than his mid-round projection.
The Ivy League may not be a major feeder to the NFL, but players like Cole Toner prove there can still be great talent found in every league in the nation.