 While there's no Ndamukong Suh-sized big fish to land in this year's defensive tackle free agency crop, there are plenty of quality starters that are just beginning to hit their stride.
Damon Harrison, New York Jets
Lost in the franchise tagging of super star defensive end Muhammad Wilkerson, the Jets still find themselves in a bind heading into free agency. A big part of the Jets' defensive success came by the hands of nose tackle Damon Harrison. The 350 pound, run plugger not only led all defensive tackles in overall tackles, but only trailed Khalil Mack and J.J. Watt among all defensive lineman in the pivotal stat.
As previously mentioned, the Jets will likely not have the capital to pay Harrison his market value. Although nose tackles typically don't see the high dollar contracts awarded to their defensive end counterparts, some teams may view Harrison as the key that unlocks the rest of their defensive talent.
The Washington Redskins and Tennessee Titans are two teams arguably most in need of a quality starting nose tackle. Considering the Redskins' current cap situation (approximately $6 million in the red), the Titans would easily be able to outbid their primary competitor.
New Team: Tennessee Titans
Ian Williams, San Francisco 49ers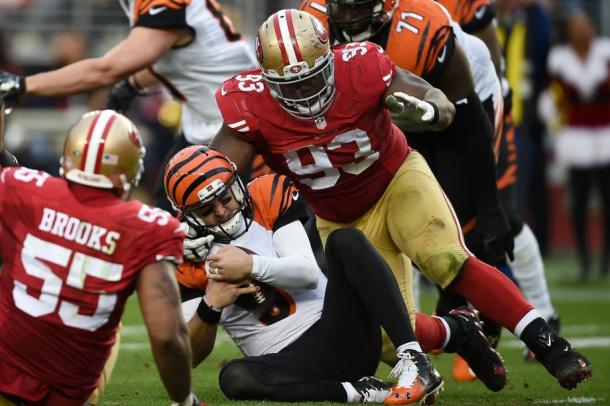 For most involved in the 49ers organization, 2015 was a season to forget. With the offensive side of the ball in seemingly perpetual turmoil (so much so that Blaine Gabbert--yes Blaine Gabbert--was called upon to "save the day"), it can be easy to miss the silver lining on the other side of the ball.
That in mind, it doesn't take looking too hard to notice nose tackle Ian Williams' contributions to the defense. While not playing the exact same role or possessing the same stature as the aforementioned Damon Harrison, Williams (6'1", 305 lbs.) was built to succeed off the center's outside shoulder. Williams' 65 total tackles eclipsed big names like Wilkerson and Calais Campbell.
The 49ers are financially positioned well to re-up the stand-out interior lineman. His presence allowed NaVorro Bowman to return to his All-Pro form, and he'll be an anchor for a re-emerging defense for years to come.
New Team: Same
Jaye Howard, Kansas City Chiefs
Like many teams who made the playoffs this season, the offseason will be a test in financial musical chairs. The Kansas City Chiefs will have to make tough decisions on who will be the odd man when free agency begins on March 9th. With Eric Berry already franchised and Tamba Hali's contract voided, the team now looks forward dealing with impending free agents: cornerback, Sean Smith; linebacker, Derrick Johnson; offensive guard, Jeff Allen; and defensive lineman, Jaye Howard.
Howard is very much the unsung hero of third best (based on points allowed) Kansas City Chiefs defense in 2015. Accounting for nearly 60 tackles and compiling an impressive 5.5 sacks for an interior defensive lineman, Howard excelled as a defensive end on the Chiefs 3-4 defense.
Unlike nose tackles Harrison and Williams, Howard's defensive end/3-technique alignment carries a higher market price tag--making it even tougher for the Chiefs to retain him. For the native central Floridian, the Tampa Bay Buccaneers makes more sense than a simple homecoming. A pairing of Gerald McCoy, 28, and Howard, 27--both in their primes--would make for a potent interior pass rush.
New Team: Tampa Bay Buccaneers
Ahytba Rubin, Seattle Seahawks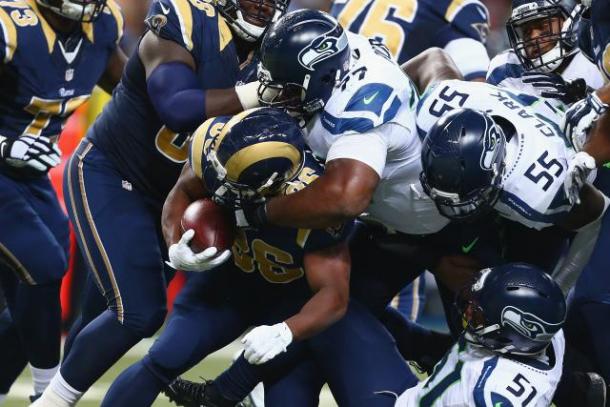 When the Seattle Seahawks defense ever gets brought up, the defensive line is often the last parcel of conversation. Even when the attention shifts from The Legion of Boom, the only notable names from the Seattle front seven tend to be: Michael Bennett, Bobby Wagner, Bruce Irvin, or maybe Cliff Avril.
Ask head coach Pete Carroll who he might be most excited about heading into the 2016 season (if he has his way) and his answer may be the enigmatic Ahytba Rubin. While seeing most of his career playing interior defensive line for Cleveland, Rubin has found a home stuffing the run for Seattle's top ranked rush defense.
Despite recently spending on high dollar contracts for the gambit of young talent on Seattle's roster, the front office a suprising amount of breathing room when it comes to retaining a player like Rubin. Although Rubin, 29, is nearing that unholy 30-year-old threshold, a front loaded medium sized deal should satiate both parties in negotiations.
New Team: Same