 According to Adam Schefter of ESPN, Cleveland Browns EVP of Football Operations, Sashi Brown is engaging in draft day trade talks with other teams.
Rebuilding again
The Browns were expected to select either North Dakota State quarterback, Carson Wentz, or Cal signal caller, Jared Goff. However, the Los Angeles Rams gave up their first round, two second round, and a third round pick in 2016 and their first and third round selections in 2017 to the Tennessee Titans in order to jump in front of the Browns with the first overall pick.
Head Coach Hue Jackson indicated to ESPN that he hasn't yet decided whether or not the Browns will trade or keep the selection. "Obviously, there are some talented players in this draft. We're still in our process, still figuring out our direction," he said Tuesday to Schefter. "Again, that's still two weeks away. We're getting closer, but we're still a little ways away from having to really nail it all down."
Trading down, despite the need of a second round pick talent, could be extremely beneficial for the Browns. This offseason, they have lost veterans and playmakers, including FS TeShaun Gipson and WR Travis Benjamin.
There has been speculation that the Browns were working on a trade with the Philadelphia Eagles which would give the Browns an extra first and third round selection in 2017, and the Eagles first round pick and an extra third round selection in 2016.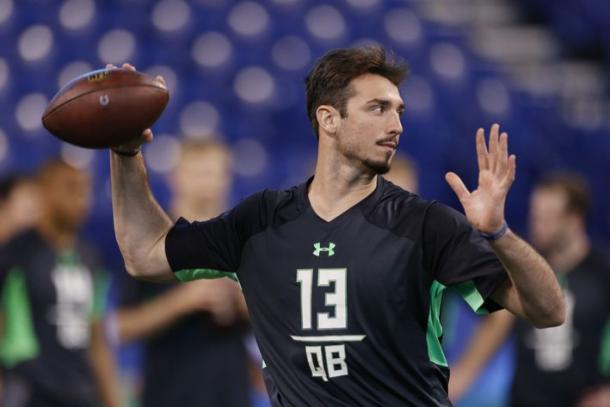 Speculation has also surrounded the Browns on whether they may use one of their extra picks from the Eagles or their second round selection to draft Memphis signal caller, Paxton Lynch. Lynch's draft stock soared when he threw seven touchdowns in the first half of a game against Southern Methodist University.
Lynch threw for almost 4,000 yards last season and threw 28 touchdown passes.
Last year the Browns selected DT Danny Shelton and C Cameron Erving in the first round, much like the year before, they highly underperformed. This draft could be crucial for coach Hue Jackson to gain footing as an NFL head coach and for the rebuilding of the Browns franchise.