The Seattle Seahawks headed into free agency knowing they needed help on the offensive line. On the first day of free agency, they got a little bit of help when they signed Luke Joeckel to a one-year, $8 million deal on Thursday. It was first reported by Adam Schefter of ESPN.
Joeckel only played in four games during the 2016 NFL season with the Jacksonville Jaguars after tearing his ACL, MCL and lateral meniscus in his left knee in a game against the Indianapolis Colts on Oct 2. It's not the first time he has missed more than ten games in a season. His rookie year in 2013 he missed 11 games after fracturing his ankle.
Where will Joeckel play?
The question now is where will he play on the offensive line. For the four games he played in 2016, he played left guard after the Jaguars signed Kelvin Beachum. Prior to that, he played 35 games as the Jags left tackle. The Seahawks could use Joeckel at left tackle after using as many as three different players during the 2016 season -- Bradley Sowell, George Fant, and Rees Odhiambo.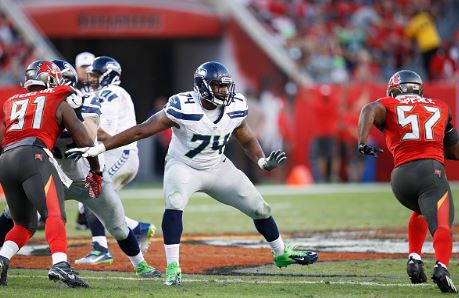 The Hawks are set at center with Justin Britt and Germain Ifedi and Mark Glowinski at guards. The need the most help at tackle on both the left and right. After having Russell Okung as their left tackle for six years, the Hawks toyed with Garry Gilliam at left tackle during the offseason but eventually put him at right tackle as the season began.
They can put Joeckel at left tackle, Glowinski at left guard, Britt at center, Ifedi and right guard and either move Fant to right tackle or draft someone in the upcoming 2017 NFL Draft.
Offensive line a weak spot for Seattle
Seattle has a history of underpaying their offensive line the last three years. After having the most expensive offensive line during their 2013 Super Bowl run that led to their first ever title, the Hawks have gone cheaper and cheaper every year. In 2016, their offensive line made a total of just over $6 million dollars in their five main starters for the season.Hopefully Joeckel and be a great addition to the team and allow them to get back to running the ball the way they did when Marshawn Lynch was the running back.