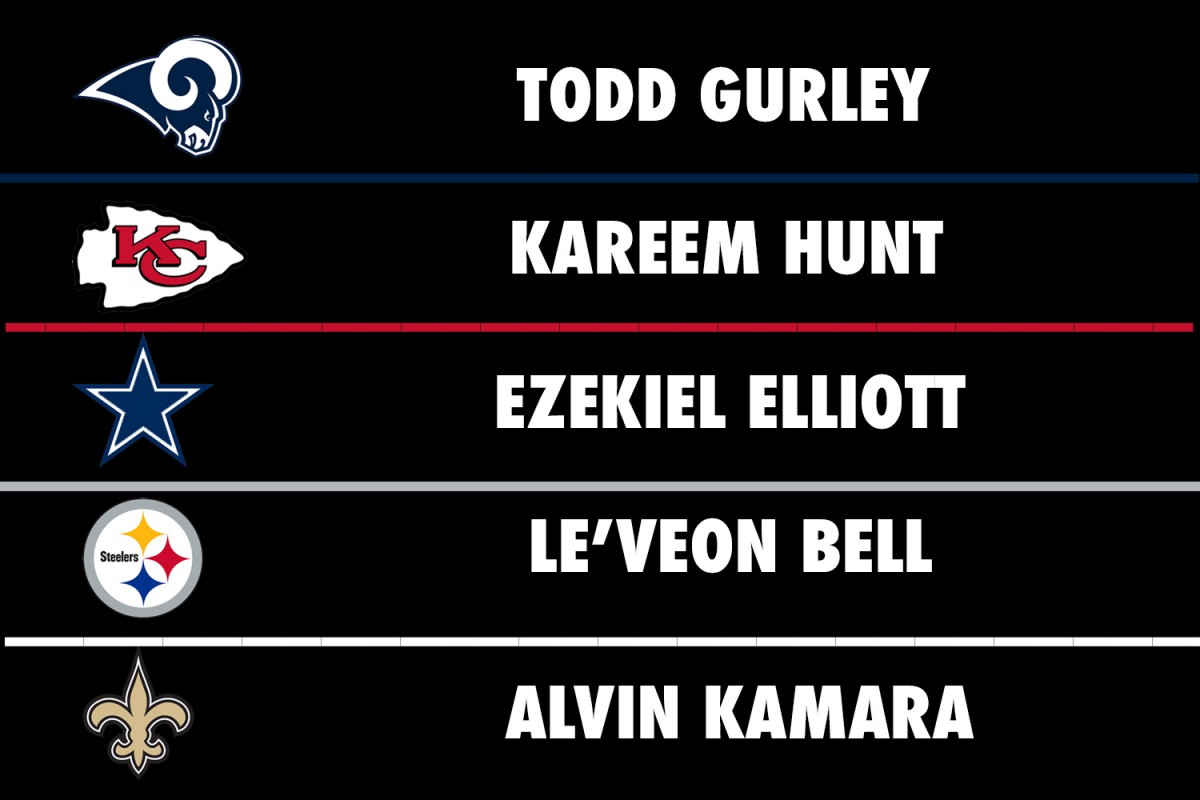 Honorable mentions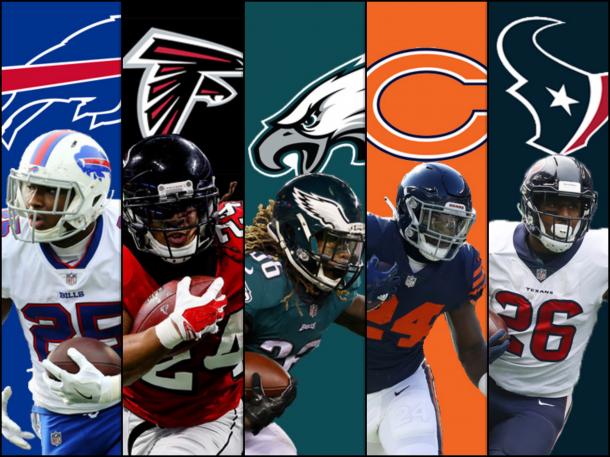 LeSean McCoy |Buffalo Bills|
DeVonta Freeman |Atlanta Falcons|
Jay Ajayi |Philadelphia Eagles|
Jordan Howard |Chicago Bears|
Lamar Miller |Houston Texans|
McCoy finished in the top 10 in rushing last season but with Richie Incognito and Eric Wood both retiring in the offseason, McCoy's numbers could dip a little in the upcoming campaign. McCoy will also turn 30 before the season starts. History has not been too kind to running backs in their 30's.
Freeman saw a huge dip in production in 2017. Freeman rushed for 1,079 yards in 2016 while rushing for 865 yards in 2017. The 26-year-old is due for another thousand yard season. The health and strength of the offensive line will go a long way of helping the speedy back get back into form.
In spite of being traded after week eight by the Miami Dolphins, Ajayi still finished in the top 20 in rushing with 873 yards. With LeGarrette Blount in Detroit, Ajayi will have a full season as the starter for the Eagles with a solid offensive line to run behind.
Howard finished in the top 10 back-to-back seasons. He has also turned in over a thousand rushing yards in his first two seasons. With a couple of big names returning this season, this could be the year Howard falls out of the top 10. It is going to be something to watch during the course of the season.
Miller has carved himself quite the career so far. In six seasons, Miller has rushed for 4,891 yards. Finishing shy to 1,000 yards in 2017, Miller could finish this season with 1,000 yards to the third time in his career.
No. 10 to No. 6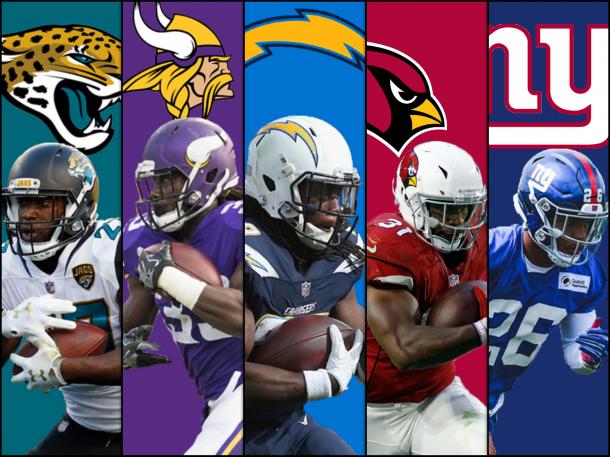 10) Alvin Kamara |New Orleans Saints|
9) Saquon Barkley |New York Giants|
8) David Johnson |Arizona Cardinals|
7) Dalvin Cook |Minnesota Vikings|
6) Melvin Gordon |Los Angeles Chargers|
Mark Ingram may be listed as the starter, but for how long will they keep Kamara waiting in the wings? Kamara showed signs and glimpses of being a future starter for the New Orleans Saints. In 16 games, Kamara rushed for 728 yards and eight touchdowns.
With an improved offensive line, combined with his talent, the sky is the limit for rookie sensation Saquon Barkley. During his time at Penn State, Barkley rushed for more than a thousand yards each of the three seasons. Guys such as Leonard Fournette, Ezekiel Elliott and Kareem Hunt all had success in their first season in the NFL. Barkley could be the next running back in line.
Johnson played in just the season opener a season ago. He spent the remainder of the 2017 season out with a broken wrist. The Cardinals hope that he could return to top three rusher he is capable of being. After a shake up to the offensive line, Johnson will have to really work for it.
Cook played in just four games last season for the Vikings. Cook suffered a torn ACL and missed the remainder of the season. A torn ACL is not the death sentence that it once was. He could return and be the highly touted running back he was during the 2017 NFL Draft.
Gordon finished No. 7 in the NFL in rushing with 1,105 yards. With a couple of key players returning from injury, there is a chance he might move down a spot. There is a really good chance that Gordon keeps it going as well. Gordon has really hit his stride the last two seasons. The Chargers will hope that the trend continues in 2018.
No. 5 to No. 1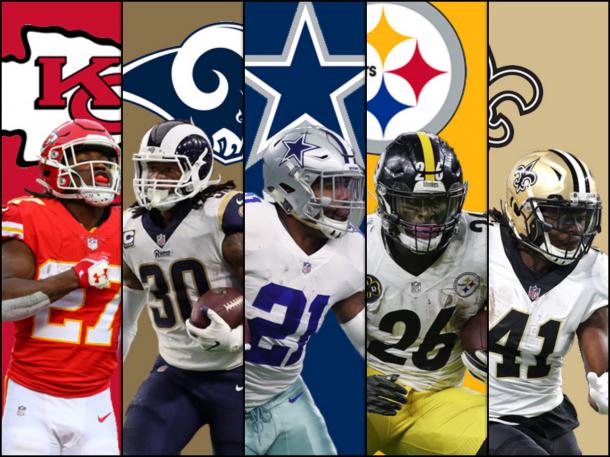 5) Leonard Fournette |Jacksonville Jaguars|
4) Le'Veon Bell |Pittsburgh Steelers|
3) Ezekiel Elliott |Dallas Cowboys|
2) Todd Gurley |Los Angeles Rams|
1) Kareem Hunt |Kansas City Chiefs|
Fournette really flourished in his rookie campaign. in 13 games, Fournette rushed for 1,040 yards and finished eighth in the NFL in yards. In spite of playing a tough schedule, Fournette could possibly move up the list as the Jaguars hope to repeat the success from last year.
Bell has turned himself into one of the best rushers in the NFL. Last season, Bell finished in the top three in the NFL in rushing yards with 1,291 yards. Though he showed signs of slowing down a season ago, Bell could return to form with new weapons on offense. Bell will be motivated as he is up for big pay day at seasons end.
Even after serving a five-game suspension, Ezekiel Elliott finished the season with 983 yards and seven touchdowns. Reports have surfaced that Elliott is ready to put 2017 behind him and work hard for the 2018 season. If that is the case, the Cowboys could unleash one of the most dangerous running backs in the NFL. When Elliott is on, he is possibly the most dominant running back in the NFL.
The top two running backs from a year ago could possibly finish the 2018 season as they did a season ago. Gurley and Hunt run behind a strong line and have the speed and agility to create their own plays. Gurley is possibly the stronger back of the two, throwing off defenders and extending plays has become his specialty.