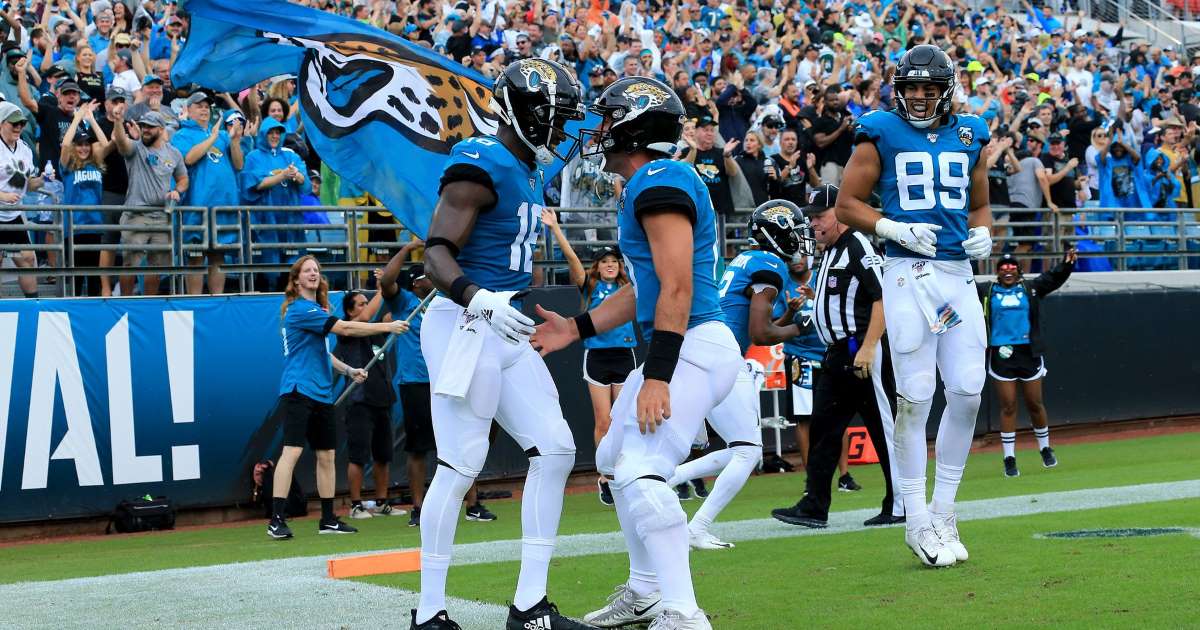 Following a 6-10 finish in 2019, the Jacksonville Jaguars started to reshape their roster. In all reality, the roster reshaping really began last October, trading Jalen Ramsey to the Los Angeles Rams for a first-round draft pick. In March, the Jaguars shipped defensive end Calais Campbell to the Baltimore Ravens and cornerback A.J. Bouye to the Denver Broncos for draft picks.
Through the draft, Jacksonville added some talent, talent that is reminiscent of their 2016 draft class that brought Myles Jack, Yannick Ngakoue, and Sheldon Day to the team. This group of young talented players will look to get better in 2020.
With that being said, which players will find themselves on the week one roster?
Offense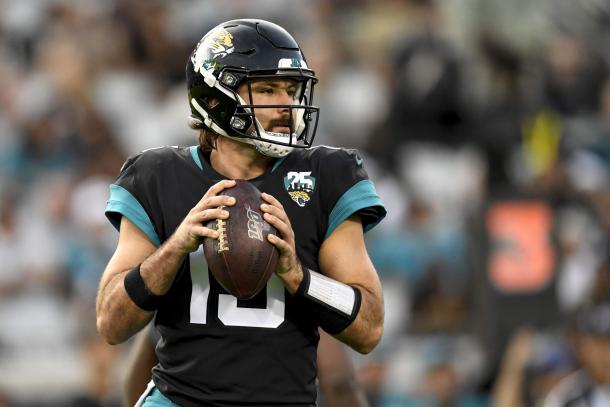 Quarterback
Gardner Minshew II
Mike Glennon
There is a lot on the line for Gardner Minshew this year. He has one year to prove to David Caldwell that he is the quarterback that can lead the franchise into the future. Falling to Kyler Murray in the Rookie of the Year voting, Minshew threw for 3,271 yards and 21 touchdowns. If he were to replicate this kind of production and cut down on the turnovers, it is going to make things difficult for the front office. If the Jags have to pull Minshew for whatever reason, Mike Glennon is a reliable back up that brings experience to the quarterback room.
Running back
Leonard Fournette
Chris Thompson
Ryquell Armstead
There is a lot on the line for running back Leonard Fournette. The Jaguars declined Fournette's fifth year option, making him a free agent in 2021. If he plays well, he could be in line for a nice pay day. He had his best season on the ground last year, rushing for 1,152 yards and 55 first downs. Despite his success, Fournette only scored just three touchdowns.
Behind him is former Washington running back Chris Thompson. He doesn't bring much when carrying the ball, totaling just 610 yards over his last 31 games. Over that same stretch, he has brought more catching the ball out of the backfield. Thompson has recorded 1,156 receiving yards and five touchdowns.
Wide receiver
DJ Chark
Dede Westbrook
Chris Conley
Laviska Shenault Jr.
Keelan Cole
Collin Johnson
Four of the six receivers return from a year ago. The star of the group is DJ Chark. In his second season with the Jaguars, Chark caught 73 passes for 1,008 yards for eight touchdowns. Chark will be out to prove he can handle wide receiver one duties and improve over his breakout season. Dede Westbrook and Chris Conley will be in the mix, receiving consistent targets. It will be up to them to separate themselves to become one of Minshew's go to targets.
The Jaguars addressed the wide receiver position in the NFL draft, using a second-round pick on Laviska Shenault Jr. and a sixth-round pick on Collin Johnson. Shenault Jr. lined up just about everywhere in the Colorado offense, recording 2,223 total scrimmage yards over the last three seasons. There is some buzz around the league regarding Shenault Jr., with some recognizing that he could be one of the most productive rookie wide receivers this year.
As for Collin Johnson, his road to the roster may be a lot different. Johnson finished his career with 2,624 yards and 15 touchdowns on 188 receptions. Labeled as one of the biggest steals of the draft, the 6-foot-6, 222-pounder will give the Jaguars a receiving threat in the endzone as well as deep down the field. He will blow fans away with his speed and his hands, making coaches trying to develop plays for him in chunk yard situations.
Tight end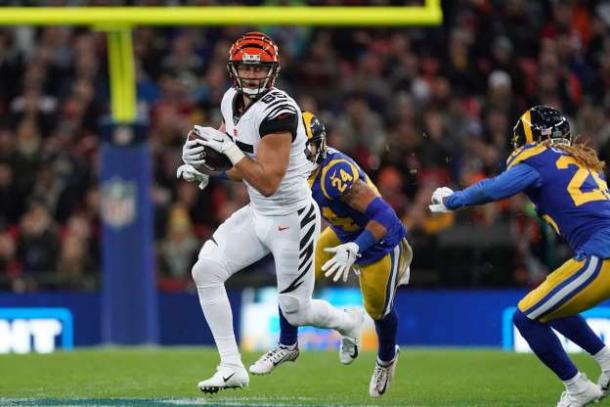 Tyler Eifert
Josh Oliver
James O'Shaughnessy
Tyler Davis
When healthy, Tyler Eifert could be one of the more productive tight ends in the league. The Problem is he cannot stay healthy. Eifert has appeared in all 16 games just once in his seven-year career. The hope here is he could play with some of the energy in his 2015 Pro-Bowl season and provide the Jags with another target for Minshew.
James O'Shaughnessy was the leading wide receiver at the tight end position with just 153 yards and did that in just five games. O'Shaughnessy suffered a torn ACL that ended his 2019 season but should be ready to go for training camp. If Eifert isn't healthy enough, O'Shaughnessy can step in and be ready to contribute.
Starting his career at Connecticut, Tyler Davis was selected in the sixth round of the 2020 NFL Draft from Georgia Tech. While at UConn, Davis recorded 489 yards on 47 receptions with seven touchdowns. There have been discussions of using Davis as a fullback because of his willingness to block.
Offensive line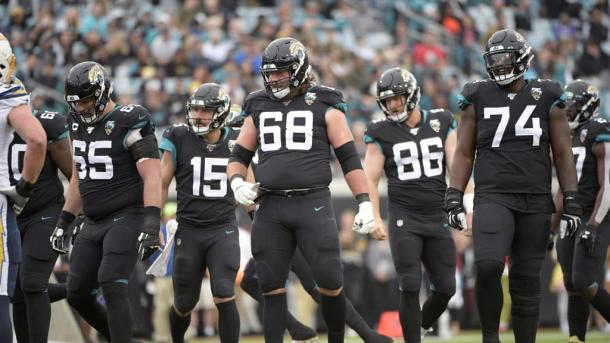 Cam Robinson
Ryan Pope
Jawaan Taylor
Blake Hance
Andrew Norwell
Tyler Shatley
Ben Bartch
A.J. Cann
Will Richardson
Brandon Linder
There are not many changes here on the offensive line. But there are definitely some players that could be put on notice. In 2019, Cam Robinson was coming off a knee injury with the rust being very evident. Depending on Robinson's play and where the Jaguars land in the draft order, Jacksonville could be looking to find his replacement.
The weak part of the offensive line on the inside at the guard position. It was just two years ago the Jaguars made Andrew Norwell the highest-paid guard in the NFL. He hasn't lived up to the hype of that contract. A.J. Cann could be considered the worst player on the offensive line. If neither of them will be around a year from now.
2020 fourth-round pick Ben Bartch could be thrusted into action at the guard spot if Norwell's or Cann's performance is down. Bartch is a Division III football standout that had a terrific showing at the Senior Bowl. He could definitely evolve into the starter of the future at the guard position. Will Richardson can play anywhere on the offensive line and is the insurance policy for the offensive line. Richardson could fight for the starting spot at right guard if Jacksonville doesn't feel confident in Cann.
Defense
Defensive line
Josh Allen
Al Woods
Abry Jones
Davon Hamilton
Taven Bryan
Rodney Gunter
Yannick Ngakoue
Dawuane Smoot
Even with the departure of Calais Campbell, there is still plenty of talent on the defensive line. Josh Allen finished his rookie season with 44 tackles with 10.5 sacks, two forced fumbles and a Pro Bowl nod. Taven Bryan finished his sophomore season with 33 tackles and five tackles for a loss. Al Woods was brought in to add some more experience in the middle, but who knows how long he will hold the spot from 2020 third-round pick Davon Hamilton. Hamilton finished his career at Ohio State with 66 tackles with 20 tackles for a loss and seven sacks. His development will be key to the future.
The Jaguars are aware I no longer have interest in signing a long term contract in Jacksonville. Duval, I love you and gave you guys everything I got. I'm thankful for the journey and look forward to continuing my career elsewhere. -91
— Yannick Ngakoue (@YannickNgakoue) March 2, 2020
The big elephant in the room is Yannick Ngakoue. On March 2nd Ngakoue made it known that he did not want to play for the Jaguars anymore. On March 13th, the Jaguars placed the franchise tag on the 25-year-old pass rusher. Fast-forward to the present and Ngakoue still hasn't signed it and still want to play elsewhere. If Ngakoue doesn't suit up for Jacksonville, there will be a big void on the defensive line. If somehow there is a way to make it work for one year, the defensive line will be a strong point for Jacksonville in 2020. In four seasons, Ngakoue has recorded 122 tackles, 37.5 sacks and 14 forced fumbles.
Linebackers
Linebackers
Myles Jack
Joe Schobert
K'Lavon Chaisson
Quincy Williams
Shaquille Quarterman
Aaron Lynch
Lerentee McCray
Joe Schobert was a big signing for Jacksonville in the offseason. During his time in Cleveland, Schobert totaled 408 tackles with 20 passes defensed, 8.5 sacks, seven interceptions and six interceptions. That is a defensive coordinator's dream. To have someone like Schobert at their disposal makes the middle of the defense better immediately.
Along with the Jaguars, the other winner of this signing is Myles Jack. His play fell off in 2019 compared to his 2018 stats. Jack plays with a lot of energy. A return to his strong side linebacker position can only excite fans of the organization. There could be big things ahead of Jack for the upcoming season.
Another addition the defense should be excited for is K'Lavon Chaisson. Chaisson, the second first-round pick of the Jaguars 2020 NFL Draft, had 92 tackles and 9.5 sacks for his career in Baton Rouge. There is hope that Chaisson could cover tight ends as the SAM linebacker and rush the quarterback. He could be utilized early in run stopping situations and be a part of special teams. There is hope he could evolve into the Jags swiss army knife.
Defensive backs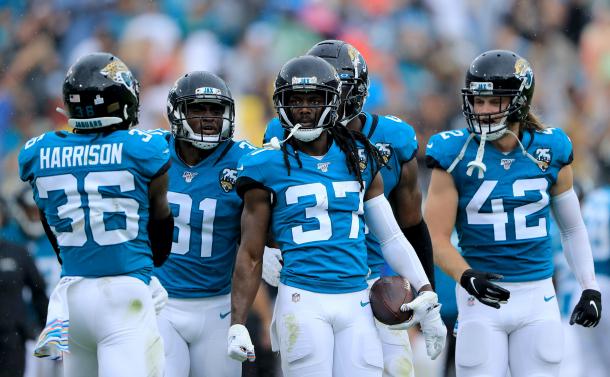 Rashaan Melvin
D.J. Hayden
C.J. Henderson
Tre Herndon
Josiah Scott
Chris Claybrooks
Ronnie Harrison
Jarrod Wilson
Andrew Wingard
Doug Middleton
Of the 12 picks that the Jaguars had in the draft, three of them were used on corners. Ninth overall pick C.J. Henderson looks to see meaningful time in the rotation in his first year. He will line up next to Tre Herndon and D.J. Hayden. There is so much praise going around for Henderson lately. During the draft process, he practiced with Chad Johnson, going to battle with the former elite wide receiver in one-on-one drills. Henderson will definitely be ready to go up against elite talent.
Veteran corner Rashaan Melvin could see the most time outside of the starters. The journeyman spent the 2019 season with the Detroit Lions, where he broke up 11 passes and had 68 tackles. 2020 fourth-rounder Josiah Scott and 2020 seventh-rounder could see some time on the field as well.
Ronnie Harrison had a breakout season in his second year with Jacksonville. Harrison finished his sophomore season with 71 tackles, nine passes defended and two interceptions. There is still hope that he could grow and get even better in year three. Jarrod Wilson will play beside him this year, with Andrew Wingard and Doug Middleton waiting to step in when needed.
Special teams
Josh Lambo
Logan Cooke
Matt Orzech
There is no need to make any changes here. Lambo and Cooke are regarded as two of the best players at their position. Lambo went 33/34 when kicking field goals, with his longest coming at 56-yards. Cooke finished the season with 31 punts inside the 20, with his longest punt coming in at 66-yards.