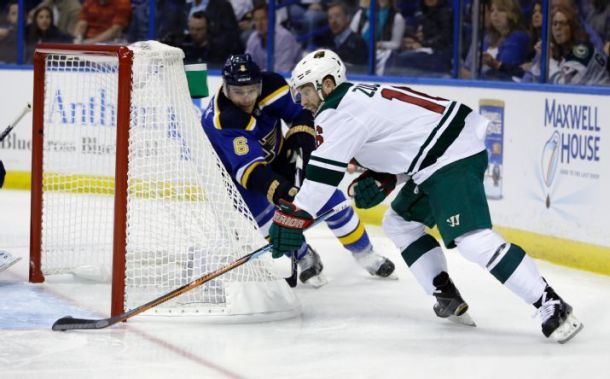 Starting their title quest with one of the most hyped teams in recent years, the St. Louis Blues fell flat against the Minnesota Wild in Game 1 as the visiting Wild took game one 4-2.
Jason Zucker scored the opening goal just 2:47 into the game, assisted by Justin Fontaine. It was the only goal of the first period. Matt Dumba scored the second goal of the game in the second period, drilling it home 4:10 into the period on a power play. Jared Spurgeon and Chris Stewart were credited with the helpers. After no penalties in the first period, there were four minors in the second, three on the Blues.
Finally, the Blues got the board in the third with Jaden Schwartz scoring 7:12 into the third to make it 2-1. Kevin Shattenkirk and Patrik Berglund got the assists. It stayed that way until a frenzied final 75 seconds.
With Jake Allen out of the net, Mikael Granlund drilled one to make it 3-1 Wild, Jason Pominville and Zach Parise got the assists. Just 14 seconds later, with David Backes in the box serving a minor, Alexander Steen scored to pull St. Louis within one again at 3-2. Shattenkirk picked up another assist, as did Vladimir Tarasenko. Later with Allen pulled again, Minnesota got their second empty netter of the game with Pominville scoring with Backes still in the box. Parise and Mikko Koivu got the assists. Steve Ott also got a 10 minute misconduct penalty with 64 second left in the game, which will rule him out for game two.
Despite the score, the game was fairly close. The Wild did take eight more shots, but the Blues held the edge in the face-off circle 36-26 and had more takeaways.
In a surprising move, Jake Allen started over Brian Elliot in game one, and he played well with 25 saves on 27 shots against. His counterpart Devan Dubnyk allowed two goals as well but faced six fewer shots.
Some hate is already brewing between these two new division rivals. This should be a great series and it will continue on Saturday afternoon at 3:00 ET.