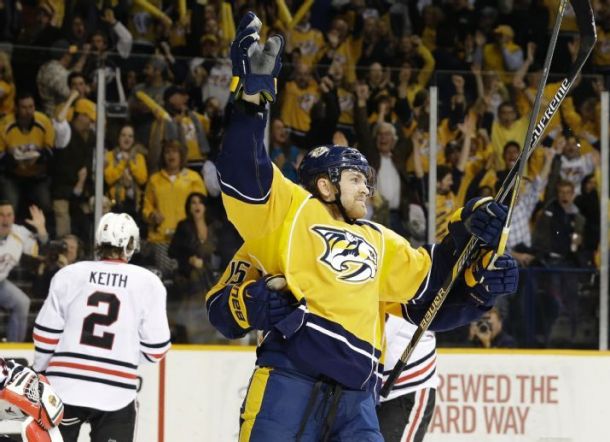 Down 3-1 and needing a win to push the series back to Chicago for game six, the Nashville Predators smashed the Chicago Blackhawks 5-2 with a four goal third period.
Brad Richards got the first goal of the game 13:27 into the game, his first goal of the series. Bryan Bickell and Brent Seabrook picked up the assists. Nashville evened up the score just 75 seconds later behind a goal from Filip Forsberg, his second goal of the series, unassisted.
In the third, the Predators made their surge. Just 47 seconds in, James Neal scored on a wrap around to put the Predators back up 2-1. Viktor Stalberg got the assist. Then, two goals in 14 seconds sealed the game for Nashville. Colin Wilson scored his fifth goal of the series on a power play, and then Forsberg scored his second goal of the game to make it 4-1.
Kris Versteeg scored with 5:08 remaining to give the Blackhawks a glimmer of hope, but from there they could not score again. With Scott Darling pulled in the final seconds Forsberg picked up his third goal of the game for his third career hat trick.
Darling allowed four goals on 28 shots faced while Pekka Rinne allowed just two goals on 30 faced. 
Chicago will have a chance to clinch on their home ice on Saturday in game six.