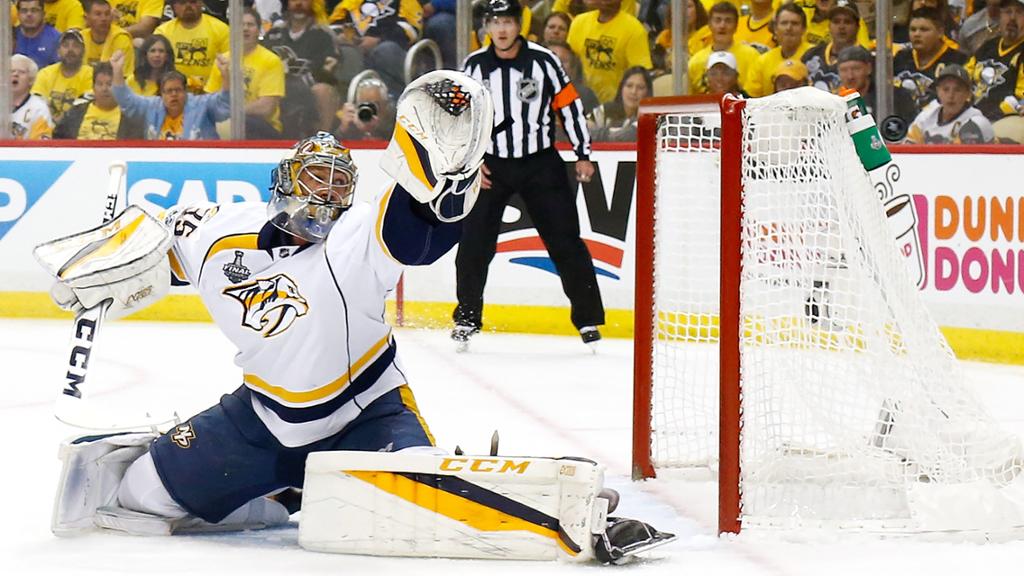 The Nashville Predators stalwart Pekka Rinne signed a new two-year contract with his team, likely looking to retire a Predator. The 36-year-old goaltender has been with the Predators since getting drafted in the eighth round of the 2004 NHL Entry Draft.
Rinne is coming off of one of his best seasons ever, getting a 2.31 GAA and .927 save percentage in 59 games, earning him his first Vezina Trophy in 2018. At 36, Rinne has to be looking to win the Stanley Cup with the Predators before ending his career.
Contract details
On November 3rd, 2018, his 36th birthday, Pekka Rinne signed a two-year, $10 million contract. The 2018 Vezina Trophy winner was to become a free agent after this season and probably could have gotten a bigger contract in free agency.
However, Rinne wants to stay a one-team man and remain one-half of one of the best goaltending tandems in the NHL in Nashville. The Predators are very strong contenders in this and the upcoming two seasons, so this should ultimately be the right decision for Rinne.
It is a $2M pay cut for Rinne from his previous contract, his cap hit being $5M a year in this new contract. Rinne's salary will be $6M in 2019/20 and $4M in 2020/21.
The contract has a modified no-trade-clause, where Rinne would submit a list of 10 teams he would be willing to accept a trade to. Nashville trading Rinne away would be highly unlikely and would definitely displease their fans.
Rinne is continuing to give Nashville a hometown discount as he has done throughout his career. This fact is especially obvious when compared with that of Marc-Andre Fleury. Fleury is two years younger but is earning $2M more on a three-year contract, starting in 2019/20.
Rinne has been injured already this season, leaving the game against Calgary Flames on October 19th and missing the rest of the month. Officially, the injury was undisclosed though it was likely a concussion.
What will be after Rinne?
Filling in for Rinne has been the 23-year-old Juuse Saros. Saros is expected to take over Rinne's starting job soon. In eight games this season, Saros has earned a .917 save percentage and 2.49 GAA, performing more than admirably.
Rinne is expected to be a starter for the rest of the season, but the fight will be on for the starting spot. After Rinne's contract expires and he, aged 38, will probably retire, Saros will be entering his prime at 25-years-old.
It is almost certain that Saros will be "the man" in Nashville after Rinne retires, but the question of a back-up is quite uncertain. There are some prospects available for the Predators, like Miroslav Svoboda or Niclas Westerholm, but Nashville could also go back-up hunting in the 2021 free agency market.
There are some flashy names on the 2021 free agent board right now, like Frederik Andersen or Antti Raanta, but we won't know who will actually be available for a few more years.