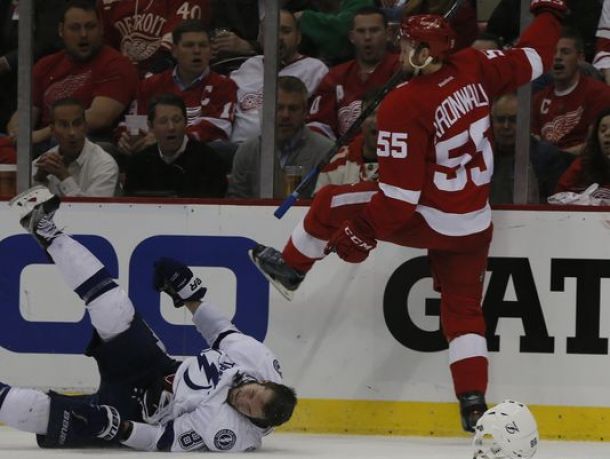 Detroit Red Wings defenseman Niklas Kronwall is known for his booming hits, and he delivered another one on Monday night on Tampa Bay Lightning forward Nikita Kucherov in Game 6 of this first round series of the NHL Stanley Cup Playoffs.
While Kucherov was not injured at all on the play, no penalty was called at the time. Kronwall has no prior history with the league having never been fined or suspended, and with the lack of a suspension to other players who have made other dangerous plays for Kronwall, including P.K Subban's slash to Mark Stone in game one of the Ottawa-Montreal series, his case looked good.
However, due to the fact that the NHL believes he left his feet and there was explicit head contact that appeared intentional, the NHL decided to suspend him anyways for Game 7 of the postseason.
Many Red Wings fans are upset, arguably for good reason, as the factors above are enough most of the time to just receive a fine, especially in a crucial game in a playoff series. Also, some Red Wings fans are still angry about the lack of discipline to Milan Lucic in last postseasons opening round series where he intentionally speared Kronwall and Henrik Zetterberg in the groin area on separate occasions and recieved a small fine. Other hits that could have possibly deserved suspensions, according to some fans, include the Tom Wilson hit on Lubomir Visnovsky in the Capitals-Islanders series, as well as Dustin Byfuglien's hit on Corey Perry during a goal celebration.
According to Ted Kulfan of the Detroit News, Red Wings players and staff also had some comments regarding the hit. Red Wings general manager Ken Holland was quoted as saying, "My only comment is I disagree with the decision."
Red Wings captain Henrik Zetterberg disagrees with the NHL saying, "When the contact is made, his (Kronwall's) feet are on the (ice). His follow-through hits his head, but his arms are down when contact is made."
Red Wings head coach Mike Babcock said, "I'm surprised this is going on, but it doesn't matter what I think. I don't think anyone is trying to hurt anybody. You're trying to be hard, the playoffs are hard. You just look at every series and see what goes on out there."
Tampa Bay Lightning coach Jon Cooper had this to say, "I'm not here to judge. Kronwall is a really good player, he hits hard. The big thing out of this whole thing is Kuch is going to be fine, that's all that really matters."
Greg Wyshinski of Yahoo Sports offered a different take. He suggested that the NHL made the correct call, due to Kronwall taking multiple strides before the hit (effectively charging at Kucherov), making head contact, and "launched" into the hit, leaving his skates on the play. He also cites the NHL's official explanation, stating that the force of the hit also had a factor on the suspension, as Kucherov did get hit quite hard by Kronwall. Where Red Wings fans disagree is that the force of the hit was playoff intensity, and should not be regarded as a factor in the league's suspension. Wyshinski argued that the hit clearly deserved a one game suspension, if not more, due to the explicit contact to the head. It was very clearly charging, and that "the only quibble is that there was no injury on the play, and the NHL has slavishly adhered to that guideline in determining suspensions this season."
While Red Wings fans should have the right to be upset with the suspension, as any fan should if someone on their own team were suspended, this might not actually be as harmful to the Red Wings as some might think. Niklas Kronwall has been a shadow of his normal self in this series. He's not contributing very much in the way of offense, and he hasn't been very effective on defense in this series either. While he may be the Red Wings alternate captain and the teams most talented defenseman, he will be missed. However, this may end up benefiting the Red Wings in a positive way.
First, the Red Wings have depth at the defense position. Alexey Marchenko has been fantastic for the Red Wings in recent games, and was actually on the ice instead of Kronwall in key moments of the first two games, including when Tampa Bay pulled their goaltender Ben Bishop in Game 1. Secondly, when a player gets suspended the team is likely to have the opposite reaction on the ice by fighting back and giving more energy, especially when the suspension is for a Game 7. This incident gives the Red Wings a reason to play mad on the ice, and could result with much more energy. Finally, should the Red Wings win, it would give Kronwall an extra two days of rest. He will not have had the physical impact of a Game 7, and if the Red Wings can pull off the upset he should be quite rested going into Game 1 in Montreal which would be occurring on Friday night should the Red Wings be victorious.
Kevin Allen of USA Today argues the other side however, stating "(Kronwall's suspension) hurts the Red Wings offensively because Kronwall is the point man on their power play, and hurts them defensively because he logs the most minutes of ice time." He goes on to say that another defenseman like Jonathan Ericsson or Danny Dekeyser could get more ice time, and it will be hard to make up for Kronwall's defensive presence on the ice.
If the Red Wings can stop Tyler Johnson, with what will most likely be either Danny Dekeyser or Brendan Smith going against him, the Red Wings still have a decent chance to pull off the upset and win another game in Tampa Bay.