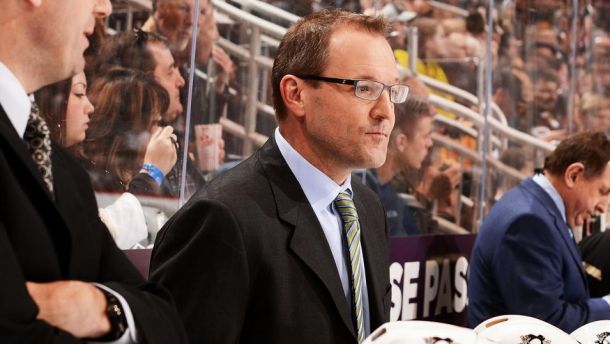 Losing out on the Mike Babcock sweepstakes to the Toronto Maple Leafs, the Buffalo Sabres finally found a new head coach, hiring former Pittsburgh Penguins head coach Dan Bylsma. He was fired as Penguins coach after the 2013-2014 season, but he is still under contract with the team. Therefore, there is still a question of whether or not Buffalo has to give up a third-round draft pick due to NHL rules.
Spending six seasons with the Penguins and finishing with a record of 252-117-32, making the playoffs all six seasons, winning a Stanley Cup in 08 -- that is a very good record. The reason Blysma got fired was because they could not get back into the Stanley Cup finals. After that season and after being hyped almost every season to make the finals, he also had some problems with the front office. He made some moves in the front office that they did not like, so that is another reason he was fired.
Even though he was fired in Pittsburgh, Blysma is still a good coach. He can change any team's offense. He still has some problems, but if fans can look through his problems, they will see he is a good coach. It will be interesting to see how he is going to work out in Buffalo after the dramatic last few seasons he had with the Penguins.
Still, this is a bad hire by Buffalo; Blysma is not a good backup plan for losing Mike Babcock. The Sabres should have gone for another coach, but there is still an upside to this deal. Maybe Blysma's immense playoff experience will be able to rub off on the young players in Buffalo.
Blysma has a big challenge ahead of himself in Buffalo, but at least he has some great young talent that he can coach on the team. Blysma will have players such as Evander Kane, Tyler Ennis, Sam Reinhart, and the second overall pick in the NHL Draft, who will most likely be Boston University player Jack Eichel.
There is no question that Blysma has all of the right players to build a successful team in Buffalo. The question is whether or nor he can coach a good young team with great potential or if this team will become Pittsburgh all over again for Bylsma.