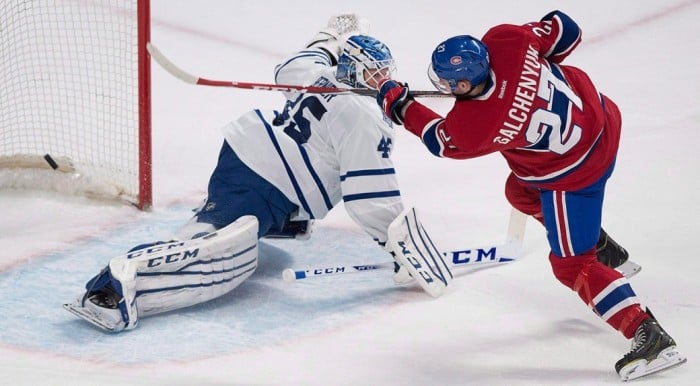 As drama continues to play a role on the ice for the Montreal Canadiens, things became a little more interesting early Sunday morning in the penthouse of center Alex Galchenyuk.
According to a report from La Presse, 27-year-old Chanel Leszczynski was arrested outside Galchenyuk's apartment at 8 a.m. Sunday morning because of a domestic violence incident.
Montreal police confirmed being called to a Sherbrooke St. address where the couple was questioned separately, alongside other guests at the apartment as well as hotel and building staff. Further details however were not provided.
In a statement from police spokesperson Jean-Pierre Brabant on Tuesday, he said to the Montreal Gazette, "We received a call around 8 in the morning but we're not going any further than that."
As noted by Brabant, he said the incident occurred at 400 Sherbrooke St. W., a 37-story residential complex in downtown Montreal.
Looking at how exactly the arrest took place, Leszczynski had been identified as the instigator of the brawl. While this was taking place, Habs RW Devante Smith-Pelly was present at the scene alongside several others.
Both men showed up to the club's training facility in Brossard on Tuesday morning for practice, but did not meet with the media afterwards as they were made unavailable for comment. Head coach Michel Therrien didn't comment ahead of a scheduled meeting with GM Marc Bergevin.
When asked whether or not the early morning timing of the incident implied Galchenyuk and Smith-Pelly were doing something improper, Canadiens captain Max Pacioretty said the accusation is unwarranted.
"I don't think it's fair to make assumptions based off time," he explained. "It's not hockey related. We're all professionals in this room. We do what we have to do to feel good every game."
Brendan Gallagher also spoke out, saying he has become accustomed to the type of attention he and his teammates display on and off the ice.
In a statement from the 23 year old winger, he said, "Especially when you're going through a tough time people are going to look for that stuff."
In a statement from Lars Eller, he said, "Everything that we do obviously gets noticed. You learn to mature a lot faster, I think, and learn what to avoid."
As reported by La Presse, Galchenyuk has decided not to file a complaint of domestic violence, but police are required to forward the case to prosecutors for review.
In other news, the Canadiens are scheduled to take on the Chicago Blackhawks on Thursday night at the Bell Centre as they try to avoid losing their 15th game since Dec. 1.
Looking at those who have been dealing with recent injuries, defenseman Jeff Petry, who missed Saturday's game against the Pittsburgh Penguins with a lower-body injury, is expected to return to the lineup.
Petry skated on Tuesday and had this to say about his condition afterwards. "I'm just taking it day-by-day, and I felt good today. It was something that was nagging for quite a few games. I think it was just time to rest it and get things to calm down."
In terms of the timetable for goaltender Carey Price, it is said that he won't be ready to return to the lineup from his lower-body injury before the end of January. Today he was on the ice with no equipment as he skated for a second straight day alongside athletic therapist Graham Rynbend.
Looking at his recent progress, Pacioretty said, "It's encouraging. If he wasn't progressing then they probably wouldn't have him in that stage of the protocol.
"It's been so long that you kinda lose track with the steps, and you can only talk to him so many times without feeling bad or getting anxious for him to return. But with a player of that caliber, it's obviously best to stay patient and make sure that when he's able to come back that he's Carey Price."
Price has only played in 12 games this season. He missed nine games from Oct. 29-Nov.20 before re-injuring himself in the second period of Montreal's 5-1 win over the New York Rangers back on November 25.
Tom Gilbert, who suffered a lower-body injury on December 22 against the Minnesota Wild, returned to action on Tuesday where he spent 30 minutes doing skating drills before calling it a day.
Dale Weise continues his road to recovery after having suffered an injury to his right arm during the Winter Classic, which took place at Gillette Stadium in Foxboro, Massachusetts on New Years Day against the Boston Bruins. Weise spent his time shooting pucks with one of Montreal's trainers.
His initial timetable was set for two to three weeks of no game action to heal the injury, which seems to be no more than just a slight fracture at this point in time.