The Detroit Red Wings dropped their second straight contest tonight against the Pittsburgh Penguins. Petr Mrazek allowed 5 goals before being pulled for Jimmy Howard, who went on to shut out the rest of the game. This loss isn't all on Petr Mrazek by any means. The defense in front of him was subpar at best. Coach Blashill pointed that out in his postgame comments with too, to a certain degree.
Goals aplenty in the opening period
In the first period of action, the Penguins looked ready to roll and roll they did. They won it 2-1. The goals scored were Ben Lovejoy from Patric Hornqvist and Matt Cullen (PIT), Tomas Jurco from Gustav Nyquist and Andreas Athanasiou (DET), and Cullen from Hornqvist and Trevor Daley (PIT). The Red Wings defenseman looked lethargic during the first. Lovejoy's goal was deflected in off of a stationary Darren Helm. Petr Mrazek looked to have been tracking the puck, but Helm unintentionally deflected that puck in, and Mrazek had no chance. Tomas Jurco's goal was created by the speed of Andreas Athanasiou.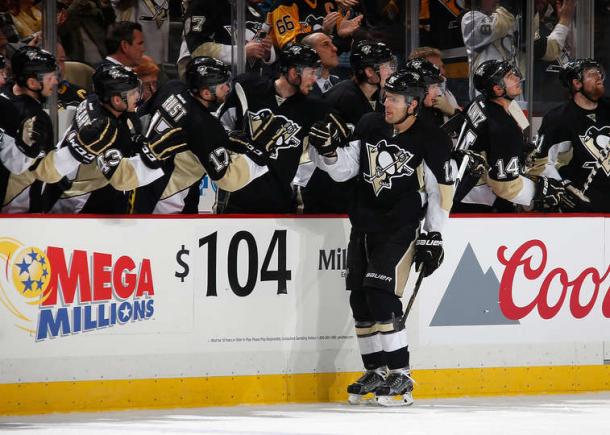 Cullen's goal was a product of hustle from Pittsburgh. He was tossed out of the circle, and Hornqvist lost the faceoff. Brendan Smith and Mike Green were pinned behind the net, the Penguins forwards got the puck to the front of the net, and scored.
The second started out promising for Detroit, killing off that penalty to start. Two minutes and 19 seconds in to the second period, Dylan Larkin collected his own rebound to score, assists from Luke Glendening and Kyle Quincey. The game was 2-2 at that point.
Then, a Phil Kessel goal from Sidney Crosby and Chris Kunitz 24 seconds later tilted the momentum in Pittsburgh's favor. Scott Wilson scored a goal from Conor Sheary and Derrick Pouliot at 16:46 of the second period. Besides the Larkin goal, the goal effort certainly wasn't helped by a few cute plays that didn't work at all by Wings forwards.
The third period rolled along, only for the same sluggish play of the defenseman to stand still to allow Phil Kessel to score his second goal of the game from Olli Maatta and Chris Kunitz. Henrik Zetterberg scored from Pavel Datsyuk and Justin Abdelkader. Petr Mrazek was hung out to dry on the Kessel goal, and was pulled by Coach Blashill for Jimmy Howard to finish the game out; Petr Mrazek finished the night with five goals allowed and a .844 SV%, making 26 saves.
Howard comes up big in relief
In relief, Jimmy Howard stopped all six shots he faced in just over 11 minutes of action. Marc-Andre Fleury also made an incredible save on a very good attempt from Justin Abdelkader that was created by Pavel Datsyuk. The Pittsburgh netminder finished the game with 32 total saves good for a SV% of .921.
Dylan Larkin had his first point in ten days, when he scored in the game against the division leading Florida Panthers. Henrik Zetterberg and Pavel Datsyuk continued their scoring streak. Tomas Tatar is again absent from the score sheet, with zero points in his last five games and only ten points in his last 20 games, a mark that would have him score 23 points in the next 26 games to tie his total from last season.
Xavier Ouellet looked like he still needs time to adjust to the NHL pace or even more time to mature in the AHL, which is what will most likely happen once Niklas Kronwall and Jonathan Ericsson get back.
The Red Wings play next on Saturday February 20, 2016 against the Ottawa Senators. That's a game Jimmy Howard could very well start if he has his confidence back which will also give Petr Mrazek some rest.