 Anthony Mantha is an intriguing top prospect for many reasons. The Detroit Red Wings drafted him out of Val-d'Or of the QMJHL. He's a 6'5 214lb winger known for his scoring, good shot and quick release. He was a high profile prospect coming in to the Wings organization, but had a rough first year as a pro.
Mantha broke his leg in the NHL Prospect Tournament in Traverse City, Michigan. He had 33 points in 62 games in an underwhelming first pro season for someone supposed to be a prolific scorer. In fact, Red Wings Senior Vice President and Alternate Governor Jim Devellano publicly questioned Mantha's skill.
This season however, under new coach Todd Nelson, Mantha has blossomed and completely transformed as a player. Nelson stated to Grand Rapids Griffins play by play announcer Larry Figurski that he told Jeff Blashill that Mantha is a completely different player than Blashill remembers him as. Mantha currently has 43 points through 55 games this season. He is currently on a point streak of five goals and five assists for ten points in the Griffins' ten game winning streak. With Red Wings coach Jeff Blashill, GM Ken Holland, and Director of Pro Scouting Mark Howe in the house, Anthony had a goal and two assists, four shots and a plus four rating in the Griffins 7-2 win over the Manitoba Moose.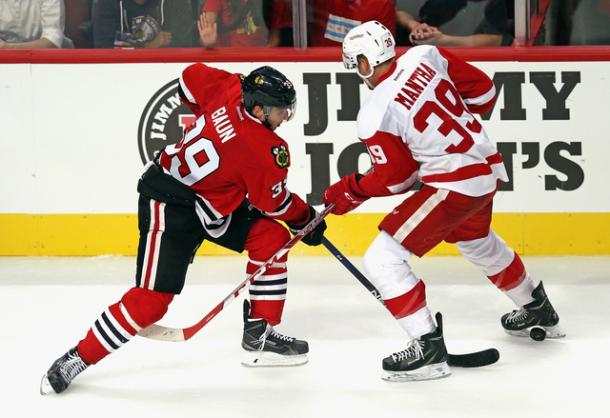 A Question of Mantha's Progress
With Ken Holland, Jeff Blashill and Mark Howe all seeing Mantha play first hand at this stage in his development; what is the next logical step for him? Do they leave him in Grand Rapids and let him gain more playoff experience, or call him up and throw him into the fire of the rest of the NHL season and NHL playoffs without playing a full NHL season?
Mantha could handle the pace of the NHL, and probably chip in offensively with his confidence up. On the other hand, the Wings could let him ride out the season in Grand Rapids, and he can play for a spot on the team in training camp. Is he NHL ready?
What's the difference between Eric Tangradi scoring 21 goals or Anthony Mantha scoring 19 goals? One could argue that Eric has finally hit his stride and his prior NHL experience was a fluke. One could also argue that Eric can dominate the AHL level, and is having a great year but can he actually do this at the NHL level? Mantha is much less experienced than Tangradi, and producing at relatively the same rate in only his second pro season. That level of production is promising for his NHL future, one that has him slotted in the Red Wings' top six for years to come.
If Mantha is as ready as his play indicates, why not let him get his feet wet? Mantha could soak up experience and play a game or two while Teemu Pulkkinen and Tomas Jurco sit. If not in the regular season, Mantha could add size for a couple of games in the playoffs over someone like Pulkkinen. If Tangradi has truly hit his stride, would his grit become useful for the playoffs? With this said, there are still plenty of questions that have no answers and he should be evaulated further as a result.