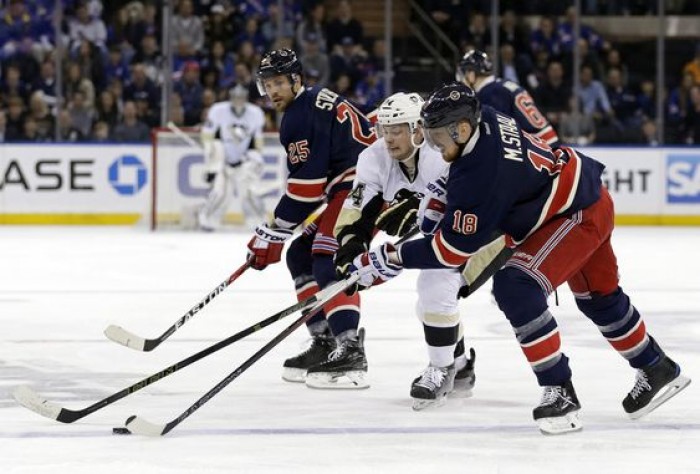 Pittsburgh Penguins rookie Conor Sheary, helped the Penguins get two vital points on the road against the New York Rangers; contributing to their playoff push. It was a Metropolitan divisional showdown where the two teams are hoping to secure their playoff berth. The Rangers came into Sunday noon's game with an overtime loss at Detroit.
Henrik Lundqvist got the start after playing the game in Detroit and Marc-Andre Fleury was between the pipes for the Penguins. The last time these two teams met, Lundqvist controversially dislodged the net during a Penguins rush after Ryan McDonaugh collided with Lundqvist resullting in Lundqvist missing the next three games due to neck spasms.
Although the Rangers were playing in less than 24 hours from their last game in Detroit, they started out well ending the first period with 19 shots on goal. Fleury came into New York strong after recording his 350th win in his career in his most recent game.
The Penguins came into this game without Evgeni Malkin as he's out for 6-8 weeks due to injury. That didn't stop the Penguins from rallying goals. Patric Hornqvist banked a power play goal from behind the net going through Lundqvist setting the opening goal of the game. Chris Kreider tied the game up in 1st period scoring his 2nd goal in two days.
In the 2nd period, Sheary would score of an impressive deflection assisted by Justin Schultz. A minute and half later Derick Brassard would tie the game at two, scoring his team-leading 25th goal of the season, assisted by team leader in assists Keith Yandle. In a period dominated by the Penguins, Sheary regained the lead scoring his fifth of the season and scoring his second of the game. Sheary showed his speed skating passed Kevin Hayes and the Rangers defense and scoring top shelf on the breakaway.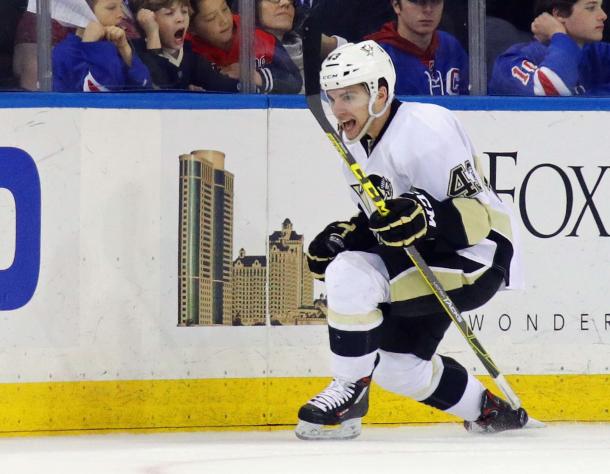 The Rangers fought back in the third period tying the game again, as McDonaugh scored on a wrap-around; getting in his ninth goal of the season. It was midway through the period where former Ranger Matt Cullen scored the game winner with another goal from behind the net; this time off the skate of Marc Staal and five hole through Lundqvist. In final stages of the game, Sidney Crosby sealed the game with an empty netter, recording his 29th goal of the season.
It was another game where the Rangers failed to get momentum in the third period. After a disapointoing overtime loss in Detroit, the Rangers failed to get the victory in the third period and increase their lead in points on the divisional rival Penguins. Pittsburgh now stands five points behind the second place Rangers in the metropolitan division with a game in hand.