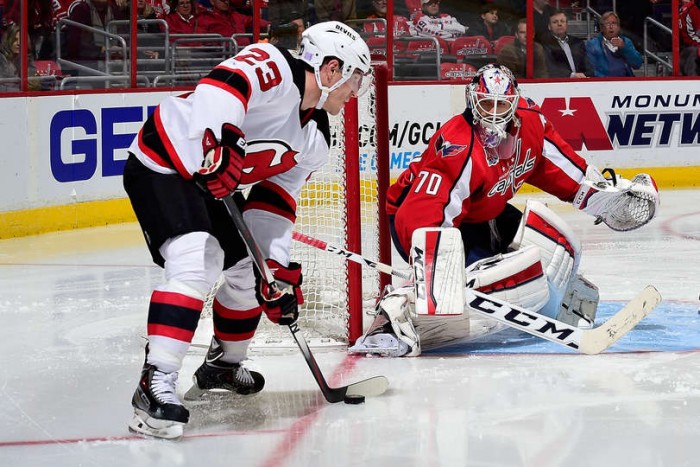 The Washington Capitals beat the New Jersey Devils, 1-0 on Friday night at the Prudential Center in Newark, New Jersey. The Capitals improved to 53-15-5 (111 pts) on the year while the Devils fell to 36-31-8 (80 pts) for the season.
The Devils still remain in playoff contention in the very crowded Eastern Conference while the Caps continue to build on their commanding lead in the Eastern Conference.
Caps star defenseman, John Carlson scored the lone goal to put the Caps over the Devils. Braden Holtby was the hero for the Capitals as he stopped all 22 shots he faced and picked up his 3rd shutout this season. Holtby improved to 44-9-4 on the year. He is 5 wins away from breaking the NHL record for most wins in a season. The record is currently held by Devil great, Martin Brodeur.
Even Battle in Regulation
The first period was evenly played between the two teams. It was a scoreless first but that doesn't mean that both clubs didn't have good chances. Karl Alzner gave the Devils their first power play opportunity of the game as he was sent off just four minutes into the game for high-sticking.
The Devils were unable to convert as Braden Holtby shut the door on every chance the Devils had. Four minutes after this power play it was the Capitals chance to go a man up; Vojtech Mozik was put in the box for tripping. The Capitals NHL-leading power play was unable to score and the two teams went to the locker room tied at 0.
The second period was similar to the first as it was also scoreless. Both goalies were superb and denied every chance by the opposing teams offense. The Devils had another power play chance but they came up empty again as the elite penalty kill of the Capital came up huge again.
The third period provided more chances and was close just like the whole game had been. The Capitals and Devils couldn't solve the opposing goalie and headed to overtime with the score 0-0.
Carlson Wins it in OT
A few minutes passed in overtime and it looked as if the scoreless game was destined for a shootout, but John Carlson had different plans. At 2:43 in overtime Carlson beat Scott Wedgewood with a nasty shot and won the game for the Capitals, 1-0.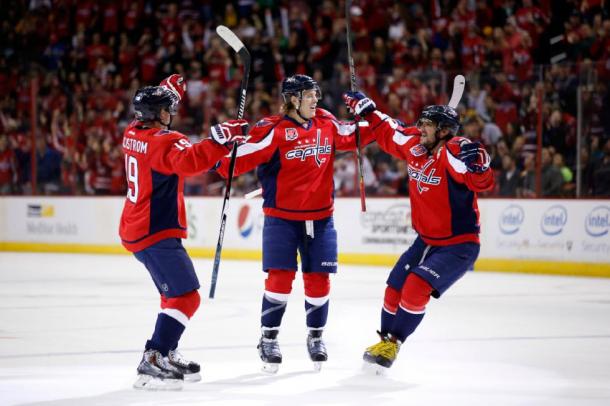 What's Next?
The Devils will take on another solid team in the East in the Carolina Hurricanes as they look to get a win on Sunday afternoon. As for the Capitals, they will return home to the Verizon Center for a game tomorrow. They will challenge one of the top teams in the Western Conference, the St. Louis Blues.