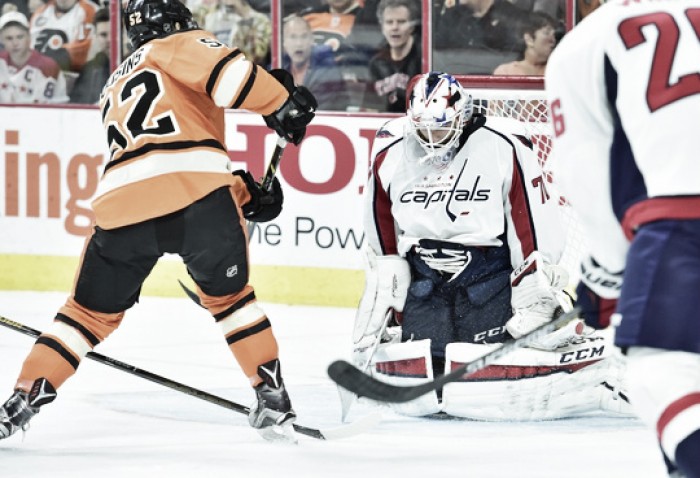 The Washington Capitals and the Philadelphia Flyers will battle in the opening round of the Stanley Cup Playoffs.
Season Head-to-Head
The Capitals and the Flyers split their four game series this summer, but the club from Philadelphia needed overtime to win their games.
Thursday November 12: Washington 5 Philadelphia 2
Wednesday January 27: Philadelphia 4 Washington 3 OT
Sunday February 7 Philadelphia 2 Washington 3
Wednesday March 30 Washington 1 Philadelphia 2 SO
The Washington Capitals were dominate and earned at least one point in all four meetings with the Philadelphia Flyers this season.
Last Playoff Meeting: 2008 Eastern Conference Quarterfinals Flyers won in 7 games
The 3rd seeded Capitals were upset in their last postseason meeting with the Philadelphia Flyers. With two wins at home after splitting the first two games in Washington, the Flyers took a 3-1 advantage in the series. Washington fought back with a 3-2 victory at home and a comeback 4-2 victory in Philadelphia.
The series would be decided in Washington in a Game 7. The Flyers and Capitals played very evenly and ended up taking a 2-2 tie to overtime. Early in the overtime, Tom Poti took a tripping penalty for the Capitals and late in their powerplay opportunity, the Flyers capitalized on a Joffery Lupul goal from Daniel Briere. The Flyers went on to the Conference Finals only to lose to the Pittsburgh Penguins.
Players To Watch
Alexander Ovechkin: This is arguably the best Washington Capitals team in the Ovechkin era. That should give Ovechkin more confidence to finally break through to the Stanley Cup Finals, but it will also add more pressure on him. He scored 50 goals this season in a pretty low scoring NHL and is primed to lead the Capitals to the Championship. This series the Capitals are expected to win and Ovechkin will be expected to perform. It will be ideal for him to score early in this series to take a little pressure off.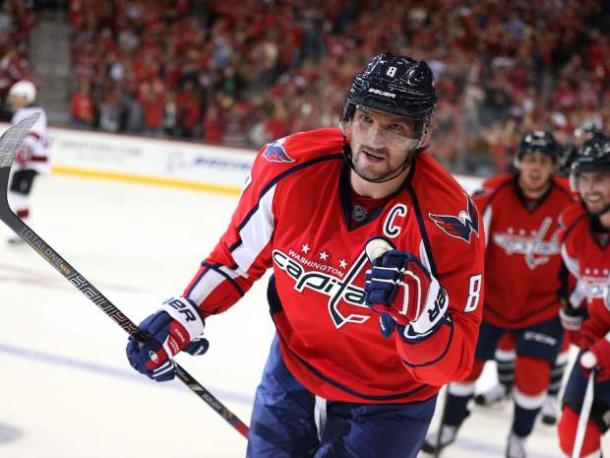 Shayne Gostisbehere: "The Ghost" burst onto the scene in Philadelphia and helped turn their fortunes this year. He has been a solid offensive presence from the blue line contributing 17 goals as a defenseman. Eight of those goals were scored on the powerplay. Anytime the Capitals take a penalty look for Gostisbehere to make something special happen.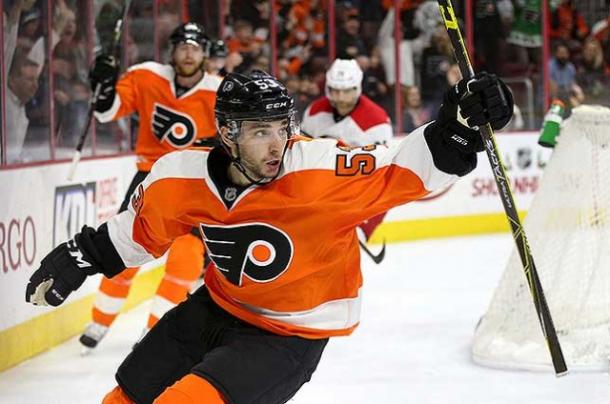 Matchup to watch: Capitals Penalty Kill - Flyers Powerplay
The Capitals penalty kill is second in the NHL in efficiency. They are disciplined and have a good goaltender in net. Philadelphia has a lot of offensive talent such as Claude Giroux, Wayne Simmonds and Shayne Gostisbehere who all play on the powerplay. If Philadelphia is going to get this upset, they will have to do some damage on their powerplay opportunities. Washington's defense is not often out of position, so it will not be easy for the Flyers to do so.
Starting Goaltenders
Washington Capitals: Braden Holtby
With an incredible record of 48-9-7, it is no wonder Braden Holtby is a Vezina Contender. He is one of the main reasons the Capitals earned the President's Trophy this season. He has a 2.20 GAA and a .922 save percentage. Holtby should frustruate the Flyers scorers in this series.
Philadelphia Flyers: Steve Mason/Michal Neuvirth
Steve Mason has played in 54 games for the Flyers this season and has a record of 23-19-10. Neuvirth in just 32 games played has a record of 18-8-4. Neuvirth also has the edge over Mason in goals against average and save percentage, however with a smaller sample size. Philadelphia has a decision to make with both goalies capable enough to start. Both will need to be ready to face a star-studded Capitals roster.
Series Prediction
Capitals win in 5 games
Washington's overwhelming attack and solid goaltending will be too much in the end for Philadelphia. There will be a lot of pressure put on the Flyers powerplay to produce and they won't be able to match up to expectations against the Capitals. Alexander Ovechkin should contribute both offensively and with his hitting ability and will lead his team by example. The Capitals will move on to face the Penguins or the Rangers.