 The wait is over... at least according to sources like Craig Morgan (AZ Sports) and Bob McKenzie (TSN).
A new beginning
A press conference is scheduled Thursday May 5th at 11 a.m. Arizona time at Gila River Arena to announce the next GM of the Arizona Coyotes. At 26, John Chayka will be the youngest General Manager ever named to the post in NHL history.
Since Don Maloney was given his walking papers on April 11 after nine seasons as the GM of the Arizona Coyotes, this is quite an extraordinary move. President and CEO Anthony LeBlanc will announce the re-structure of the hockey operations for the club.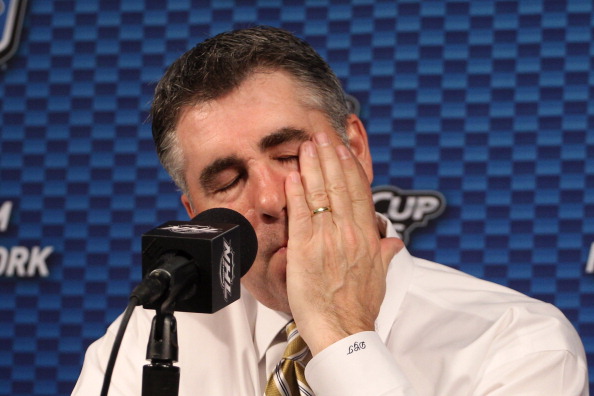 Head coach Dave Tippett of the Phoenix Coyotes answers questions after the Coyotes 4-3 overtime defeat to the Los Angeles Kings in Game Five of the Western Conference Final during the 2012 NHL Stanley Cup Playoffs at Jobing.com Arena on May 22, 2012 in Phoenix, Arizona. (Photo by Christian Petersen/Getty Images
This will also tell us all how more involved Head Coach Dave Tippett will be in personnel and other decisions. And it may even be revealed that a role Maloney held as V.P of hockey operations, will be awarded to Tippett.
Chayka was hired last summer in time to use his analytics skills evaluating players the team should draft. His elevation to GM has many stunned, and yet the Coyotes ownership seems very confident he can do the job.
Chayka's view of analytics - the maindefinition tells a lot of how he feels he can help a team be successful.
Analyze this
"I think to the average fan these stat can be dangerous because everyone's looking for that one option, and I don't think that's ever the way to evaluate anything. It's how these numbers work together to maximize a team. Specific players bring specific attributes but might have weaknesses. It all affects the holistic view of how you build a team."
The fact that Tippett will have more responsibilities may have factored into the theory that Chayka is too inexperienced to even be considered as a GM. Perhaps they will form a good combination of a veteran and a younger performer much like the Coyotes' team is a mixture of veterans like Shane Doan, Alex Tanguay, Zbynek Michalek, and Antione Vermette who blend well with young players like Max Domi, Anthony Duclair, Louis Domingue, and Jordan Martinook.
This took guts
One thing is for certain. You have got to take your hat off to the ownership of the team to think outside of the box. One factor which may not have hit most critics of the move, is that Chayka will be able to relate well with the players who are mostly about his age. Whether that relates to more wins next season is yet to be determined.
His expertise will be put to the test at this summer's NHL Entry Draft held June 24-26 in Buffalo. It a no-brainer that the Coyotes need some help on the blueline, and have a ton of offensive talent ready to display their skills in the NHL. With the number seven pick, the team is likely to be able to find some defensive talent they can nurture for the future.
They also will more than likely be looking for a right-hand shooting D-man along the lines of Kevin Shatterkirk of the St. Louis Blues. Even Chayka would be impressed with his 14 goals, 30 assists in 72 games last season.
His salary cap hit is $4.25 million, and the Blues have salary cap concerns. Not so with the Coyotes, as they have over $10 million in cap space.
Of course, they also have 13 unrestricted free agents, and 17 restricted free agents which makes Chayka's new job a challenge.
Welcome to the world of a NHL General Manager John Chayka.