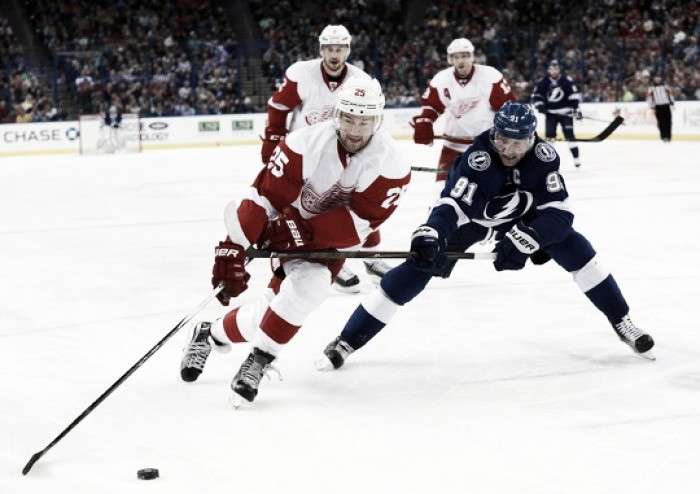 The NHL's free agency period officially begins on July 1, however, rumors have already started heating up a couple of weeks early.
Several teams interested in Stamkos
Amongst them, are Steven Stamkos rumors. He has been linked in various reports to the Buffalo Sabres, Toronto Maple Leafs, Nashville Predators, St. Louis Blues, Florida Panthers, Montreal Canadiens, and of course re-signing with the Tampa Bay Lightning was (and still remains) always an option.
Now, you can add another team to the list. The New York Rangers have also traded some cap space by trading defenseman Keith Yandle, and the Pittsburgh Penguins are considering trading Evgeni Malkin as well to save cap space.
While it is unlikely either team is a serious player long term for Stamkos, both could make an offer at the very least.
Stamkos replacing Pavel Datsyuk?
The Detroit Red Wings appear to be getting ready to make a play for Steven Stamkos as well. According to WXYZ, a local news station out of Detroit, Pavel Datsyuk, and the Red Wings have a press conference scheduled for tomorrow (Saturday) to announce his move back to Russia, likely to play for St. Petersburg who sent him an offer earlier this year.
As a result, the Red Wings may attempt to trade their long-time alternate captain and/or goaltender Jimmy Howard in order to clear cap space, and potentially make a play for Stamkos.
While the Red Wings have also had their sights set on defenseman this offseason, including the rumor mill linking them to Kevin Shattenkirk of the St. Louis Blues and some defensemen of the Anaheim Ducks amongst others, Detroit has since shown interest in forwards, including center Alexander Radulov from Russia, as well as Stamkos.
Potential Stamkos fit in Detroit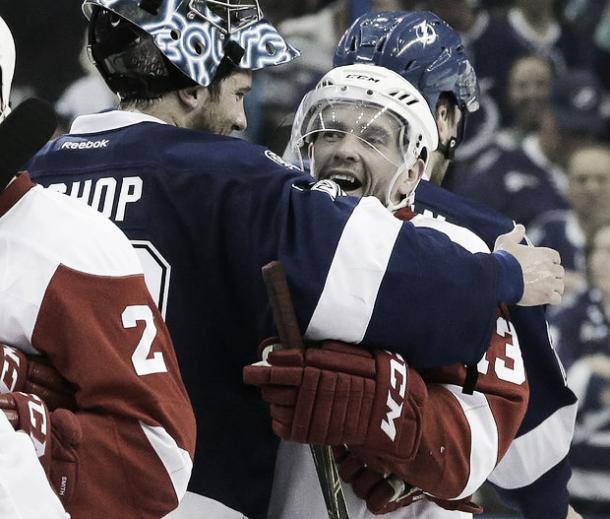 How Stamkos would fit into the Red Wings plans is the easy part. He'd be arguably one of their most talented young players since Steve Yzerman. He would likely take over Pavel Datsyuk's role as the team's co-primary scorer along with Henrik Zetterberg on the first line. Only Alexander Ovechkin of the Washington Capitals scored more goals than Stamkos in the 2015-16 season, and it has been a similar story in years prior. Stamkos is the best young goal scorer the NHL has seen since Ovechkin's younger days, and any team would love to have him.
He could also bring in some new energy that could bring the Red Wings back from perennial playoff contenders to perennial championship contenders. Ansar Khan, a Red Wings beat writer for MLive suggested here that "Landing the biggest free agent prize would accomplish that" referring to the buzz Stamkos would bring to the Red Wings, as well as their new arena for the 2017-18 season.
Why Stamkos may not sign in Detroit
One concern that might turn the Red Wings off could be injury concerns. Stamkos did only play in one playoff game this season, the team's last (game seven vs. the Pittsburgh Penguins). His recent history of blood clots, especially only bring 26 years old and likely wanting a seven-year max contract, could scare the Red Wings away.
Another factor is the Red Wings previous unwillingness to commit financially to free agents. The Red Wings management team, led by Ken Holland, used to not sign free agents that would be paid more than the team's current top stars. This might have been one reason the Red Wings lost out on Ryan Suter and Zach Parise when they both agreed to high-cost deals with the Minnesota Wild. Will the Red Wings management and ownership be willing to overlook the salary and long-term commitment that Stamkos would ask for in order to make the big splash that fans have long been waiting for?
Why Stamkos may sign in Detroit
Detroit also has a lot that it could offer Stamkos beyond financial commitment should it choose to do so, however. The Red Wings showed they can still attract high-end free agents last year, by signing Mike Green and Brad Richards. The team has a solid young core built for the long haul with Dylan Larkin, Gustav Nyquist, Tomas Tatar and Petr Mrazek amongst several others around Stamkos's age ready to contribute for the next several years.
While Detroit isn't exactly a Canadian team like Toronto, Ottawa or Montreal, the city is connected via bridge to Windsor, Canada, and is still in the Eastern Time Zone, although not on the east coast.
A brand new arena is coming after next season, despite the fans hatred towards the name Little Caesars Arena, and the Red Wings storied past could appeal to Stamkos as well. He could be, should he sign in Detroit, the next player to have his name alongside former greats Steve Yzerman, Gordie Howe, Ted Lindsay, and much more in the rafters of Detroit's arena if he continues producing the way he has the first few seasons of his career.
Not only will he have personal achievements as well, but he could be the foundation to the resurgence of the Detroit Red Wings, and would most likely help lead the Red Wings, alongside Larkin and Zetterberg to another shot at the Stanley Cup, that the Red Wings last seriously contended for before Nick Lidstrom's retirement.