 Washington Capitals superstar winger Alex Ovechkin has won the Maurice "Rocket" Richard trophy. The trophy is awarded annually to the NHL's top goal scorer. Ovechkin has won the award four years consecutively and six overall. He led the NHL this season with 50 goals. Ovechkin's goal scoring helped lead the Capitals to a league best 120 points and the top overall seed in the NHL playoffs. Unfortunately, it wasn't enough to help Washington win their first ever Stanley Cup as they were eliminated in the second round. Overall it was still a good season for Ovechkin.
Nothing New for the Great Eight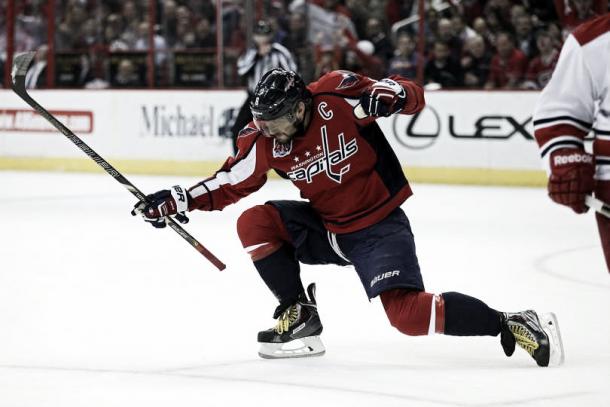 Winning this award is nothing new for Ovechkin. He has already won the award six times and seems like a lock to win it every year. His career high is 65 which came in the 2007-08 season and he has won it while scoring at least 50 goals every time except for 2012-13. In that season he scored just 32 due to the lockout shortened season. If that season had been the normal lenght Ovechkin was for sure on pace to finish with 50 plus goals again.
Closest competitors
Patrick Kane of the Chicago Blackhawks finished in 2nd place with 46 goals while 3rd place was Jamie Benn of the Dallas Stars. He finished with 41 goals.
Outlook for next season
Ovechkin is a sure bet to again be one of the league's premier scorers for the 2016-17 season. Even as he gets older if Ovechkin keeps scoring at the pace he is at, he will be sure to break many more records in his already incredible career. After winning multiple MVPs and socring tittles the one thing Ovechkin will be looking to add to to his resume is a Stanley Cup championship.