 Steven Stamkos, the hottest free agent on the market, made his decision. He agreed to return to the Tampa Bay Lightning on an 8.5 AAV over 8 year deal today, despite not hearing a pitch from his top two contenders, the Detroit Red Wings and Buffalo Sabres.
What's next for Detroit after missing on Stamkos
The first thing Detroit should do is give Danny Dekeyser, Alexey Marchenko and Petr Mrazek almost anything they want within reason. They are two key pieces to the Red Wings future puzzle, and Ken Holland should make sure it stays that way.
Next, the Red Wings are now back to 18 million in cap space again instead of seven before the Dekeyser, Marchenko and Mrazek deals. Go out and spend some of it on multiple players that will help the team next season. Instead of just getting one key player to replace Pavel Datsyuk, get multiple impact players. Look for players like Kyle Okposo and Frans Nielson of the New York Islanders, perhaps a pitch to Milan Lucic to come back out east, or maybe Andrew Ladd could be in the cards on Friday.
Not spending on Stamkos a good choice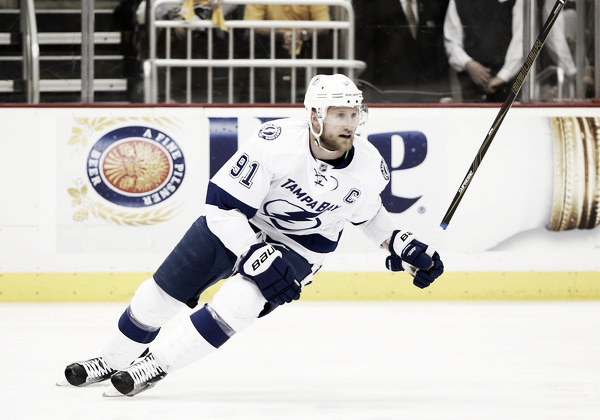 Ultimately, spending 10 plus million a year on Stamkos is a big win for the Red Wings long term future. First, he didn't go to a team that needed his services to challenge the Red Wings for a playoff spot, like the Buffalo Sabres.
It also enables the team to save money for the future. The only players signed for 5 years or longer are Henrik Zetterberg and Justin Abdelkader. By not signing Stamkos, the team will keep themselves out of a long term financial handicap that would prevent them from signing young players in the future.
Red Wings future free agents
Here is a list of key Red Wings players, by when their contracts expire (Note: for the full lists, click here)
Next season (summer of '17), key free agents include but are not limited to: Tomas Tatar, Tomas Jurco, Andreas Athanasiou, Luke Glendening, Brendan Smith, Xavier Ouellet, Nick Jensen.
Two years from now (summer of '18): Dylan Larkin, Anthony Mantha, Riley Sheahan, Mike Green.
Three years from now (summer of '19): Gustav Nyquist, Nick Kronwall, Jimmy Howard, Evgeny Svechnikov, Dylan Sadowy.
Several key members of the Red Wings future, particularly Larkin, Mantha, Svechnikov and Athanasiou are all free agents in the next couple of seasons and must be re-signed should they continue their growth.
Whether Stamkos continues to thrive in Tampa and goes back to being a fifty goal scorer, or whether injuries hinder his career will only be determined by time. Regardless, the Red Wings will still be the winners three years from now when they won't be paying Stamkos' salary over Larkin and all the young kids.