 The Detroit Red Wings were looking to be active on July 1, after missing out on Steven Stamkos earlier this week.
They were just that, as they agreed to a big extension with Darren Helm, extending Alexey Marchenko, signing Matt Lorito to a two way deal, and the biggest signing of the day for the Wings, signing Frans Nielsen from the New York Islanders.
The Red Wings also agreed to a deal with Thomas Vanek later on in the day before also adding Steve Ott, a grinding, hard hitting forward on a one year deal worth under a million dollars.
The Nielson and Vanek deals
Nielsen announced on NHL Network that it came down to the Red Wings and the Islanders. The Islanders gave him a "very fair" offer, but he decided to go to the Detroit Red Wings for a 31.5 million over 6 year deal.
The deal also includes a full no trade clause for the first two years and a limited no trade clause for the final three, which will protect Nielsen from the upcoming expansion draft next offseason. This will leave the Red Wings with only two choices on who to protect, amongst them including Gustav Nyquist and Tomas Tatar, who it appears the Red Wings will most likely choose.
The Thomas Vanek details have yet to come in, but it will be a one year deal for $2,600,000. The deals give Detroit two top six forwards that look to help Detroit return to make another run for the cup.
The fits with Detroit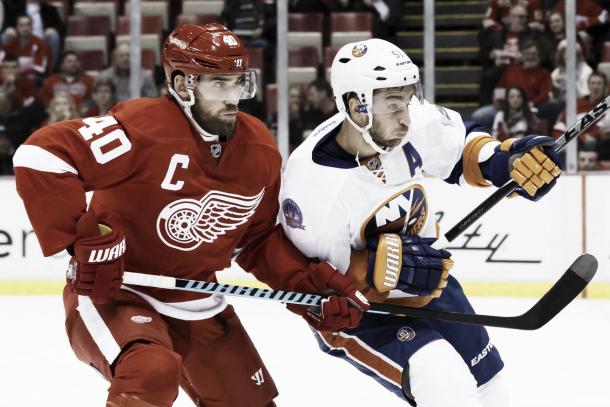 Nielson's fit with Detroit after re-signing Helm is somewhat questionable. He is a solid second line or third line center, however the Red Wings currently have a lot of those. Helm, Riley Sheahan, Luke Glendening, Andreas Athanasiou, and of course Dylan Larkin all currently fit that role.
It seems like the coach Jeff Blashill might go with Henrik Zetterberg, Larkin, Nielsen, and Sheahan as the centers (in that order) while putting Helm and Athanasiou with Thomas Vanek, Justin Abdelkader, Gustav Nyquist, Tomas Tatar, Drew Miller, Tomas Jurco, Anthony Mantha and Teemu Pulkinnen on the wings.
Some projected lines could look something like:
Nyquist-Zetterberg-Abdelkader
Tatar-Larkin-Vanek
Athanasiou-Nielsen-Helm
Miller-Sheahan-Ott
Scratches: Glendening, Jurco, Mantha and Pulkinnen
Nielsen's best fit with this team is on the penalty kill. He will likely join Drew Miller centering the second penalty kill unit, and will be a huge help in shootouts, where the Red Wings are historically the worst team, by a lot. Nielsen actually is the NHL's all time leader, shooting 42 of 82 on shootout attempts.
Thomas Vanek is known for his scoring ability, and will give the Wings and particularly Larkin a sniper who can put the puck in the back of the net.
Red Wings may have more up their sleeve
Ken Holland has been extremely active today, but he may not be done. The team now has three extra forwards assuming the team re-signs Pulkinnen. The Red Wings are likely going to re-sign Danny Dekeyser and Petr Mrazek at some point this offseason also.
The Red Wings also are looking at upgrading their defensive core. It appears as though Holland doesn't trust Ryan Sproul and Xavier Ouellet to be NHL ready by next season, and they feel they could improve by trade.
Perhaps a trade involving players like Jurco, Pulkinnen and or Sheahan could be in the cards? Maybe going for a bigger name and being willing to trade someone like Athanasiou may be the case? The team has four extra forwards (can only have three) and
Ultimately, Ken Holland has several forward assets, and is weak on top defensive talent with Nick Kronwall and Jonathan Ericsson being the top pairing with Mike Green, Brendan Smith and young guys Danny Dekeyser, Alexey Marchenko, Ryan Sproul and Xavier Ouellet rounding out the defense.
July 1 may not be the end of the offseason for the Red Wings just yet. The team still has 10 million dollars left in cap space after putting Johan Franzen and Joe Vitale on LTIR to re-sign players and maybe get one more guy for a run.