 Most NHL teams are very envious of the depth the Arizona Coyotes have in their center-ice lineup.
With six centers who are close to playing with the parent team, and one in Clayton Keller just drafted seventh overall, their cup runneth over. It's never a bad thing to have talented players down the middle, and most successful teams know that and try to develop their rosters accordingly.
Dylan Strome is ready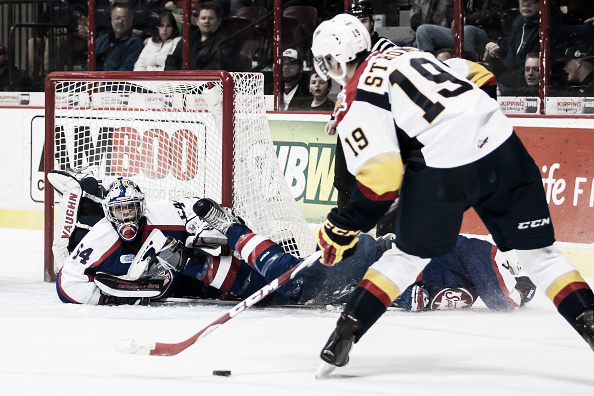 Strome almost made the final cut last training camp before it was decided by Coyotes' management to send him back to the OHL for one more year of seasoning. He was told to try and bulk up a bit to compete more evenly with the size of NHL players he'd be facing.
He did just that, reporting to the Coyotes' rookie development camp a good 10 pounds heavier. At the first scrimmage yesterday at Gila River Arena he looked sharp, with crisp passes and showed that he has also stepped up his skating ability.
He's ready.
Christian Dvorak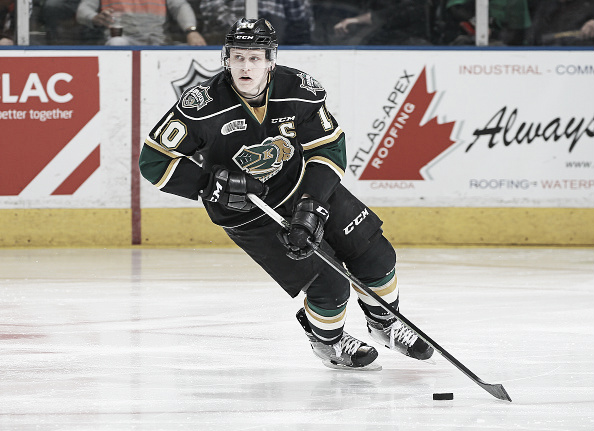 It will be a contest between Strome and Christian Dvorak to see who lands an available center opening on the team. In fact, Dvorak who broke all kinds of records with the London Knights this past OHL season is listed on the Coyotes' roster as a winger. He can handle that position, and it's certain that if he must move over to the wing it will not present him with a problem.
If Dvorak is not ready, he's awfully close.
When you consider that each NHL team can have 23 players on their roster, with only 20 being active for any game, the openings are limited.
At the current time, the team has 20 roster players, leaving three available spots assuming they will come to terms with Tobias Rieder, Michael Stone, and Connor Murphy, all of whom have been presented a qualifying offer not yet agreed upon. Then, it is inevitable that captain Shane Doan will be signed also.
The Yotes are also currently showing eight defensemen on their roster, and they may send one down to the AHL Tucson Roadrunners, or just keep that many on the active roster. That means there will be three scratches per game.
If you add in Strome and Dvorak, the team total number of players comes to 22. Barring any more moves, (which still could happen) that leaves one more spot. Could a Brendan Perlini, Lauren Dauphin, Ryan MacInnis, or Henrik Samuelsson (who has recovered from a season-ending injury last season) be able to make the final cut?
Hanzal is still here
We still don't know if the inquires GM John Chayka received about Hanzal's availability for a trade will actually result in the Coyotes dealing him elsewhere.
It would be the wise thing to do since his reasonable $3.5 million salary cap hit should attract some attention of teams wanting an excellent defensive player, who is physical and adept in the face-off circle. His current contract expires at the end of the 2016-17 season, and the team will want to get something in return for him, instead of losing him to free agency, as was the trend for so many NHL star players recently.
Even though the Yotes seem loaded up with defensemen, the 16th overall selection in the NHL Entry Draft, Jakob Chychurn is very confident he has a shot at making the team.
We'll see.
He looked fine in the scrimmage yesterday, but it was obvious the talented players who stood out were: Strome, Keller, Dvorak, and Connor Garland.
More assessment will take place with scrimmages Tuesday, Thursday, and Friday. There will also be an intra-squad game Friday night at 7 pm to allow the players to impress the fans and management with their hockey skills.
Should be fun... and besides it's FREE.