On Thursday night, the Los Angeles Kings ended, not only their long goalless streak, but their winless drought as well. Los Angeles defeated the Pittsburgh Penguins, 3-2, in the overtime period with Nic Dowd scoring the game winning goal. All five wins for the Kings have come after regulation play, which is quite an astounding stat.
Others picking up the goal scoring
When you think of the goal scorers on the Kings, the name that comes to mind first is Anze Kopitar. Then, the likes of Jeff Carter, Tanner Pearson, and Tyler Toffoli come to mine. Pearson leads the team in goals with four, followed by the others, all having scored two goals each.
There are a number of other Kings players with two, and several, including last night's goal scorers, Trevor Lewis and Matt Greene, with one. This shows that Los Angeles does not have to rely on just one player to score everything.
If some are not going to find the back of the net, they can still contribute in the build up towards goals. This will ease pressure even further on the stars to perform to their highest ability night in and night out.
Young Flames still looking to come together
This Calgary Flames side is littered with bright, young, talented hockey players from Matthew Tkachuk, to Sean Monahan, to Johnny Gaudreau. They've also got veterans on their team like Brian Elliott, Nicklas Grossman, and others.
Yet, for some reason, they have really yet to find their stride this season. If they manage to get a win in a tough arena, that will be a big confidence booster.
Potential goaltending matchup
More than likely, especially with the day off in between, Peter Budaj will get the start in the crease for the Los Angeles Kings. Budaj has a 5-3 record as a starter with each of his wins coming in either overtime or via the shootout. During this stretch of games, his goals against average is just okay, however, allowing 2.31 goal per game.
The Calgary Flames traded for Brian Elliott this offseason, while giving the St. Louis Blues for a second-round pick in the 2016 NHL Draft and a third-round pick in the 2018 draft.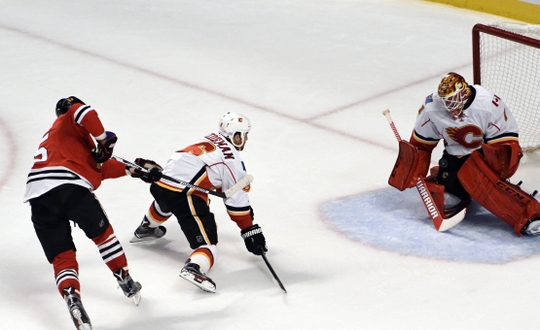 Unfortunately, so far this season, Elliott has not lived up to all the expectations. He started the season giving up 14 goals in the first three games, all resulting in losses. Brian Elliott won his next three games, but the Flames have lost two straight since then. Elliott will need to pick up his game if Calgary are to make the playoffs.
Game details
Calgary Flames and the Los Angeles Kings will drop the puck at 10:30 PM EST at the Staples Center in Los Angeles, California.