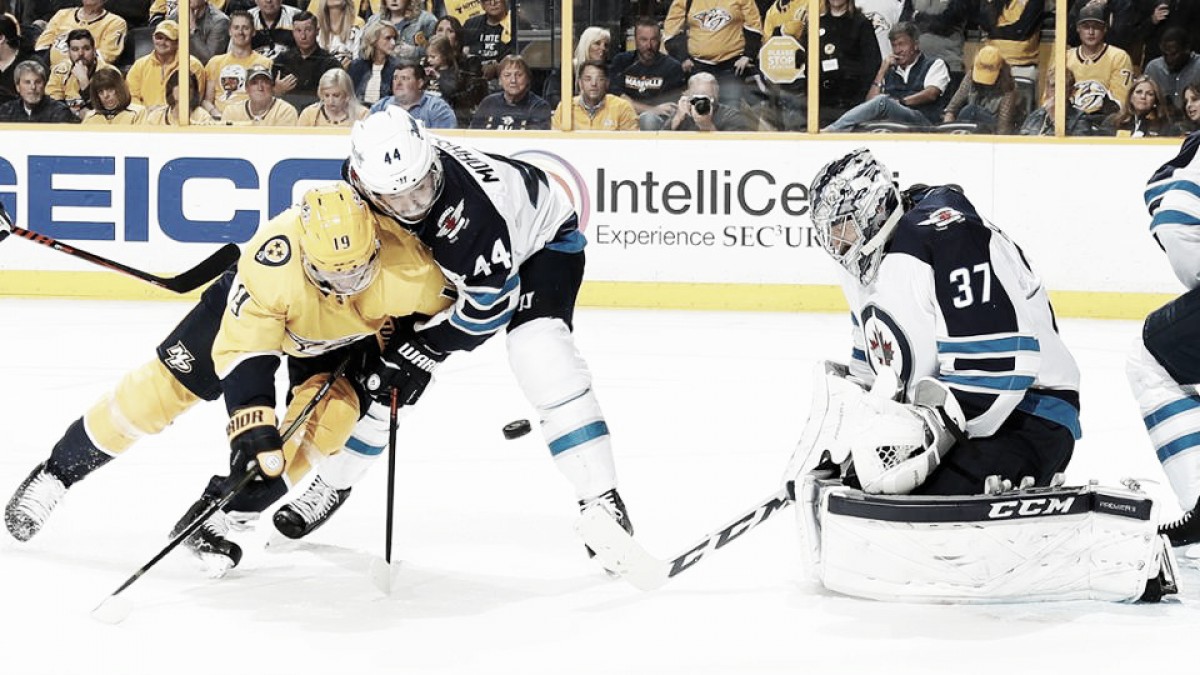 Head coach Paul Maurice does not "agree" that his Winnipeg Jets stole the game from the Nashville Predators, after winning Game 1 in the NHL Western semi-finals.
Maurice admitted that the Jets weren't at their best
The Jets' boss said in the post-game press conference, he is happy with parts of the performance for his team, even though they had not shown their best effort in Friday's game.
"No, I would not use that, they put a lot of pucks on the net. I think they played backdoor on the power play the post on the power play were two or three of their better chances. Most of what was at our net was a heavy scrum, lots of plays within two or three feet of the net which we would like to clean up."

He added: "But there certainly weren't a lot of odd-man rushes or things like that of the real, high-risk nature. We weren't at our best, I'll give you that. We can play better and I think we will as the series goes on. But we pay our goaltender too."
Accomplishments for Connor Hallebuyck, Brian Little, and Brandon Tanev
When the reporters asked about the competence of the Predator's goalie, Maurice made praises for him saying that "he is a big man".

"There is great difficulty in a lot of the saves finding the puck in the scrums, but he is built for that. He is a big man that moves well and tracks well in traffic, especially close traffic. So he is capable of that kind of game in that kind of an environment is what he is good at."
Brandon Tanev and Brian Little also received praises. The duo has had accuracy in the Jets' games, which it was remarked by Maurice.
"Well, a bunch of things. Brandon has played exceptionally well. It gives us left to right-hand centermen in a line that has a bit of a shutdown role they will come out of the game even. I like the way that they played", he said.
"Brian has been an incredibly strong player in the playoffs for us and I have moved him and he has played two or three different lines at centre and he continues that. So that was part of the idea, I wanted to get him the minutes that just gives us a better chance to win and he needs to play in the top nine with the way he is playing for sure."
He reminds us that while the Jets didn't have a good performance, they already won the first game in the Western semi-finals. However, they must show a better game be one of the favourites to lift the Stanley Cup Trophy.
"The bench was fine. I don't think they understand we got another gear here that we can get to and we had about 12 minutes of it in the second period. We were skating the right way, putting the puck at the net the right way."
"We have to earn a better game. We've got to work a little harder. I don't feel as overwhelmed as the stats will tell me I should at all. I mean I'm usually pretty honest about that. I'm not trying to protect the group. It's their building."
"They had a lot of jumps early. They put an awful lot of pucks to the net from all over the ice. We can handle our net-front scrums a little bit better. We can get an opportunity to kind of get the momentum shifted at times with the power play. They got some chances there and some excitement off that. I'm not worried about those stats."
"I think we can move the puck a little bit better. They have a really heavy pinching team. The benefit of that is your gonna spend a little more time on your end of the ice than normally any other teams would."
Coming up
The second duel between the Predators and the Jets is going to be played Sunday, at Bridgestone Arena at 7 p.m. The Jets' lead 1-0 overall, but they have also received criticism from their fans and pundits.
Quotes are taken from NHL Network