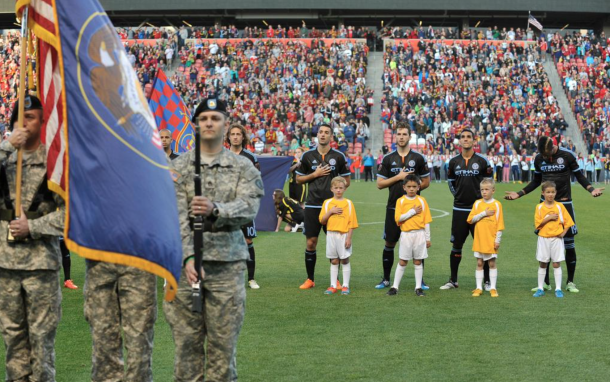 New York City FC ( 1-7-4 7 points) comes into the match following a 2-0 loss at Real Salt Lake. The Houston Dynamo (4-5-4 16 points) go to New York after a 1-0 loss at the Los Angeles Galaxy. Kickoff is 7 p.m. EDT from Yankee Stadium. The match will be broadcast on YES Network, 970 AM and WADO.
NYCFC are coming off a 2-0 loss at RSL last Saturday. Although they did create some chances, RSL let NYCFC play with the possession, and setting up the counter attack. NYCFC had the play in their favor until half way past the 1st half, when RSL scored. NYCFC played without much intention in the second half, allowing a second goal to the hosts. NYCFC have not won since week 2, their home opener - New England.
Houston played last Friday night in Carson, CA. Although they were held scoreless, they did manage to keep the hosts off the board for 90 minutes. Unfortunately, Alan Gordon usually scores after the 90 minutes. Gordon gave the home team the win on a stoppage time goal, with the StubHub center erupting into cheers.
NYCFC are in desperate need of a win, and despite the fact that they have the worst record in the league; they are just a couple of good results from a playoff spot. NYCFC will have to score first and dictate play, something they did not do against Chicago last time at home. They were not composed, allowing the Fire to score 2 goals in the first 30 minutes, as well as being down a man for 60 minutes.
Future NYCFC player Frank Lampard spoke on the radio this week about his upcoming move to MLS.
"It's a real life changer for me, not just for football. I really want to embrace American sports culture. Nothing's lost at all right now for NYCFC. If we get a run of wins together we are right back into the playoff picture. Kreis knows my skills as a midfielder. I'm not a pure #10 but I can help the team both with or without the ball." [@SiriusXMFC]
His future coach, Jason Kreis, gave a timetable for his debut to New York and the club.
"He's going to have a two week break and then he's going to come here and train. We'll have him (Lampard) for 3… 3 1/2… maybe 4 weeks before he'll be available to join us after our summer transfer window opens."
Empire of Soccer reported that although eligible, Lampard will not play the July 12th home match against Toronto FC, and could debut on the road in New England.