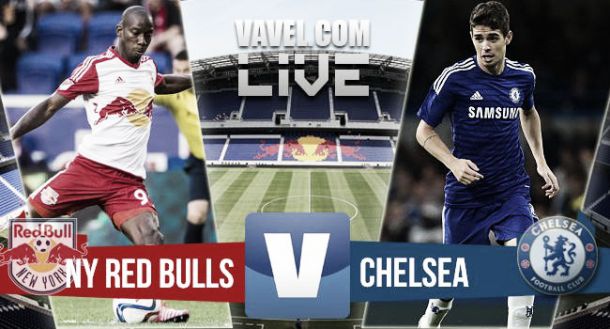 The New York Red Bulls face up against English Premier League power Chelsea FC tonight at Red Bull arena. You will can follow live NY Red Bulls - Chelsea score here. This matchup will probably see both teams' backups playing most of the match, especially since the Red Bulls played the Philadelphia Union yesterday afternoon and lost in PKs. In Chelsea's last match they beat Sydney FC in a friendly in the land down under at the beginning of June.
The Red Bulls fell in heartbreaking fashion to the Philly Union 2-1 in PKs after the Red Bulls knotted the game up in the 91st minute from Lloyd Sam. The Union went down to 10 men after Connor Casey was sent off in the 40th minute for stomping on Connor Lade, and the Union still stepped it up and pulled out the victory to move onto the next round of the U.S. Open Cup. John McCarthy, the Union goalie, stood on his head all night and prevented the Red Bulls from getting the win in front of the Red Bull faithful. Even in extra time when the Red Bulls put on the pressure big time and took shot after shot on him.
This is not the only matchup that Red Bull Arena will host in the International Champions Cup. RBA also hosted PSG-ACF Fiorentina, this match and Red Bulls-FC Porto on Sunday, July 26th. This is the first time the Red Bulls have participated in the ICC and first time they have played Chelsea FC.
One storyline is, former Chelsea superstar and club legend, Didier Drogba might be headed to the MLS and has flirted with the Red Bulls after Thiery Henry left. Many Red Bulls supporters are hoping for the Red Bulls to make a big splash much like their crosstown counterparts NYCFC have, signing Andrea Pirlo and Frank Lampard recently.
Look for Jose Mourinho and Jesse Marsch to not send out their best players as this match doesn't matter for anything. A prediction is that the Red Bulls will come out on top because they will have a better roster playing than Chelsea does.