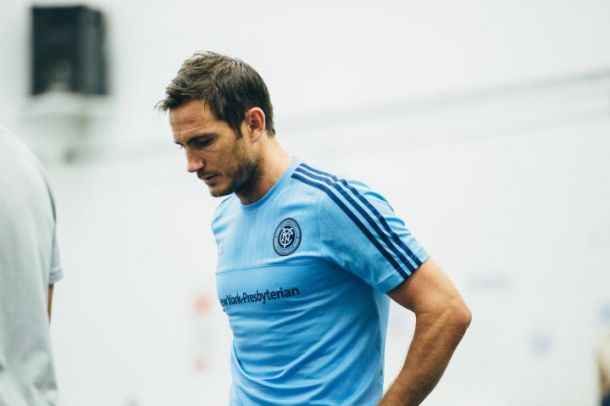 For New Your City FC supporters this was one of those magical weeks of anticipation where the fantasy of how life should unfold was still unblemished by the reality of how things actually played out. The heat wave broke with the arrival of Andrea Pirlo, the Most Interesting Man in the World, who was introduced to the press the day after his first training session with the team. Even with an interpreter who interrupted the flow, the man looked like he had just popped in after having lunch on the Piazza Navona. The only thing that would have been more suave, would be if he had quietly sipped an espresso while answering.
Images of him at training, setting up a wall of yellow metal opponents so that he could practice his free kick technique, and video of him surprising a youth soccer camp, whetted our appetite for Sunday's match. Nothing could go wrong. Sure, there was the nagging suspicion that Frank Lampard would miss yet another game, but the glow of Pirlo salved that discomfort. Sunday was setting itself up to be one of those epic New York days. Good weather and a 2:30PM start meant you could ease into your morning with coffee, maybe brunch, head to the stadium for a tailgate planned by the Supporter Groups, and be in your seat excited and content. Primed to see David Villa, Kaka, and possibly, hopefully, Lampard, and Pirlo.
But that won't happen. According to Brian Lewis of the New York Daily News and other sources, Lampard was pulled today and this writer has to wonder now if it really is just a calf strain, or something more serious, as he has been sidelined for three matches since being available to play.
He has also been dropped from the MLS All-Star Game Roster, being replaced by Dax McCarty from Red Bulls New York. This writer believes that his being replaced is actually a good thing. For him to play, and make his MLS debut in that game, without ever setting foot on an MLS pitch, except to walk out for a wave to the crowd, would have shown his selection for what it was -- a marketing ploy to gain EPL viewers and to add some gravitas to the midfield against a team he has faced before, the Spurs.
So now Sunday is shaping up to be Pirlo's debut as Lampard, if he even suits up, sits on the bench. Your's truly said in a previous column that we in New York don't suffer fools easily. Lampard's shine is starting to fade without even a poor play. The Man in Seat 9 is starting to consider trading in his Lampard shirt for one with the number 21. Time will tell.
Who saw this coming back in May?
UPDATE: From the New York Post, New York City FC manager Jason Kreis said Frank Lampard's calf strain was more serious than initially diagnosed, and will keep him out of Sunday's match against Orlando and Wednesday's MLS All-Star Game.
More serious than initially diagnosed? Oh really? Do tell...