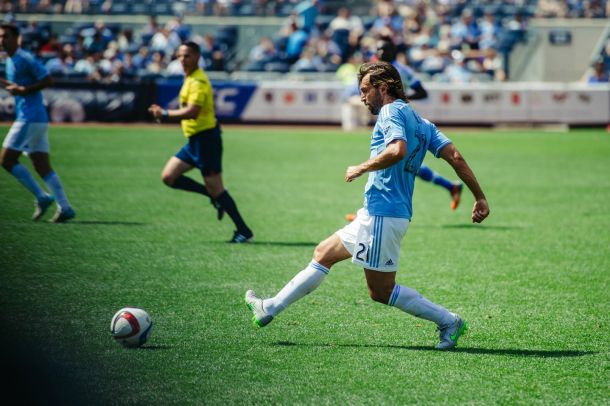 The Man in Seat 9 spent yesterday afternoon watching New York City FC vs. Montreal Impact with a couple of mates. Yours truly can say that without irony because they are both from the UK and, well, we don't really have an equivalent in the US vernacular. We have friends, as does the UK, but a mate can be a close friend, or a person that is more than an acquaintance, but less than someone whom you would address as brother. The closest we have in the US is dude and bro, which are just crass and don't quite capture the state that this humble correspondent is trying to convey.
It was their first time to an MLS match, and although it was on par with the English lower leagues and they found it enjoyable — especially since there was a fine goal from Thomas Mcnamara off of a beautiful build from David Villa that started the sequence—there was one shining example of how far we need to go in the league. And it wasn't from the quality of play. It was from the officiating. Inconsistent, haphazard, and poor.
Three pieces of evidence: Late in the first half there was a beautiful goal built by NYCFC and finished by Villa that had the crowd erupting with joy. Now, our crowd, although new, are a pretty good judge if there is an issue with a play. If a goal is in doubt, only a portion of the crowd will erupt. The others will sit tempered, knowing that the goal will not show on the board after the cheers subside. On this goal, the entire stadium erupted only to look confused and bewildered until the offside flag slowly went up, not sharply and visibly, but after the fact. It's a possibility that yours truly saw David Villa cry. Okay, maybe not, but it was a poor call.
Then in the second half Ambroise Oyongo caught McNamara in the box and a penalty kick was awarded to NYCFC. Definitely a soft penalty and not really worthy of the call. And later in the half Montreal crafted an exciting attack culminating with a Josh Saunders save. Referee Jose Carlos Rivero pointed to the penalty spot. But for what? Did Saunders come out and hit late? Was there a hit? Did someone pull a jersey? The fans, as well as myself and my two colleagues, were left scratching their heads as he pointed to the penalty spot and gave Montreal the winning goal. It wasn't until later, watching replays that you can see Saunders slightly touch Ignacio Piatti but not to the point of impending play. Another soft call.
And here is where the Man in Seat 9 gets to rant because yours truly owns the column. TMS9 is fine with losing. He is fine with poor play. But what the Man in Seat 9 is not fine with and what he tends to see more of than he wishes is poor officiating. It's a tough job. TMS9 played the sport long enough and at a high enough level to respect the difficulty. But this is a top league. And this writer has to ask, why is the officiating so inconsistent? Why are so many matches decided by the officiating? Why is TMS9 beginning to know the names of the refs as well as those of the opposing players. Why does he know that some refs will be sloppy and others will be on point? That should not be. NYCFC deserved to lose today. Andrea Pirlo is not a magic lamp that you can rub to get wins. You still need to play the game and not just drop the ball to him and then stop play. But the Man in Seat 9 can't honestly say that Montreal beat NYCFC today. What he can honestly say is that the win was decided by Mr. Rivero.
When you notice the officiating, consistently, something is wrong.
Oh, and Frank Lampart made his debut today. That means we have six more weeks of summer.
The Man in Seat 9
P.S. My mates agree…