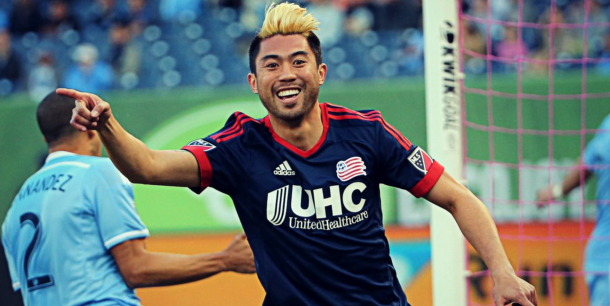 In a match that mirrored their entire season, New York City FC fell in their regular season finale to the playoff bound New England Revolution. With the 3-1 victory in New York, the Revolution have booked their ticket to the MLS Cup Playoffs.
The bad defending started early for City, when defensive miscues in the second minute allowed Lee Nyugen to give the visitors the early lead. Despite some bright moments in the match, New England overpowered the defensively changed New York backline.
New York's best chance in the first half came off a Chris Wingert header from point blank range in the six-yard box, but Bobby Shuttleworth was up to the task and made the save. Less than a minute later, Charlie Davies made it 2-0 New England off optional defending from the hosts.
New England made it 3-0 in the 55th minute when Kelyn Rowe beat Tommy McNamara to the near post, and headed home a Chris Tierney corner.
David Villa gave the home crowd a consolation goal to cheer for in stoppage time, but it was not enough for the Spaniard to break out a smile. After the match, Villa apologized to the NYCFC faithful over the PA system.
"We ask forgiveness for a poor first season. But we promise to have a much better season next year in Yankee Stadium."
Lampard was next to echo Villa's statement, reassuring the club will come back stronger next season.
"We're disappointed that we didn't bring success this year, but the big success this year has been you, the fans. I promise next year, we'll be much better and stronger and we will bring success to this city."
Despite the dominant performance at Yankee Stadium, there is no time to celebrate for the Revolution.
"No celebration. It's almost like tonight was the first round of the playoffs and now we've got to move on to the next one," Revs manager Jay Heaps said.
While New York City has decisions to ponder over the next few weeks, including the future of manager Jason Kreis, New England advances to take on DC United in Washington on Wednesday night in the first round of the playoffs.
Unlike Toronto FC and the Montreal Impact, who face off Thursday, the Revs and United face off Wednesday night. Revs striker Charlie Davies believes there isn't a major difference at all.
"It's a quick turnaround, but we're used to it. We're ready to play. We know what's on the line."
New England's opponents, DC United, are coming off a 5-0 thrashing Sunday evening at the hands of the Columbus Crew at MAPFRE Stadium.