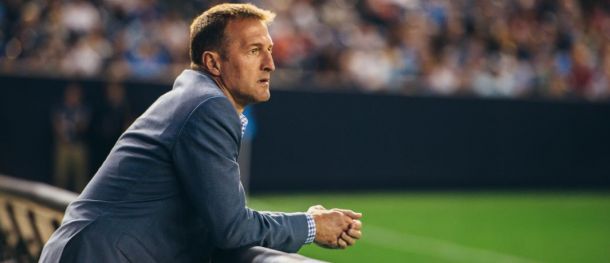 Jason Kreis and New York City FC have parted ways. That sounds pleasant, doesn't it? A mutually agreed upon decision that things are just not working out and that the two should just go their separate ways. It's not you, it's me. Honest.
That's how NYCFC would like to spin today's events. In truth, Jason Kreis has been summarily fired by the Board. The NYCFC press release leads with the headline: "Jason Kreis leaves post as New York City FC Head Coach." That statement is extremely telling.
Jason Kreis did not leave his post. He did not walk away, addled, looking for Chicago. City Football Group fired Mr. Kreis. There is a big difference.
Does the Man in Seat 9 think that Jason Kreis should be fired? Maybe. Possibly. No. Admittedly, his performance has been mediocre at best. But, and this is a big but, he has had to deal with everything that an inaugural season can throw at a coach, and it is this writer's opinion that the first season is a gimme. As fans, we didn't expect much. Just keep us entertained. Just keep us coming to the games. Just hold it together until the team jelled. That's all we asked. And he did.
We knew going in it would be tough. We knew that it would be a slog. We knew that there would be things that would help our cause and things that wouldn't. Frank Lampard being held by the parent club until mid-season didn't help. A pitch that is worse than those played on in lower leagues didn't help. A bench that had NO depth in defense except for "if you're healthy, you play" didn't help. And a bad stretch of luck before two of the three marquee players arrived didn't help.
Jason Kreis's dismissal does not have the feel of a much thought out termination by colleagues embroiled in a common struggle. It does have the feel of an extremely cold decision by a corporate enterprise far removed from the field. This is an important point given the sensitivity around the feeling that New York City FC is nothing more than a colony in the City Football Group's nascent empire. This decision was made, unfairly, much earlier in the season.
The press release contained the reason for Mr. Kreis's dismissal: "Prior to the start of the season, it was agreed with the coaching team that the securing of a playoff place was an appropriate target for this year. A win rate of less than one in three games and a points tally which was the second lowest in the league is clearly not in line with the targets that were agreed."
The Man in Seat 9 has issues with the above statement. It's not necessary. If you're going to fire someone, fire them and state that you have done so in the release. You don't need justification. You're the boss. The United States is an at-will employment environment. You can fire Mr. Kreis if you don't like his hair. You can fire him because you only got a point in the Manchester Derby and you're pissed. You can fire him because you want to woo Jose Mourinho away from Chelsea. But by disclosing so much, from a club who has hidden from the press the entire season, well, "the lady doth protest too much, methinks".
Let's start with "securing a playoff place." A good goal. An honorable goal. In my line of work, we would call this a "stretch" goal. It is the exception that expansion teams in Major League Soccer make the post-season. To fire the manager because the team missed this mark? A bit harsh.
"A win rate of less than one in three games." This one is a reach as the team wasn't fully realized until July. So, we won't give you any defense, we'll hold one of your DP's because Manchester City is more important, and then at the end of the year, we will fire you because, even though you didn't have the proper tools, you didn't make the playoffs. Again, a bit harsh, but onwards.
And finally, "...a points tally which was the second lowest in the league is clearly not in line with the targets that were agreed." Isn't this just a rewording of the previous point? Because a win rate of less than one game in three will probably earn you a pretty low points tally.
The single reason for the dismissal of Mr. Kreis was the failure to make the post-season. For his bosses, and in an inaugural season, he did not win the prestige, validation, and the money shared by those who participate in the MLS Cup Playoffs. He did not live up to agreements made in the pre-season when he thought he would be starting with a full roster. The statement says nothing about lagging attendance, failing to implement a team ethos, or failure in building a club. Because those key things were taken care of. Instead, it focuses on the quick return on investment and not the long term plan. Ironic since Manchester City, co-founders of the Premier League in 1992, finished ninth in its first season and struggled for four more seasons before being relegated. Not quite the auspicious start.
The real metric should be the fans. Have they yet turned on Kreis? Not really. Some have expressed disappointment. Some have expressed frustration. Most have expressed that next year should be the deciding season. They filled the seats the entire season. Game after game. Even as they watched the post-season slip away. Kreis and the team took them to the final match. Kreis and the team found a spark of heart and displayed it on the pitch and gave fans hope until the very end.
Jason Kreis is a sacrificial lamb. "Look, we're making changes!", "Hey, we hear you!", is how the organization will play it, but that's not the truth is it? The truth is that there are people that the head office in Manchester would rather see in that position other than Jason Kreis. And now they have their chance to make that change.
We knew it would come, eventually. We only hoped that they would have given him a fair shot -- a full season with a full squad and no distractions.
You aimed for the stars and took your shot, Mr. Kreis. Sorry for you that it didn't end differently.