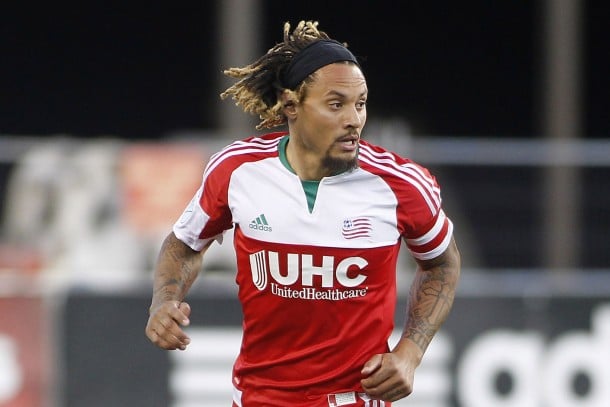 It's time to wish New England Revolution and U.S. Men's National Team midfielder Jermaine Jones goodbye, at least from his playing days at New England. The Revolution announced that the club would not re-sign Jones at this time, leaving him out of contract. New England was incredibly fortunate to sign him in the first place a year and a half ago, but now for Revolution fans it is time to say goodbye.
Jones spent a season and a half with the Revs and found instant success. While his time with the club was short, it did provide a much-needed spark for the club last season. The incredible play of Lee Nguyen in 2014 can be traced back to the arrival of Jones. Once Jones arrived in Boston, the entire Revolution squad saw a massive influx in production and goals. Had it not been unfortunate luck to face the LA Galaxy in the 2014 MLS Cup Final, the Revolution could have won their first championship. However, the soccer gods had a different idea. The success of Jones last season made Revolution players and fans hopeful for another big year in 2015.
The 34-year old midfielder spent a majority of 2015 battling injuries and not opposing defenders for the ball. When he was on the field, Jones never showed enough spark to truly ignite the Revs like he did in 2014. New England almost missed the playoffs due to a major drop in wins and exited in the first round, after poor finishing and a red card was shown to Jones for pushing the ref. (Side note, how many folks would actually have liked to push Mark Geiger after his terrible Gold Cup performances? Just saying). It's time for New England to rebuild and think about the future, a place that should not involve the USMNT veteran.
SB Nation blog, The Bent Musket, suggests that Jones should be used as "trade-bait" during the upcoming off-season. A move that is honestly not the worst, however, re-signing just to trade him away does seem a little counter-productive, depending on who the Revs acquired from the deal. Rumors of Omar Gonzalez, Will Johnson, and Osvaldo Alonso are swimming around, but nothing has caught on just yet. Once the 2015 MLS Cup Final closes on Sunday, the entire next week will be filled with transactions. Traditionally, New England is not a major mover when it comes to off-season moves, that could be attributed to their poor front office management. Robert Kraft is one of the worst team owners in MLS, no joke or hatred, it is a proven fact. Ask any MLS follower what they think about Kraft and you will get some interesting remarks about him.
Going into next season, New England have a talented group of players to build around in their midfield. Scott Caldwell, Kelyn Rowe, Diego Fagundez and Nguyen anchor the midfield among others. Losing Jones would hurt the team right away, but there are enough talented players on the roster and in free agency that New England could easily rebuild and be a contender next season. Jones did what he was asked to do: make New England relevant again. He did that and more, now it's time for him to continue on with his career and find a new team to help grow. Revolution fans will miss Jones, but the time is now for him to move away from the club. Thank you, Jermaine, for all you did for the Revolution and best wishes moving forward with your playing career.