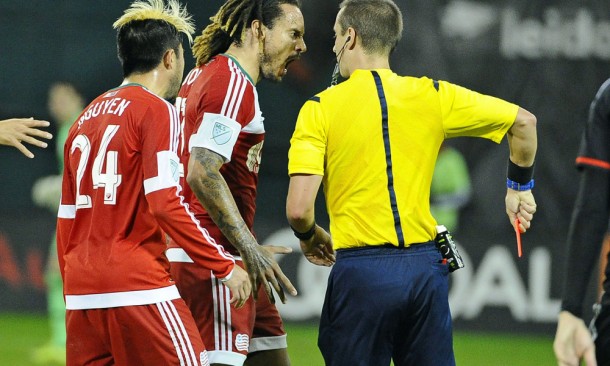 After finishing the 2014 MLS season with 55 points and second in the Eastern Conference standings, the New England Revolution felt good going into their 2015 campaign. The core players returned and Head Coach Jay Heaps was sticking around for another season. It appeared, at least on paper, that New England would make another deep run for that elusive MLS Cup title. Then the season started.
To say that New England's 2015 season was a failure is a bold statement. The Revs did not fail as a whole, but the club did not live up to expectations. It took the Revs four games before their first victory against the San Jose Earthquakes. After that point, the Revs would tip between lots of wins and draws, to losing five in a row, then win six in a row then stutter the rest of the season. Being a Revs fan in 2015 was no easy task. Thankfully, the Red, White, and Blues, were consistent enough to make it into the 2015 MLS Cup Playoffs.
While making the playoffs is always a huge boost for any team, the same old Revs should up against D.C. United and were swiftly booted out of the first knockout round by a score of 2-1. Juan Agudelo scored a breathtaking goal that resembled Taylor Twellman's goal against the Chicago Fire many years back. Unfortunately, games are not won and lost off golazos. New England failed to find consistent play from their forwards, Jermaine Jones, and the entire defense. A season that promised to give Revs fans a lot to cheer about ended sooner than most thought possible, especially to a struggling United club.
New England did accomplish several notable moments during their 2015 MLS campaign.
Re-signing Bobby Shuttleworth:
A move that was well overdue finally took place as New England announced a new deal with Shuttleworth. Revs fans know what it is like to have an incredibly talented goalkeeper after Matt Reis dominated the goal mouth for nine years. Once Shuttleworth settled into his starting role, his impact on games quickly mirrored that of Reis. While Shuttleworth still has a long way before he reaches the same level of Reis, his last two seasons are a strong indicator of where he is headed with his career.
Extending Jay Heaps Contract:
Let's be honest, until last season, Heaps really was not striking a lot of Revs fans as the next great coach of New England. Thankfully, last season proved that Heaps is capable of leading a highly talented club to great achievements. This season was also a great test of how Heaps could handle immense success then have to fight back from big losing streaks. Heaps finally has a grasp on what it takes to be a good coach in MLS, along with his core groups of players going into next season, it could be a big season for Revolution soccer.
The Revolution did a lot of great things but also left the door open on a lot of things in 2015. With the re-entry draft, waiver draft and MLS Super Draft, along with free agency in full swing, there are great opportunities for New England to bring in more quality players and provide the needed spark of offense that is missing from the club. Overall, 2015 was not horrible, but could still have turned out a much better overall result. The future of Revolution soccer is bright and with a few small tweaks, New England can be a forced to be reckoned with in 2016.