To say that the 2015 season didn't go well for the Houston Dynamo is a bit of an understatement. A franchise that has built its reputation up as a constant contender as Major League Soccer's best saw the team miss out on the playoffs for the second year in a row. While fans have been forgiving of the team after they went through a massive change last year, it's time for all those changes to start paying off.
After inheriting a mediocre roster from current San Jose Earthquakes coach Dominic Kinnear, Coyle set about to rebuilding the team from the ground up and that is nowhere more obvious than this off season. All said the team made 21 changes to the roster (with 2 more potentially on the horizon), bringing much needed speed and experience to a squad lacking both. The highlight of the rebuild comes in defense, where the Dynamo were the worst in the Western Conference.
Part of the leaky back line came from a lack of options. Spaniard Raul Rodriguez lead the defense and did an admirable job doing so. David Horst was one of MLS' best defenders for value. However, both had dips in form throughout the long campaign but Coyle had little choice in replacing them with anyone, or changing things up to better match up against a specific team. The starting right back, Kofi Sarkodie, saw his form go completely off the map, leading the club into a trade for Sheanon Williams. Now with a full pre-season with the team, expect the team to get far more from Williams this year. The last mainstay is the re-retired USMNT legend DaMarcus Beasley. Though he was an expensive left back he certainly was one of the league's best. Granted MLS isn't known for having too many good players in that position, but that doesn't take away from the good work he put in. The question for him is if he still has the speed needed to play his position for one more year. If he starts losing a step, or injuries (or national team duty) keep him off the field.
The Replacements
​To give Coyle more options in the middle, the Dynamo brought in Academy products Sebastien Ibeagha and Bradley Bourgeois, as well as Spanish defender Agus. Bourgeois is likely to split his time between here and Rio Grande Valley Toros as he continues to develop. Ibeagha and Agus, though, are going to be looking to get starting minutes from the incumbents which will only be a great thing. Keeping the pool sharp is something that has been all too rare these past couple of years. Players have had rough stretches of form yet still remained on the field due to lack of options. With this squad, though, that won't be the case. Should anyone's form become an issue, or they pick up an injury (or suspension), there will be someone capable of slotting into the center back spot without much in drop of quality.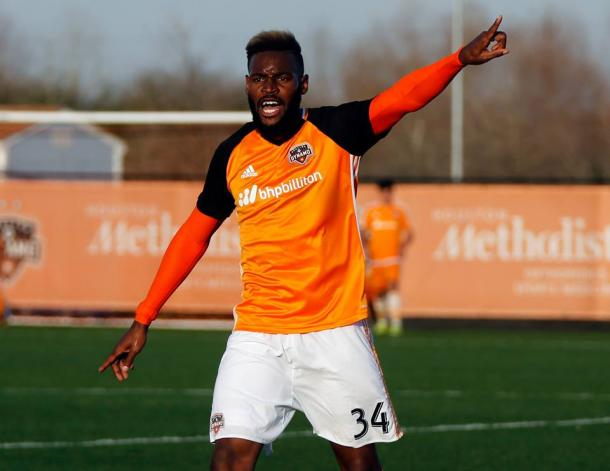 Jalil Anibaba and Abdoulie Mansally were also brought in to help out the defense. Neither are likely to start but both are fully capable of filling in. The former will provide cover for Williams while the latter is there should Beasley be unavailable.
In goal things aren't too different as Tyler Deric looks to prove he isn't a one-season wonder after a fantastic full season in net. Backing him up is the ever capable Joe Willis. Between the two, the Dynamo have one of the best one-two combos in goal. There are still many pundits that think Deric has a chance of being really special for the Dynamo and will be keeping a close eye on his development. To round out the corps, Coyle brought in former Pittsburgh Riverhounds net minder Calle Brown.
While all of these changes don't make the Dynamo's defense automatically one of the league's stingiest, it should put them well above the cut-off line for a playoff appearance. However, as anyone who follows the game will tell you, having a great defense means nothing if the players in the middle of the field can't control the ball well enough to link the bookends of the field. That was truly the team's weakness in 2015. They sported one of the least effective, flat out worst, midfields in the league. If there is any hope for the team, the coaching staff will have to sit down and rethink their tactical approach. The pieces are there to be a quality team, but the right approach must be used.
Rethinking The Midfield
​To say that Ricardo Clark was the beating heart and soul of this team last year does a massive disservice to his contributions. Without a natural playmaker in midfield, Clark took it upon himself to lead the creative charge for the team, slamming home eight goals and one assist. On top of his offensive output, Clark was also responsible for being the defensive midfielder. He had to constantly balance when to push forward and when to hang back. It wasn't easy as the team constantly gave the ball away in bad positions, inviting lethal counter-attacks that he attempted to disrupt (a job he was far more successful at than not). Despite being a free agent this winter, Clark signed a new deal with the Dynamo that will likely keep him here until he retires.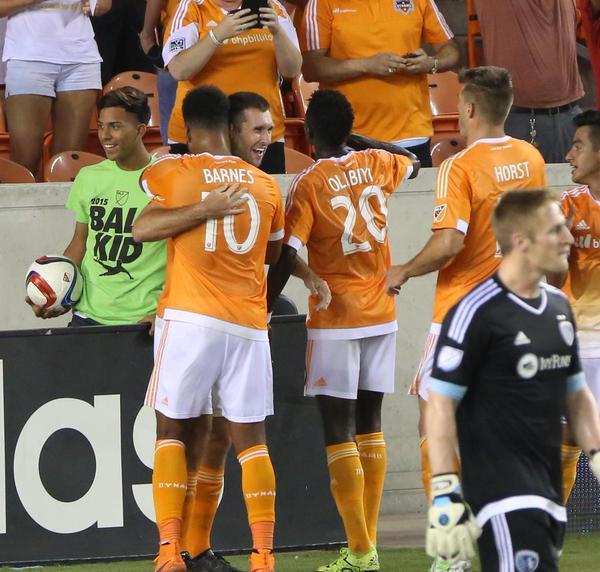 Coyle said early in the offseason that he wanted to bring speed and creativity to the team and he did that by trading for Christian Maidana and Andrew Wenger from the Philadelphia Union. In Maidana, the Dynamo finally have a true-blue #10 that they've been lacking since Stuart Holden went to Europe in 2010. Unlike Holden, Maidana won't be doing much defensive work, meaning that Clark will be spending more time back than not. Wenger will either be pushing Oscar Garcia for minutes on the right wing or possibly be the starter out left. He hasn't been able to live up to his potential at his previous two spots, but Coyle will be hoping he can find his form here. Granted those teams (the Union and Montreal Impact) weren't stellar sides, but one could argue that this team hasn't been stellar for years.
Does this mean that Coyle could be shifting from his preferred 4-5-1 to a 4-4-2? Possibly so, especially with the talent up front (which will be addressed shortly). If so this means the team could very much function as the great Dynamo teams of old. That means the wingers will need to contribute far more to the offense than they have over the past couple of years. Outside of Clark, the midfield has been more of a black hole for goal scoring than not. Brad Davis, now with Sporting KC, chipped in with ten assists but everyone hopes Maidana will be able to replicate that, and then some. But it's the inability to put the ball in the back of the net that has really hurt this team.
As Clark is a year older, the team needed another reliable defensive midfielder capable of controlling the ball in case of injuries. They brought in Spaniard David Rocha for that very purpose. In fact, if Coyle sticks true to form, it's probable that the pair will lineup together in central midfield using a pivot system. Rocha will have to perform well enough to keep Rasheed Olabiyi and Zach Steinberger, who is having a stellar preseason, on the bench.
If the wingers can't get involved in the offense, however, things could be very difficult for the team. They'll also have to work well with the full backs to provide overlaps and crosses into the box. With a better passer in the middle, the offense should run much smoother than the haphazard effort fans saw last season.
The Offense and Goals
Those who have to score the goals are still here. Young Colombian International Mauro Manotas has settled in well with the team and has been tearing up the pre-season, looking to break through to the first team. The very controversial Will Bruin is back after his contract expired at the end of last season. If Coyle sticks to his 4-5-1 formation, it's possible that Erick Torres could find minutes hard to come by, despite his hefty price tag. With Giles Barnes pushed back into midfield, it's up to this trio to find the goals. Under new ownership, one has to wonder how tolerant they'll be to see a multi-million-dollar designated player riding pine. Pressure could build on Coyle to give Torres his fair shake, especially if Bruin finds himself mired in his usual dry spells.
So what should the goals be for this franchise in 2016? Playoffs. The Dynamo have to get into the playoffs and give their fans hope. No one is pegging them to challenge for the Supporters' Shield so that won't be a worry. But finishing at least sixth in the bloodbath that is the Western Conference has to be the minimum. Anything less and the staff should be on the hot seat.
Where does that leave the Open Cup? It's been shown recently that American success can give way to league success. This team has been so-so when it comes to really competing in this competition. Too often there's been a lack of depth to push them forward. No more. There is plenty of talent on this team to win this cup and get into the playoffs. The goal should be to win. Use the Open Cup to spring board into a title challenge in 2017.
Lastly the Cannon. While it isn't the biggest rivalry match in MLS, it's important to the fans. They want to win this series. Ah, let's be honest: they just want to win a game at this point (Queue Jim Mora speech). Show some passion and the ability to defeat FC Dallas. It's been years since fans have been able to hold it over their I-45 rivals. Sure the Dynamo have actually won something, a fact that is constantly pointed out to Hoops fans, but it'd be even better to bring home the cannon and proudly display it before kickoff of every match. If the Dynamo do manage this feat, there are fans a plenty who will make the drive up there and tow it back home the next day. Just got to win first.
Predictions
​Supporters Shield - 10th
Western Conference - 6th
US Open Cup - Semi-final
Cannon - No
Golden Boot - Will Bruin
Assist Leader - Christian Maidana
Formation: 4-5-1