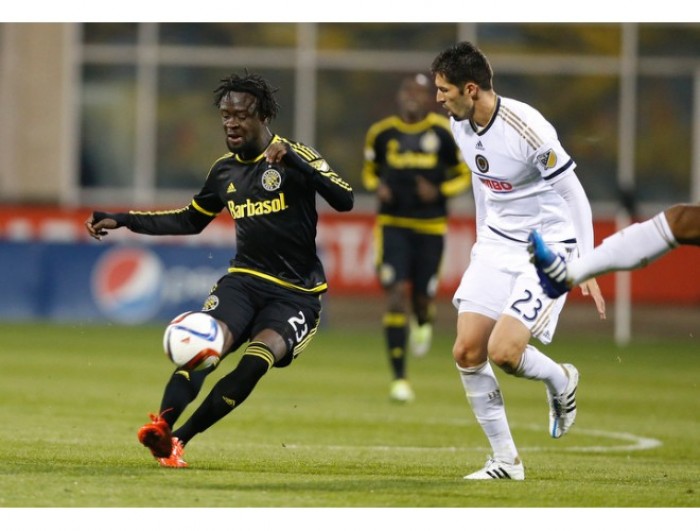 FINAL: The final whistle blows, and the Philadelphia Union defeat Columbus Crew SC by a score of 2-1. I'm Tyler Fisher, thank you for following along for tonights match.
90'; Crew SC continue to press hard looking for the equalizer. The cross to Kamara doesn't reach! Time running out for Crew SC.
Four minutes of added time to the second half.
89'; Another sequence of events in the box, almost lead to another Crew SC goal, but Blake is there for the cover up. Nearing the final whistle.
87'; Cedrick moves around defenders, and another great save by Blake! The insuing corner kick is headed away by Kamara! Crew SC pull one back, and the score is now 2-1!
86'; Union make their final sub of the match.
83'; Great save by Blake! A shot headed towards goal is punched out for a Crew SC corner.
82'; Great chance by Higuain but his shot goes wide of the net. Score still 2-0 Union.
80'; The free kick is passed to Trapp, and his shot sails high over the net into the bleachers on the stage.
79'; Free kick awarded for a handball outside of the box. Crew SC to take it.
Tonights attendance at MAPFRE Stadium is 17,015.
74'; Crew SC double substituion: Justin Meram replaces Ethan Finlay, and Mohammed Saeid replaces Waylon Francis. Union also make a substitution, and Roland Alberg comes on for Keagan Rosenberry.
72'; A quick attack by the Crew ends with a Kamara header sailing over the net. Crew need to find a way to break the defense down, and score.
71'; GOAL! Chris Pontius gives the Union a 2-0 lead!
65'; Yellow Card caution to Brian Carroll for Philadelphia Union.
61'; Union substitution: Sebastian Le Toux comes on for Fernandes.
60'; A wild deflection gives Crew SC the ball back. Kamara takes the shot but its just wide.
59'; Crew SC substitution: Cedrick Mabwati comes on for Hector Jimenez.
58'; Ball curled in by Afful, header Finlay saved by Blake.
56; YELLOW CARD: Fabinho gets booked for taking down Kamara. Free kick Crew SC
54'; Corner kick Crew SC.
46'; The second half is underway. The Union start the half with a 1-0 lead.
And that's the half here at MAPFRE Stadium. The Union go into the locker up 1-0 with 45 minutes to go.
45'; One minute of added time, and GOAL! Chris Pontius puts the Union up 1-0.
45'; Corner kick Union. The insuing corner kick cleared out of danger by Francis.
41'; SAVE BY BLAKE! A remarkable save on a point blank shot from Jimenez. The ball was going in but Blake was able to get a hand on it to push it out of bounds for a corner kick.
40'; Brian Carroll takes down Federico Higuain in the center circle. No yellow card given.
Not a good sight here at MAPFRE Stadium. Defender Harrison Afful does down, but is able to walk off under his own power.
37': Harrison Afful takes another shot on goal, and Blake parries it out wide for a corner kick.
35': Almost a goal for the opposition. C.J. Sapong takes a shot at net, but shoots it wide. Score still 0-0
30': Another corner for Crew SC. And the corner kick is just above the heads of all players in the box. But the Crew are back on the attack. The ball in to Finlay with the header, is just wide.
27'; A clean catch for Blake as Waylong Francis sends in a ball, but couldn't get enough behind it.
25': Higuain takes a shot, but the ball sails wide past the net. Goal kick Philadelphia Union.
23'; Union with a close chance but C.j. Sapong chips Clark, and places the ball in top of the net.
22': Crew SC almost with a goal but its stopped by Blake.
21': What a strike by Harrison Afful but the shot goes just wide! Goal kick Union.
18': Passes being kicked around by Sauro and Parkhurst before the ball gets kicked out for a Union throw in.
13': Foul by Crew SC. Free kick Union. The free kick is sent in, and Steve Clark is there to collect the ball. And the quick counter by the Union results in a great save by Clark!
12': Michael Parkhurst sends a ball to Kamara who deflects a header to hector Jimenez but Andre Blake is there to collect it.
9': Corner kick Crew SC. On the insuing corner, the ball is sent in and cleared out of danger.
8': Tony Tchani is fouled near the center circle. Free kick Crew SC.
4': Great attack for Crew SC after an Ethan Finlay through ball finds Kei Kamara. Kamara goes around goal keeper Andre Blake but the shot goes out of bounds for a goal kick.
1': KICKOFF! We are underway here at MAPFRE Stadium and quickly Philadelphia Union attack and pressure. Defender Gaston Sauro flicks the ball over the net for a Union corner kick.
7:37 PM EST: Columbus Crew SC will be defending the North goal. Philadelphia Union defending the South goal.
7:32 PM EST: The officials and teams take the field. The National Anthem coming up soon.
7:21 PM EST: Teams are headed back to their respective dressing rooms before walking out for kickoff.
7:09 PM EST: There has been a correction in the lineup. Hector Jimenez gets the start over Justin Meram. Thoughts being aroused by Columbus Crew SC supporters.
6:51 PM EST: Both teams take the field for warmups. Crew SC in their secondary "For Columbus" kits, while the Philadelphia Union wear their home blues.
The Philadelphia Union lineup is as follows. Blake; Rosenberry, Tribbett, Marquez, Fabinho; Carroll, Creavalle, Fernandes, Ilsinho, Pontius; C.J. Sapong
6:32 PM EST: Official lineup from Columbus Crew SC is out, and is just how head coach Gregg Berhalter lines up. Clark; Francis, Sauro, Parkhurst(c), Afful; Tchani, Trapp; Meram, Higuain, Finlay; Kamara. No back up forwards on the bench for Crew SC.
6:28 PM EST: Breaking news coiming out of the Philadelphia Union communications manager. Midfielder Vincent Nogueira will miss tonights match due to a minor ankle injury.
6:16 PM EST: Heavy clouds are rolling into the area here at MAPFRE Stadium. Expect more on the weather updates coming up soon.
6:03 PM EST: The Philadelphia Union have taken the field, and are taking their team walk on the pitch.
5:51 PM EST: Hello from MAPFRE Stadium in Columbus, Ohio! I'm Tyler Fisher and I will be providing live updates and scores of tonights match, between the Philadelphia Union and Columbus Crew SC!
Both teams are looking for three points, and their first win. While Columbus has the upper hand, look for the Union to apply as much pressure as possible. But Columbus will pull out the victory. Playing in front of the home crowd, the atmosphere will be electric. And both Berhalter and Parkhurst are "Excited to play in front of our fans."
Pro Referee Organization (PRO) have listed the officiating crew or this match, and Hilario Grajeda is the man in the middle. James Conlee and Jason White are your assistants, while Geoff Gamble is manning the fourth official spot on the touchline.
This is the projected lineup for the Philadelphia Union. They too will be lining in a 4-2-3-1. Blake; Fabinho, Conceicao, Tribett, Rosenberry; Nogueira, Carroll(c); Pontius, Llsinho, Fernandes; Sapong
This is the projected lineup for Columbus Crew SC. They will be lining up in a 4-2-3-1 formation. Clark; Francis, Sauro, Parkhurst(c), Afful; Tchani, Trapp; Meram, Higuain, Finlay; Kamara
The Union on the other hand, need to work on defense. Losing 2-0 to Dallas, its clear to see that the defense needs to tighten up and protect their net. The presence of Kamara can be intimidating, yes, but it can't phase them and they need to watch every move the attackers make. If the back four can contain the hard attack, they should be able to gain a high match rate, and earn a clean sheet. Communication between them will also work to hold off the Crew.
The keys to the game are simple for both teams. That is to win. But for Columbus, the major key to the game is to force the attack quickly. In matches, the counter attack works quite nicely. They need to execute it and catch the Union defense on their flat foot. With the duo of Finlay and Kamara, it is certain that those two will make some noise throughout the match.
Another reunion to name for this match, is former Crew player, now captain of the Union, Brian Carroll. The Union will also have to fill the vacant role left by Maurice Edu who will be out 3-4 months due to injury. Although the Union have rebranded heavily, Carroll is in the spotlight to lift Philadelphia to victory.
On the other hand, the Union are still looking for three points on the road. After the loss in Dallas, the Union have high hopes to defeat the Crew on their own field.
A little known fact, Columbus Crew SC are unbeaten in home openers in 11 years. This is also the second time in three years, that Columbus has hosted the Union in their home opener. Crew won both times.
Columbus will look to get their first win at home in front of their home crowd, with the help of newly minted designated player Kei Kamara, and midfield maestro, Federico Higuain. They also look to have help from wingers Waylon Francis and Harrison Afful; alongside playmakers Wil Trapp and Tony Tchani starting the attack from the defense.
Amongst those new faces is former Union striker, Conor Casey. Casey missed training on Wednesday, and no comment was made from head coach and sporting director, Gregg Berhalter. They also have added former Orlando City SC defense man, Corey Ashe. Alongside with Danish midfielder Emil Larsen, Rodrigo Saravia, Mashall Hollingsworth; Forward Ola Kamara, defender Amro Tarek, and goal keeper Matt Pacifi.
Columbus comes into this match on the front foot. Though, getting their first loss of the season on opening day hurts, winger Ethan Finlay recalls, "We lost to Houston the first game, on the road, and then we ended up second in the East." Strong statement by the midfielder, but he's certainly not wrong. Not only that, but Crew SC are also returning all eleven starters from the 2015 MLS Cup final, along with some new faces.
The last time these two teams met, the Crew walked away with three points, defeating the Union at PPL Park by a score of 2-1. The Union look to deflate the Crew this time around and hand them their second loss of the season.
This game is a redemption match for both teams, as they come into the match after being defeated on opening day. The Crew lost to defending MLS Cup champions Portland Timbers by a score of 2-1, on the road at Providence Park. The opposition, Union, lost to FC Dallas by a score of 2-0.
Hello, and welcome to tonights match between the Philadelphia Union, and Columbus Crew SC! My name is Tyler Fisher, and I will be providing the live updates and score of this Eastern Conference showdown for you this evening. Sit back, relax, and enjoy this match!