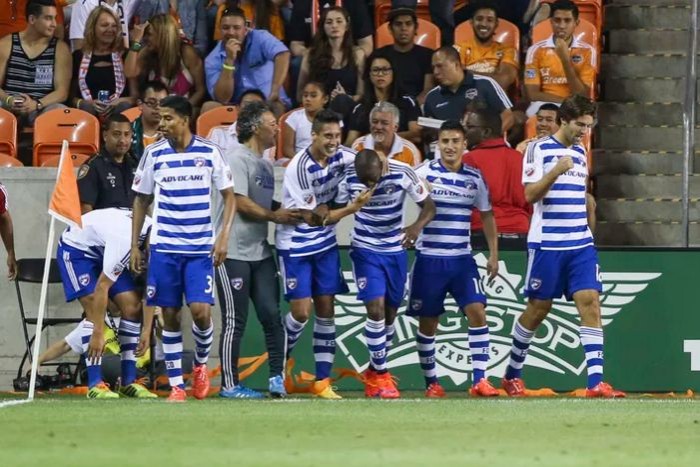 The Houston Dynamo will look to bounce back from a week one draw when they host FC Dallas on Saturday, March 12 at BBVA Compass Stadium in Houston, Texas. The game will kickoff at 8:30 P.M. ET and can be seen on either ROOT Sports Southwest (SW) or TXA 21. This will be the 25th all-time regular season meeting between the two clubs, with the Dynamo holding a slim 9-8-7 (W-L-D) all-time series lead.
This will be the first of three regular season meetings between the two clubs, and the winner of the season series will take home El Capitan, a replica 18th century mountain howitzer cannon awarded to the best MLS team in the state of Texas for the season. The two sides are tied 5-5 in the all-time series matchup, with FC Dallas winning the last three El Capitan trophies. The Dynamo are 6-3-3 against FC Dallas all-time at home, but FC Dallas has won the last two regular season meetings at BBVA Compass Stadium.
How'd Each Team Fare In Week One?
The Dynamo opened their season with a 3-3 draw against Eastern Conference club New England Revolution. After New England took a quick 1-0 lead in the 3rd minute, a goalkeeping gaffe by Revolution goalkeeper Bobby Shuttleworth helped tie the game in first half stoppage time. After both teams traded goals--Andrew Wenger for the Dynamo in the 50th minute, Charlie Davies for the Revs in the 52nd minute--it looked like the Dynamo had earned the win with a 77th minute goal by forward Giles Barnes. But just seconds before the final whistle, in the third minute of added time, New England substitute Daigo Kobayashi made a late run into the box and headed in a Diego Fagundez cross to earn the Revs a point from this thrilling Opening Day fixture.
FC Dallas, on the other hand, never needed to get out of second gear in their 2-0 victory over the Philadelphia Union. Star midfielder Fabian Castillo opened the scoring with a breakaway goal in the 22nd minute, before offseason signing Maximiliano Urruti sealed all three points with a goal in the 79th minute. Attacking midfielder Mauro Diaz assisted on both goals and finished the day with six chances created and four key passes. FC Dallas fans and coaches are hoping that Diaz stays healthy for the entire season, as he has proven to be a game changer when he's in the starting eleven. The only downside of the win was when Castillo was stretchered off in the final moments of the game. Dallas manager Oscar Pareja said that while the initial prognosis was promising, Castillo would likely be out for a couple of weeks with an adductor injury. Nonetheless, it was a dominating win for FC Dallas and another reason why many MLS pundits see them contending for both the Supporters' Shield and MLS Cup.
How Fabian Castillo's Injury Will Affect The Texas Derby
In 2015, Dallas midfielder Castillo demonstrated why he is considered one of Major League Soccer's brightest stars, finishing with nine goals and nine assists in 30 regular season games and even earning a call-up to the Colombian National Team. Of all of the teams he played against, Castillo seemed to enjoy playing the Dynamo the most. He scored two goals and assisted on three others in three regular season meetings against the club, helping FC Dallas sweep the season series and win El Capitan for the third consecutive year.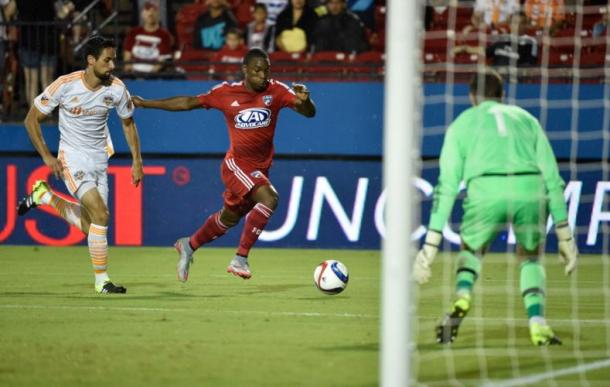 But with Castillo presumably out for this Saturday's game, Dallas manager Pareja will have to turn to his bench to find a replacement at left midfield. The two most likely candidates are either 35-year old midfielder Mauro Rosales or 24-year old Ryan Hollingshead. While both are capable replacements, neither are as fast or as explosive in the open field as Castillo. Dallas will most likely have to rely on Diaz, right midfielder Michael Barrios and Urruti to carry the scoring burden.
But cheer up, FC Dallas fans. On Thursday, March 10th, in an interview with Dallas Morning News, Castillo said he felt good and was confident that he would be back in the starting lineup in less than a week. Later that day, Pareja said that he is optimistic that Castillo will be available off the bench on Saturday. Castillo may still have a chance to torment the Dynamo back line after all.
As for Houston, they are also dealing with some injury concerns leading up to this weekend's fixture. Starting goalkeeper Tyler Deric will most likely miss Saturday's contest, while left back DaMarcus Beasley and right back Sheanon Williams are both listed as questionable. The Dynamo defense looked very vulnerable last Sunday against a potent Revolution offense, and they face an arguably better offense this weekend. Not only will the Dynamo need their first-choice back line on the field on Saturday, but their back line will also have to play well if they hope to get their first win of this 2016 MLS regular season.
Projected Formations
Houston Dynamo Projected Starting Lineup/Formation (4-2-3-1)
Joe Willis; Sheanon Williams, David Horst, Raul Rodriguez, DaMarcus Beasley; Alex, Ricardo Clark; Andrew Wenger, Cristian Maidana, Giles Barnes; Will Bruin
Notable Subs: DF Agus, DF Jalil Anibaba, DF/MF Oscar Boniek Garcia, MF David Rocha, ST Mauro Manotas, ST Erick "Cubo" Torres
FC Dallas Projected Starting Lineup/Formation (4-2-3-1)
Jesse Gonzalez; Atiba Harris, Matt Hedges, Walker Zimmerman, Maynor Figueroa; Carlos Gruezo, Kellyn Acosta; Michael Barrios, Mauro Diaz, Ryan Hollingshead; Maximiliano Urruti
Notable Subs: DF Zach Loyd, MF Victor Ulloa, MF Juan Esteban Ortiz, MF Mauro Rosales, ST Tesho Akindele
Match-Ups To Watch
FCD Central Attacking Midfielder Mauro Diaz vs. HOU Defensive Midfielders Ricardo Clark and Alex
Like Castillo, FC Dallas playmaker Mauro Diaz also seems to enjoy playing the Dynamo. He has two goals and four assists in four MLS matches against them, and after last weekend's two-assist performance, he will be full of confidence heading into this matchup. The most impressive aspect of Diaz's game is his ability to play an inch-perfect, defense-splitting pass if given the time and space to do so. He is also adept at finding tiny pockets of space between the opposing team's midfield and defense, which makes him a nightmare to defend for 90 minutes.
Dynamo defensive midfielders Alex and Clark will be tasked with limiting Diaz's freedom and time on the ball, a task that is easier said than done. Their main goal will be to disrupt Diaz's passing lanes and force Diaz to settle for the simple pass rather than the through ball. Clark is an experienced, 12-year MLS veteran who understands his role as a defensive midfielder and enforcer, so don't be surprised if he commits a couple of fouls on Diaz early in the game to try and rattle his confidence.
However, both Clark and Alex will have to be careful if they intend to foul Diaz early and often. He suffered at least four fouls in nine of the 24 games he played in last year, but didn't seem hampered by the beatings he took throughout those games. The Argentine is also a free kick specialist, and if he's fouled just outside the Dynamo box, he has the ability to get the ball over the wall and under the crossbar. That is definitely something that both Clark and Alex will have to keep in mind as they create a game plan to stop the diminutive attacking midfielder.
FCD Right Midfielder Michael Barrios vs. HOU Left Fullback DaMarcus Beasley
It was a tough first half of the 2015 season for midfielder Barrios, who was transferred to FC Dallas from Colombian club Uniautonoma F.C. in February 2015. The Colombian, along with his wife and two-year-old son, had a difficult time getting acclimated to life in the U.S. But after scoring two goals against the Oklahoma City Energy in a 4-1 U.S. Open Cup win on June 18th, 2015, Barrios grew more confident, and he scored his first MLS goal on July 4th. Barrios became a valuable contributor for FC Dallas for the rest of the season, and his blistering pace helped him finish with seven goals and two assists in 26 regular season appearances. Standing at 5'4", Barrios will almost always lose his aerial battles with defenders, but his lightning-fast speed and his array of dribbling skills more than make up for his lack of height. Barrios is aided by the fact that Diaz and Castillo are almost always double-teamed by opposing teams, giving him the freedom to challenge defenders and exploit them in one-on-one matchups.
Lining up against Barrios will be United States Men's National Team and Houston Dynamo left back DaMarcus Beasley, who is one of only two American players to have ever played in four World Cups. At 33 years old, Beasley may not have the pace to run with the Castillos or the Barrioses in this league anymore, but he is a solid one-on-one defender who can support the attack whenever he ventures forward. The Dynamo left-back had to leave the team's season opener against the Revs with a leg injury, but manager Owen Coyle is hopeful that Beasley will start on Saturday. If he does start, he will have his hands full trying to defend the shifty Barrios. He won't be helped by the midfielder playing in front of him, Houston captain Giles Barnes, who offers very little support defensively. Therefore, Beasley will most likely have to defend Barrios on his own, and if Barrios is able to combine with FC Dallas right back Atiba Harris when Harris joins in on the attack, Beasley will be powerless to stop the two-on-one attack coming down his left flank.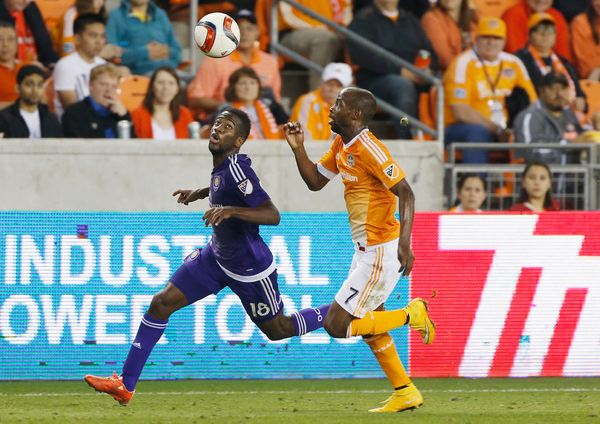 Projected Scoreline
FC Dallas manager Pareja implemented a smart game plan for FC Dallas when they traveled to BBVA Compass Stadium in 2015: score the game's first goal, soak up some pressure from the Dynamo, and then exploit the Dynamo's lack of defensive speed with waves of counterattacks. When FC Dallas won 4-1 in Houston last year, they used two quick counterattacks to spring Castillo down the right side, where he used his pace to get to the end line before crossing the ball or laying it off for a teammate to finish. Both Castillo and the aforementioned Diaz finished with a goal and two assists each to give FC Dallas a commanding road win.
This year, this writer expects Pareja to utilize the same game plan against the Dynamo, even with the potential absence of Castillo. Although Houston is a more dangerous team going forward this year compared to last, their inability to clear the ball cost them two goals last week, and they do not have the defenders capable of neutralizing FC Dallas on the counterattack. FC Dallas right midfielder Barrios should have a field day combining with Harris on the right flank and running at a hampered Beasley. Diaz should have another productive day against his interstate rivals, and he'll have either a goal or an assist. FC Dallas is blessed with having two young, disciplined defensive midfielders in Gruezo and Acosta, and their defense is well-organized and experienced.
Since the Dynamo have one of the better offensive trios in the league in Will Bruin, Chaco Maidana and Giles Barnes, they'll knick a goal and create a couple of noteworthy scoring opportunities. However, in this writer's opinion, their defense is still a work in progress and will not be able to contain an FC Dallas offense that looks to be in midseason form. FC Dallas will score the game's first goal, and will throw men forward if the opportunity for a counterattack presents itself. The Dynamo defense will eventually break, and when the final whistle sounds, the first of three games to decide the 2016 El Capitan trophy will go to FC Dallas.
Projected Final Score: Houston Dynamo 1, FC Dallas 3