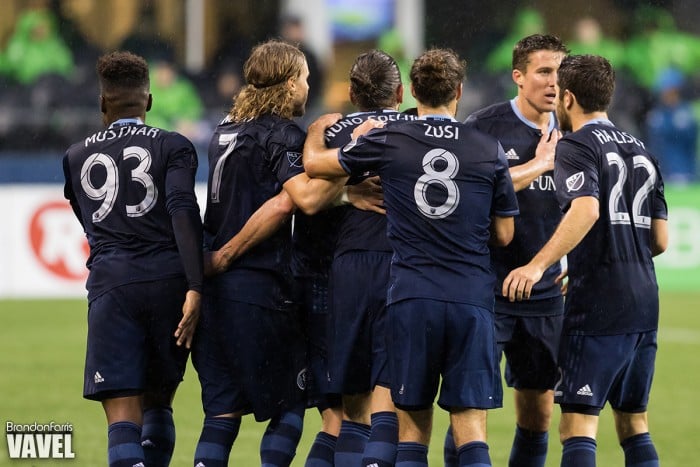 It's been a pleasure to guide you through the game tonight, I'm Mason Jones for VAVEL USA signing off.
There's the final whistle! Sporting Kansas City defeats Vancouver Whitecaps 2-1. KC wins 2 in a row to start the season and the Whitecaps are winless through 2.
90' - The 4th official has signaled there will be a minimum of 3 minutes of stoppage time. 2-1
89' - KC has a corner, but Espinoza commits a foul on the followup. 2-1
87' - Dwyer takes the freekick but blasts it over the crossbar. 2-1
86' - Abdul-Salaam is fouled just outside the box, KC will have a freekick in a good position. 2-1
85' - The pace of the game has slowed significantly here in the final minutes. Dwyer has a weak effort from outside the box saved by Ousted. 2-1
83' - Substitution for KC: Saad Abdul-Salaam is on for Chance Myers.
82' - Chance Myers is down and will need medical assistance
81' - Dwyer is judged offside, he nor the crowd is happy with the decision. 2-1
20,178 is the attendence tonight at Children's Mercy Park, that's a new record for a home opener in this stadium.
77' - Substitution for KC: Brad Davis is on for his Sporting debut, he is replacing Hallisey.
76' - Substitution for KC: Jimmy Medranda is on for Quintilla.
75' Jordi Quintilla is down near the halfway line, he will need medical attention. He slowly walks off the pitch with the trainer. 2-1
70' - The penalty is cooly dispatched by Morales into the bottom right corner as Melia dives left. That makes it 2-1.
69' - PENALTY WHITECAPS. Melia comes out to grab the ball, Rivero just tips it over his arm and is tripped up. The referee calls the penalty.
68' - Hallisey floats one across the box for Zusi, he take one touch to control and fire just over the crossbar. 2-0
66' - Substitution for Vancouver: Blas Perez is on for Matias Laba
66' - Dwyer goes for his hat trick from just inside the box, put his effort goes wide. 2-0
65' - Dia floats a ball into the box, it goes harmlessly across and out for a goalkick
63' - Zusi delivers a corner in for KC, Coelho gets on the end of it but just puts it wide. 2-0
61' - After a series of corners, KC takes one short and Zusi is judged to be offside. 2-0
60' - An overhead ball barely reaches Dom Dwyer, he flicks it up into the air over Ousted but it's cleared away for a corner. Dwyer gets on the end of the corner but it's deflected wide. 2-0
59' - The Whitecaps are battling on despite being a man down, Manneh has a shot from inside the KC box, it's easily saved by Melia
54' - KC have most of the possession in the second half so far, but that was expected after Vancouver went down a man. 2-0
52' - Zusi delivers a cross into the box but it is easily snatched out of the air by Ousted. 2-0
52' - YELLOW CARD for Jordi Quintilla (SKC)
50' - Dia is down inside the Whitecaps box and wants a foul called but the referee isn't buying it. Game continues on. 2-0
Deybi Flores and Cristian Techera are off for Vancouver
Fraser Aird and Kianz Froese are on for the Whitecaps
Vancouver have made 2 substitutions to start the 2nd half.
20:42 - We are back in action here in Kansas City!
Sporting Kansas City will again have the advantage of going to second half a man up for the 2nd straight week
HALFTIME: Sporting Kansas City 2 Vancouver Whitecaps 0
45+1' - RED CARD for Jordan Smith (VAN). A hard and violent tackle on Zusi will send the fullback to the showers early.
45' - The 4th official indicated there will be a minimum of 1 minute of stoppage time
45' - Flores slides into a hard tackle against Espinoza, the foul is called. 2-0
43' - Jordan Smith fouls Dia hard in the KC box as he chased for a overhead ball. Surprisingly no card is produced. 2-0
41' - A ball is sliced through to Myers who slides it across the box to Dwyer who finishes cooly. SPORTING KANSAS CITY Goal! 2-0
40' - Techera is fouled by Besler at about 35 yards out on the left side, freekick is delivered into the box but a foul is called. 1-0
38' - YELLOW CARD for Kendall Watson (VAN)
38' - Watson fouls Dom Dwyer at the halfway line. 1-0
36'- Freekick is taken short and results in nothing for KC. 1-0
36'- YELLOW CARD for Octavio Rivero (VAN)
35' - Quintilla is fouled hard about 40 yards out by Rivero. KC will have a freekick. 1-0
33' - Flores with an effort from a long way out, no bother for Melia in the KC goal. 1-0
32' - Zusi is fouled in the near corner, KC will have a free-kick into the box of the Whitecaps. The free-kick is delivered by Zusi but easily cleared away.
31' - Whitecaps have a free-kick it sails into the KC box and flicked on into the waiting arms of Melia
29' Hallisey with a floating cross into the Vancouver box just goes over the outstreched head of Dwyer. 1-0
28' Dia fouls Techera in the Vancouver half, Whitecaps get the game restarted quickly
26' - Flores with a weak effort outside of the KC box requires no saving from Melia
25' - Espinoza fouls Techera near the halfway line, he gets a talking to from the referee but no further action is taken. 1-0
24' - Techera is down in the center circle with an apparent injury, no medical treatment is required. KC restarts the game. 1-0
23' - Zusi is fouled and wants to take the free-kick quickly but Flores doesn't allow it. 1-0
21' - Zusi nearly has a shot from outside the box, it's deflected and nearly controled by Dwyer. 1-0
20' - A briliant ball over the top for Manneh who managed to stay onside, he tries to beat Melia but is denied! Besler was also there to cover.
19' - Zusi with a cross into the box for Dwyer is cut out by Parker for a KC corner, the corner is cleared away by Whitecaps. 1-0
15' - Whitecaps have a good passage of play in the Sporting side but it's ultimately cleared by Dia
14' - Hallisey with a weak effort from outside the box is easily saved by Ousted
13' - Chance Myers with a cross into the box, cleared away by Tim Parker
12' - Kansas City are holding most of the possession now and continue to press the Whitecaps
10' - Espinoza crosses the ball into the box towards Hallisey and his effort is well wide of the Whitecaps goal
7' - Graham Zusi is fouled at midfield, free kick to Sporting. 1-0
5' - A bad giveaway from the Whitecaps in midfield is taken advantage of by Dom Dwyer, he runs and shoots a laser from just outside the box, pinging it off the crossbar for a SPORTING KANSAS CITY GOAL! 1-0
3' - Whitecaps with a freekick from deep in their own half, sent up the field, was flicked on into the box where Sporting keeper Melia scooped up the ball
1' - It's a slow start from both sides, Whitecaps have an early throw-in
19:38 - Here we go! We have kick-off here at Children's Mercy Park
19:37 - Local rapper Tech N9ne from Lee's Summit, MO is getting the crowd pumped up for kick-off
19:36 - We're just about ready for action here at Children's Mercy Park!
19:29 - Sporting Kansas City and Vancouver Whitecaps are out on to the field for the national anthems
19:28 - Sporting Kansas City's lineup is being announced to the crowd
19:24 - Local band "The Architects" just performed during the buildup to tonight's game
19:12 - Warm-ups are wrapping up and pregame vestivites are about to begin
19:09 - If you can't make it out to Children's Mercy Park tonight, you can watch the game on 38 The Spot in Kansas City and TS2 in Canada.
Sporting Kansas City is now on the field for warm-ups, they are greeted by thunderous cheer from the crowd
18:51 - Vancouver is out onto the field for warm-ups
18:48 - Goalkeepers from both sides have come out onto the field to start warm-ups
Vancouver XI - Kansas City: David Ousted, Jordan Smith, Kendall Watson, Tim Parker, Jordan Harvey, Deybi Flores, Matias Laba, Cristian Techera, Pedro Morales, Kekuta Manneh, Octavio Rivero
Sporting KC XI - Whitecaps: Tim Melia, Amadou Dia, Matt Besler, Nuno Andre Coelho, Chance Myers, Roger Espinoza, Soni Mustivar, Jordi Quintilla, Graham Zusi, Dom Dwyer, Connor Hallisey
18:41 - Starting Lineups have been released for both teams
18:11 - Fans are starting to file into Children's Mercy Park, players should be out to start pregame warm-ups very soon
18:00 - 90 minutes until game time. Kick-off is scheduled for 7:30 CT
We're a little under 2 hours away from kick-off here at Children's Mercy Park in Kansas City, KS. It's been a rainly day in the KC Metro area for most of the day, but the weather seems to have calmed down just in time for some soccer.
The Whitecaps played well last week in the latter stages of the game last week against the Montreal Impact. With their offensive seemingly being in a good state this early in the season, the main goal for Vancouver this week will be not allowing any goals. They gave up 2 early goals last week and that was ultimately the difference with the result being 3-2. If not for those late goals they would've gotten all 3 points in the first Canadian Derby of the season.
Kansas City will hope to bring their offensive to life on tonight after a poor outing against Seattle despite the win. Dom Dwyer and Sporting's midfield showed almost no threat against the Sounders. Kansas City had a solid defensive performance in Week 1 but will have to have a stronger presence in the midfield to get a result against the Whitecaps. Dom Dwyer and Connor Hallisey will also have to bring a bigger threat to the shaky backline of Vancouver. KC will look to take advantage and score early in the game to avoid getting themselves into a big deficit as they did in last matchup between these two teams.
We can only hope that this time around, the game is a goalfest just like the last matchup. With both of these teams being playoff contenders this year as well, this will be a crucial matchup when it comes down to playoff seeds at the end of October.
Kansas City won both games against the Whitecaps last season with a 1-0 win in Vancouver and a dramatic 4-3 win at Children's Mercy Park. The Whitecaps would go up 2-0 by halftime with Kevin Ellis making it 2-1 eight minutes into the second half. In the 75th minute Pedro Morales scored to give Vancouver a 3-1 lead. Dom Dwyer scored in the 81st minute making the score 3-2 then Paulo Nagamura would score in the 86th minute and in the final minute of stoppage time to give Sporting the 4-3 win.
SKC has dominated Vancouver in their head to head matchups since they joined the league in 2o11. The Whitecaps have only managed to win once against Sporting, that was in 2014 when they won 2-0 over KC at BC Place.
With both teams knocked out by the MLS Cup Champions Portland Timbers last season in the playoffs they will both have a point to prove in the Western Conference this season. 2015 was the first year that Sporting Kansas City was in the West and it was Vancouver's 5th overall season in MLS. The Whitecaps have made the playoffs 3 out of the 5 years they have been in the league. Kansas City has made the playoffs every year since they rebranded from the "Wizards" to "Sporting Kansas City".
Kansas City won the US Open Cup last season against Philadelphia Union. That by far is not the talking point of 2015 for Sporting, the most memorable moment was Saad Abdul-Salam's double post penalty miss against the Timbers in the opening round of the playoffs. No doubt that haunting moment has had an affect on the squad in the offseason and they will want to avenge that horrible moment in the opening games of this season.
Both teams had successful seasons in 2015, Vancouver made it to the playoffs and faced the eventual champions, Portland Timbers, in the Western Conference Semifinals. The first leg ended 0-0 at Providence Park but the Timbers would come back with a 2-0 win at BC Place.
Sporting Kansas City also had a tough matchup to start the season against the Seattle Sounders at CenturyLink Field last Saturday night. SKC would win 1-0 on a long strike from Nuno Coelho and a horrific mistake by Seattle goalkeeper Stefan Frei. On a rainy night in Seattle the game was otherwise uneventful besides a sending off for fill-in fullback Oniel Fisher for a horrible tackle on young Kansas City winger, Connor Hallisey.
Vancouver has had a long journey from BC Place, it was a near 2,000 mile journey for the Whitecaps. They lost a tough match against the Montreal Impact 3-2 in a Canadian Derby last Sunday afternoon. The Whitecaps were never ahead in the game, giving up 2 goals in the first half and scoring one. They gave up and scored 1 goal late in the game to end up with the 3-2 scoreline. Vancouver will look to keep a cleansheet against Sporting in the first half to stop a trend from starting early on in the season.
Hello and welcome to VAVEL USA's live coverage of Sporting Kansas City's home opener - Vancouver Whitecaps. My name is Mason Jones and I'm happy to bring you all the action from Children's Mercy Park. Kick-off is scheduled for 7:30 CT on Saturday night. Until then let me walk you through the build-up to the game.