 Jose Nestor Pekerman this week revealed that he has decided to incorporate eight players from Colombia's top flight league, Liga Aguilla. Pekerman continues to bring local based players to the national squad as Liga Aguilla keeps providing formidable talent. The eight players called up will join the national team on March 16th in preparation for the games against Bolivia and Ecuador.
The list of players include, Róbinson Zapata and William Tesillo from Copa Sudamericana champions, Independiente Santa Fe. With no surprise, the majority of the list included players from Colombian champions Atletico Nacional, including Sebastian Perez, Victor Ibarbo, Farid Diaz, and Marlos Moreno. The other players called up included Atletico Junior's Guillermo Celis and Independiente Medellin's Daniel Torres.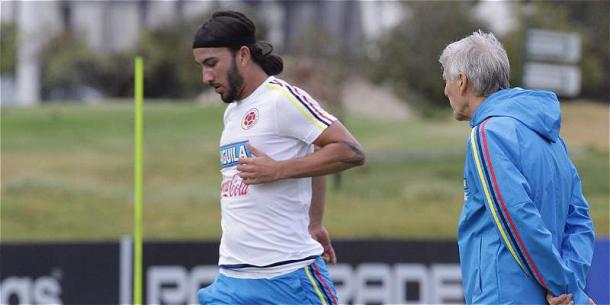 With Juan Fernando Quintero and Cristian Bonilla out of the senior squad due to their preparations for the 2016 Rio Olympics Qualifying Playoff against the United States, Pekerman was able to add new faces to the senior squad.
Returning to the national team squad for the first since the Copa America in Chile is Victor Ibarbo who has been performing well in his loan spell at Atletico Nacional. On the other side of Medellin, Daniel Torres returns to the national team after providing good performances in Colombia's recent qualifying games especially against Chile. Robinson Zapata, who will be Colombia's third choice keeper, returns to the national team for the first time in five years. Zapata was the starter before David Ospina was the first choice goalkeeper and now he rejoins him once again.
The new face that has caught the whole country by surprise is 19 year-old forward, Marlos Moreno. Moreno gave Atletico Nacional the tying goal in the Final of Liga Aguilla last season leading Nacional to win on penalties. Moreno quickly gained the respect of the Nacional supporters and he wasn't done giving them joy.
There is no surprise that Pekerman included the young talent as Moreno has been sensational both domestically and internationally in the Copa Libertadores. People have quickly compared him to Faustino Asprilla, one of Colombia's greats. What Moreno offers is similar to Asprilla's qualities: fast pace, skillful, and clinical finisher.
With Colombian players struggling to get playing time in Europe's top leagues, Peckerman has the option to get players from the domestic league playing time as these players have been in good form for their respective teams. With Juan Camilo Zuñiga and Pablo Armero's lack of form with Los Cafeteros, it's possible for Farid Diaz to start at left back. In the midfield Daniel Torres and Sebastian Perez are favorites to provide that midfield play making role.