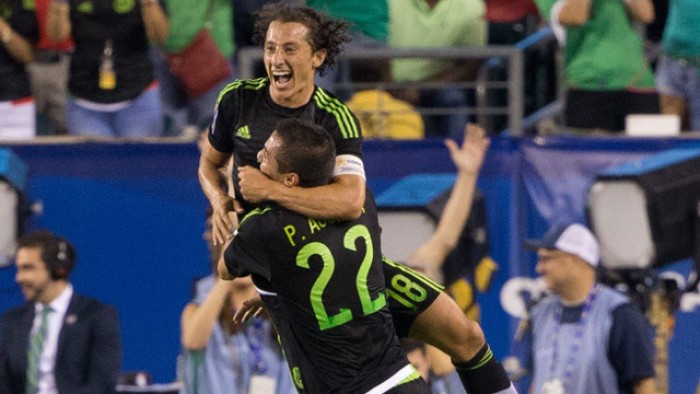 With CONCACAF World Cup Qualifying starting up again next week, Mexico and head coach Juan Carlos Osorio have released their 24 man roster that will take on Canada twice in a span of five days. The first game will be played Friday, March 25th from Vancouver, British Colombia at BC Palace. The second match will be held Tuesday, March 29th from the historic Estadio Azteca from the country capital of Mexico City.
In what will be Osorio's fourth and fifth matches at the head of El Tri, the roster sees plenty of players plying their trade in Europe and the ones who made up the base of Mexico's last two qualifying matches. At the same time, Osorio called up a group of youngsters playing well in Liga MX while also giving a chance to a few other domestic based players.
Mexico In Safe Hands
In goal, all three keepers called up play in Mexico's Liga MX with Alfredo Talavera hoping to again start a qualifying match for Mexico as he did in their last game against Honduras. While also battling for time will be Jesus Corona and Alejandro Palacios, the two keepers called up during Mexico's friendly last month. Don't be completely surprised if you see more than one keeper play both games as Osorio did just that during his first two outing as coach. Talavera started the second against Honduras, but it was Moses Munoz who started the first game against El Salvador.
The Return Of El Kaiser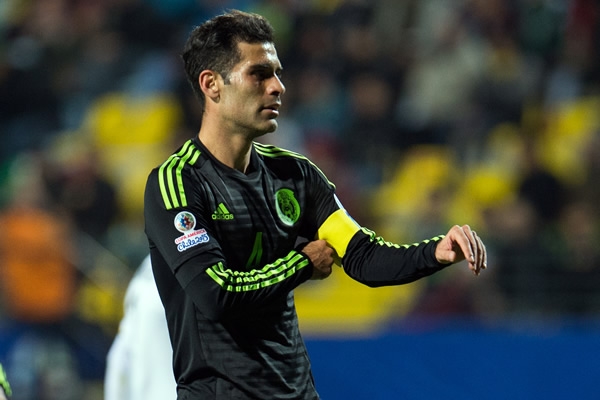 In the backline, Osorio went very unconventional and called up five center backs. Spearheading the names is Rafael Marquez who will be looking for his 130th cap for El Tri. Along with Marquez, Hector Moreno and Diego Reyes return to Mexico as does Yasser Corona and Nestor Araujo. The last two started Mexico's last game and neither looked at the level for top class international soccer. Also in the back are Miguel Layun and Paul Aguilar, who are the only two natural wide backs Osorio called.
Tantalizing Youth In The Middle
Osorio looks like he's willing to give youth a chance as five midfielders for Mexico are under the age of 25. Jesus Corona who scored a stunner against Honduras returns. As does Candido Ramirez, Hirving Lozano, and Rodolfo Pizarro, who all played a part in Mexico's friendly last month. Joining them is 19-year-old Orbelin Pineda who will hope to make his senior debut for El Tri. While the young prospects are exciting, leading the charge in the middle is Andres Guardado and Hector Herrera, who have becomes Mexico's midfield combo for the last three years. Also joining them is Marco Fabian after some positive showings in Germany, and Jesus Molina, the only true defensive midfielder on the roster.
All Eyes On Hernandez
For Mexico's main source of attack Osorio has called upon only three forwards (while Lozano can play a hybrid wing/forward) as Eduardo Herrera and Raul Jimenez look to impress. Yet the focus will be on Javier Hernandez who is only five goals away from being Mexico's all-time leading goal scorer. While five in two games might seem like a lot, Hernandez has shown over his career the ability to score in bunches and could take his name in Mexico history sooner rather than later.
Full Roster
Goalkeepers:
Alfredo Talavera (Toluca)
Jesus Corona (Cruz Azul)
Alejandro Palacios (Pumas)
Defenders:
Paul Aguilar (Club America)
Diego Reyes (Real Sociedad)
Rafael Marquez (Atlas)
Hector Moreno (PSV Eindhoven)
Yasser Corona (Queretaro)
Nestor Araujo (Santos Laguna)
Miguel Layun (Porto)
Midfielders:
Andres Guardado (PSV Eindhoven)
Hector Moreno (Porto)
Javier Aquino (Tigres)
Jesus Corona (Porto)
Jesus Molina (Santos Laguna)
Hirving Lozano (Pachuca)
Rodolfo Pizarro (Pachuca)
Marco Fabian (Frankfurt)
Isaac Brizuela (Chivas)
Orbelin Pineda (Chivas)
Candido Ramirez (Monterrey)
Forwards:
Javier Hernandez (Bayer Leverkusen)
Raul Jimenez (Benfica)
Eduardo Herrera (Pumas)