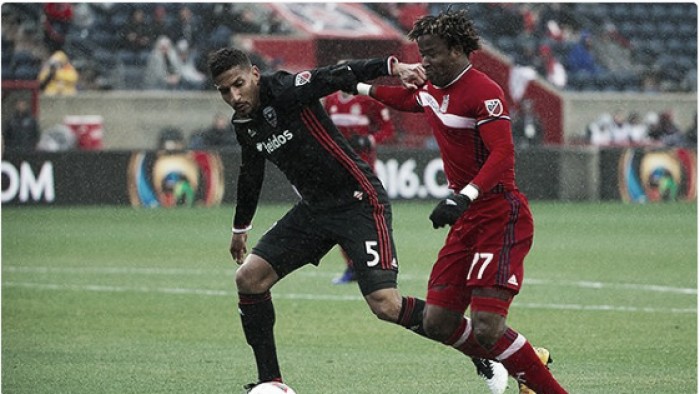 It was another game and another draw for the Chicago Fire as they earned one point from their match against D.C. United. The draw keeps Chicago at the bottom of the table as they have only won one game out of their first seven. Like the last time Chicago played, they got out to a lead in the first half only to see it slip away.
Johnathan Campbell highlights a sleepy firsthalf
It was a lackluster first twenty minutes of the game as both teams had to adjust to the rainy conditions at Toyota Park. It was even worse for the Fire as they just had just one shot, an off target strike from Nick LaBrocca, in the first twenty minutes of the game. With Matt Polster and David Accam out, Chicago lacked some stability on the wings and in the midfield. Captain Razvan Cocis was Mr. Do-It-All on Sunday as he had to slide back into a more defensive role without Polster, who was out with a leg injury. With as much possession as Chicago had, they should have created more chances.
With the game going at a snail's pace, it suddenly sprung to life thanks to Johnathan Campbell. Chicago had a set piece just outside the box and Arturo Alvarez swung in a great cross that fell straight to the foot of Campbell, who just had to make a decent connection which left United keeper Travis Worra with nothing to do but pick the ball out of the back of the net. It was a great goal off a set piece, something Chicago hasn't done a lot of this season, and it was the goal the Fire needed to send them in to the half up 1-0.
D.C. United had a great chance and could well have been given a penalty when there wasan apparent handball by Campbell following some chaos in penalty box. A cross came in that Matt Lampson reached out to grab, but he missed and the ball went straight to Patrick Nyarko near the touchline and the former Fire player swung the ball back, where it appeared to hit Campbell's hand. But, no penalty was given.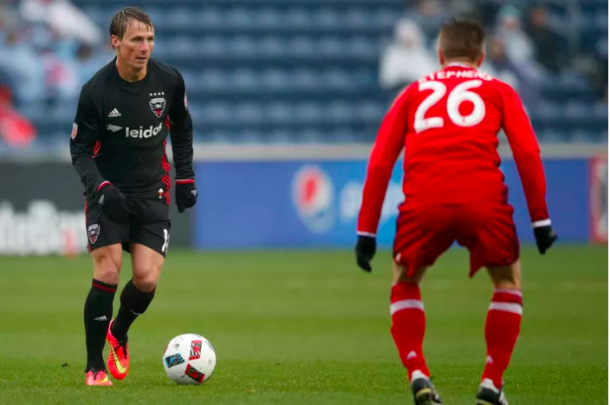 Patrick Nyarko levels the match
In the second half, Chicago was initially controlling the game and seemed destined to get all three points. United would push for some chances and Chicago would catch them on the break. However, history seemed to repeat itself as Chicago gave up an equalizer 20 minutes after the start of the second half.
United caught Chicago asleep on a corner and went short to Luciano Acosta, who got to the edge of the box and swung in a dangerous ball. It deserved to go into the back of the net and it did as Nyarko headed it past Lampson for the equalizer. It was a goal against his former club and a huge goal for his current one.
After that the air just went out of Chicago as D.C. grabbed the momentum and had five more opportunites on goal. Chicago had two prime chances in the last five minutes but Gilberto's shot went just wide and Alvarez's shot from a very tight angle hit the post but had no chance of going in.
In the end, it was a 1-1 draw and Chicago left the game feeling like they should have walked out with all three points.