Now that Mexico have their 40-man roster, the next step is to trim down the roster to the final 23 players. With a few weeks left before the final rosters are announced, we look to predict the 23 that will represent Mexico in this summer's Copa America Centenario.
Mexico in good hands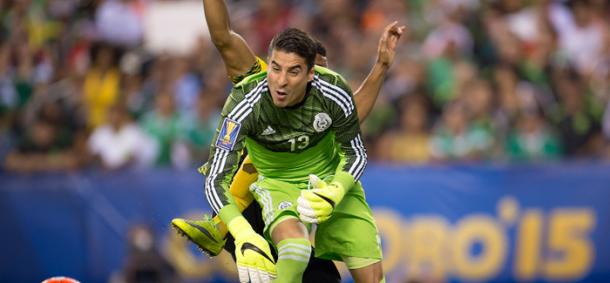 Locks: Alfredo Talavera, Guillermo Ochoa
Possible: Jesus Corona, Jonathan Orozco
Outside looking in: Alfredo Palacios
With three goalkeepers making the roster and five making the preliminary roster, two will miss the cut. Alfredo Talavera has played in goal for Mexico's two biggest games so far in Juan Carlos Osorio's Mexico with World Cup Qualifying matches at Honduras and Canada. While he hasn't cemented a starting spot for El Tri, his form for Mexico and club team Toluca puts him in a real shot to start for Mexico this summer.
It took almost two years, but Guillermo Ochoa finally got his shot to play for La Liga side Malaga. Since he made his way to Malaga's starting XI a few weeks ago, Ochoa has done more than enough to keep his starting spot in Spain. Ochoa has finally done enough to earn to call up to Mexico after some great showings for Malaga. While at this time it isn't sure if he can earn a starting spot, the feeling that Osorio was looking for a reason to call Ochoa up has finally happened and there's no reason why "Memo" won't make the final cut and even start for Mexico in the opener of the Copa America.
Talavera and Ochoa look like locks to make the final roster for the Copa America while the last spot is up for grabs. Alfredo Palacios has been called up twice by Osorio, but he didn't feature either time in those three matches he could have played.
While Palacios has yet to earn any minutes into Mexico's starting XI, it was a great showing by Jesus Corona that kept Palacios on the bench. Corona has been a Mexican regular for the better part of ten years. He helped lead Mexico to gold at the London Olympic Games and was a regular starter entering the 2014 World Cup before Ochoa won out at the end.
As Corona has had a solid career for Mexico, Jonathan Orozco has had a great season for Monterrey. A big reason for their success this year has come from the play of Orozco in goal. While he's never been able to break into the Mexican team at a consistent basis, he has done more than enough to earn a spot in Mexico's final 23.
Goalkeepers picks: Alfredo Talavera, Guillermo Ochoa, Jonathan Orozco
Moreno and Marquez lead the backline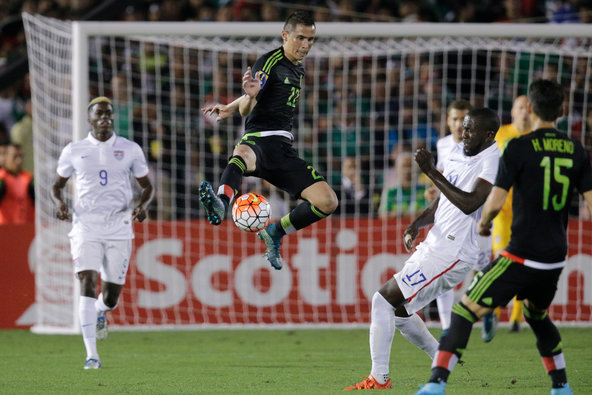 Locks: Hector Moreno, Rafael Marquez, Miguel Layun, Diego Reyes
Possible: Jorge Torres Nilo, Nestro Araujo, Israel Jimenez, Paul Aguilar
Outside looking in: Raul Lopez, Yasser Corona, Carlos Salcedo, Jose Rivas
Rafael Marquez, at the age of 37, is making the 40-man roster, Rafael Marquez is making the final 23-man roster. Simple as that. Along with him, Hector Moreno and Miguel Layun have been staples for Mexico. Diego Reyes has improved greatly over the year and is a lock to make the roster, Nestro Araujo had himself a great outing last time out for Mexico and showed to be a reliable back up and push Reyes for a starting spot. It's a good bet that Paul Agular makes the roster since Mexico, at the right back spot, has lacked depth and he's had some good to great outings for El Tri. Osorio has mentioned, and has shown, how willing he is to use Layun as a right back. If Layun does play as a right back, Jorge Torres Nilo is Mexico's best left back option. While his teammate Israel Jimenez has been consistent enough for both club and country to make the final 23-man roster.
In future call ups, both Raul Lopez and Carlos Salcedo will have a future with El Tri ,but with enough quality in front of them and not enough senior call ups under their belts, it's hard to see the Chivas duo making the final list. Instead they will be key figures in Mexico's Rio Olympic team.
Finally, Jose Rivas and Yasser Corona have both struggled this La Liga season and their call ups show the lack of depth Mexico has on the backline. As that has been stated, it wouldn't be a shocker if either of them get called since they've been called a few times by surprise already by Osorio.
Defenders picks: Miguel Layun, Jorge Torres Nilo, Rafael Marquez, Hector Moreno, Nestro Araujo, Diego Reyes, Israel Jimenez, Paul Aguilar
Guardado and the rest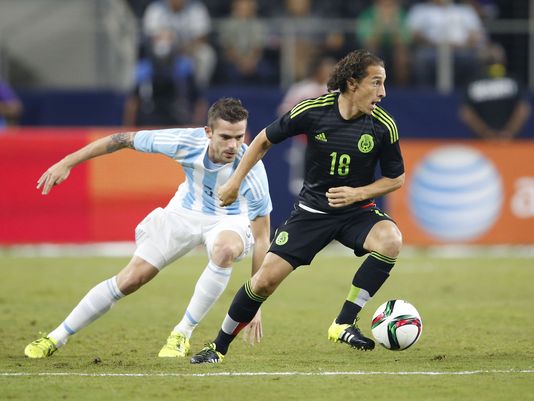 Locks: Andres Guardado, Hector Herrera
Probably: Jonathan Dos Santos, Marco Fabian, Jürgen Damm, Javier Aquino, Rodolfo Pizarro
Outside looking in: Candido Ramirez, Jesus Duenas, Elias Hernandez, Carlos Pena, Jose Juan Vazquez, Jesus Molina
While J.C. Osorio likes to play it close to his chest, he's shown in his short time as Mexican coach that he likes the 4-3-3 formation. With that in mind, the choices made here are with the idea that Mexico will play with one defensive midfielder and two other midfielders who play higher up the field. Because of that, there's two things that are locks, Andres Guardado and Hector Herrera will be the two attacking midfielders and will start for Mexico as much as possible. After that, the rest of the midfield is a bit of a question mark. Jonathan Dos Santos has had a great year for Villarreal and should be given a chance to play behind Guardado and Herrera. Jose Juan Vazquez has struggled this season at times with Leon, but always tends to step up when wearing the Mexican jersey. At the same time, Jesus Molina had a great last few fixtures for Mexico against Canada and might have played his way into a spot in the final roster. There's also the possibility of Rafael Marquez stepping up in the defensive midfielder spot. At the same time, he is probably not fit enough to play all those group games in such a short time, so the defensive midfield position is vital.
In regards to backups for Guardado and Herrera, there's a plethora of options Osorio could use. Marco Fabian, now playing in Germany, could give him the boost over other players. He does tend to drift to the left and could be a great late game boost. Youngster Rodolfo Pizarro has shown the versatility to play multiple positions and has shown a lack of fear while wearing Mexican colors. A summer playing under Herrera could be just what Pizarro could use to be a breakout star in the future.
Depending on the formation. both Jürgen Damm and Javier Aquino can play either in the midfielder or be wingers pressing higher up. Because of that, and the talent that both players have, they should be part of Mexico's summer as they have the versatility to impact Mexico in many ways. Both had great games against Honduras and showed their value as hard working players. While Aquino is better suited for a 4-4-2 formation, it won't be a shock if Osorio goes that route against a bigger team to be slightly more conservative. Damm on the other hand has the ability to play both as wing in a 4-4-2 and a pressing forward in a 4-3-3.
Carlos Pena has come along very nicely in the last few weeks for Chivas, but he's lacked that great showing for Mexico even though he's been given plenty of chances. As for Candido Ramirez, he is someone Osorio obviously thinks highly of but at this moment isn't one of Mexico's best 23 players. Jesus Duenas is a nice Liga MX player and could be a great replacement for Mexico in case an injury occurs because of his versatility, but making the 23-man roster looks tough for him.
Midfielders picks: Andres Guardado, Hector Herrera, Jonathan Dos Santos, Marco Fabian, Jürgen Damm, Rodolfo Pizarro, Javier Aquino
Chicharito leading the attack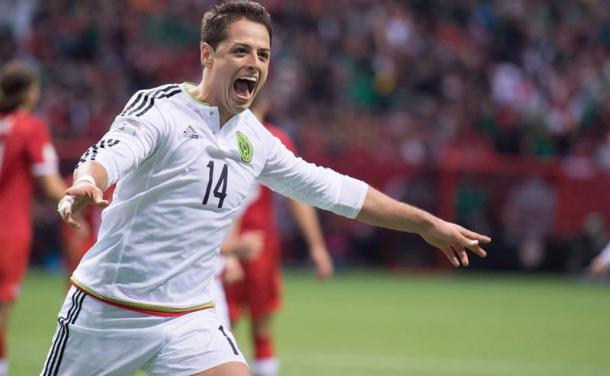 Locks: Javier Hernandez, Jesus Corona, Raul Jimenez
Possible: Carlos Vela, Hirving Lozano, Isaac Brizuela, Giovani Dos Santos, Oribe Peralta
Outside looking in: Eduardo Herrera, Orbelin Pineda
Javier Hernandez is as good of a lock as someone could be when it comes to him making the roster. Raul Jimenez has had a nice year in Portugal and offers a bit more size and athleticism up top. Jesus Corona has delivered time and time again for Mexico over the last few months and also looks like a lock. While Carlos Vela missed out on the round of qualifying matches for Mexico, it looks like he's back and on any given night he's Mexico's most talented and gifted player. In Vela's absence, the player who took the most of the situation was 20-year-old Hirving Lozano. He took his chance and ran with it in scoring a goal and having dynamic play and looks to have a good chance at making the final list.
Isaac Brizuela has come on strong in the last few outings with Chivas and will need to continue that if he hopes to make the roster. Also hoping to force their way in are Giovani Dos Santos and Oribe Peralta. Dos Santos has been sensational for the LA Galaxy recently and depending on the formation Osorio choses to go with, he might be able to find a place for Dos Santos on the roster. As for Oribe Peralta, while he has not done anything to hurt his chances and continues to play at a good level for Club America, it could be that other players have just done more to earn a chance. Of course his consistency and the fact he's been in some big moments recently for Mexico could be what earns him a spot.
With Hector Herrera and Orbelin Pineda, they both just seem too far down the pecking order to see them having a shot at making the final roster. Herrera does have a slightly higher possibility as his size gives him a different dynamic as a big body, back to goal forward that Mexico doesn't often produce. Pineda will most likely have his time to shine this summer at the Olympic Games where the depth and quality up top isn't as demanding as with the senior team.
Forwards Picks: Carlos Vela, Javier Hernandez, Jesus Corona, Raul Jimenez, Hirving Lozano
Of course with three weeks left before the final rosters are announced, injuries or a change of form could change the possibilities of what the final 23-man roster could look like but only time will tell.