Zlatan Ibrahimović, one of the most powerful and polarizing strikers in the football world, has been linked with a move to Major League Soccer. The current Paris Saint-Germain star will be out of contract this summer, and rumors have linked him with moves to Manchester United, A.C. Milan, the Chinese Super League, and many other clubs.
According to Alessandro Alciato of Sky Sports Italia, Los Angeles seems like the likely destination for the Swede.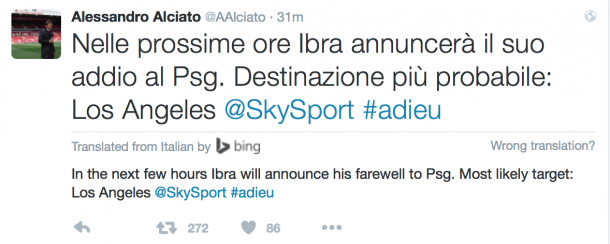 Alciato added that as of today Ibra has a 90 percent chance of heading to LA, with the other 10 percent being given to a possible Jose Mourinho reunion at Old Trafford with Manchester United.

How and Where
If a move to the LA Galaxy formalizes, how would he fit under MLS restrictions? Currently, the Galaxy have all three designated player spots filled; Giovani Dos Santos, Robbie Keane, and Steven Gerrard. The latter is planning to retire after this season, and Gerrard's departure would open up a DP spot.
Theoretically, Zlatan could sign on this summer with the Galaxy for the minimum in year one of his contract, while the contract would rise significantly into a designated player spot after this season. That is also the theory that many have used to justify the Nigel de Jong signing, with reports stating that he might be the one to take Gerrard's DP spot after this season.
One can also not rule out on MLS making up a new rule just for the arrival of Zlatan. I'm kidding, but it wouldn't surprise anyone if the league did make a new "Zlatan Rule" ....
VISA?
This is not the first time Ibra has been linked with a move to the United States. In April of 2015, reports came out of Paris that Ibrahimović was spotted at the US Embassy applying for a long term visa.
While newspapers tried to get the embassy to confirm the news, the embassy would not divulge any possible information.
"We cannot comment on individual cases," Swedish newspaper Aftonbladet cited a U.S. embassy official as stating.
LA, but not the Galaxy?
The curious part of Alciato's report linking Zlatan to LA is the fact that he does not mention the word Galaxy in his tweets. While that is common for foreign reporters to name the city (such as LA and New York) without naming the club, it does bring a bit of confusion as to where exactly he could be signing.
Could the 'LA' mentioned by Los Angeles Football Club, the new expansion club that will start play in 2018? Sure, but then it is hard to believe that Zlatan would sign with a club that doesn't begin play for 18 months. Maybe LAFC where predicting the future when they included Zlatan in their recent stadium renderings?