Mexico was able to get a 1-0 win against South American country Paraguay with a goal from Andres Guardado to end El Tri's Copa America Centenario preparation in the best possible way.
Easy first half
In a match in which both teams were able to field the majority of their players, Mexico clearly took advantage in the first 45 of the match. The first big chance came in the ninth minute when Nestor Araujo's header from a corner went wide for Mexico past Paraguayan goalkeeper Justo Villar's goal. Two minutes later, Paraguay's first big chance came from midfielder Oscar Romero when his shot went way wide of the right of Guillermo Ochoa's goal.
In the 18th minute, midfielder Derlis Gonzalez had a chance on goal to open the scoring but his attempt went wide to the right. Finally in the 31st minute, Mexico scored the opener through Andres Guardado. As the ball was played from Jesús Dueñas to Jurgen Damm on the right, the ball worked its way to Guardado in the box where he coolly tapped the ball into the back of Justo Villar's net.
Mexico would have made it 2-0 just before halftime if it wasn't for Javier Aquino's mistimed shot which ended up going wide of Justo Villar's goal.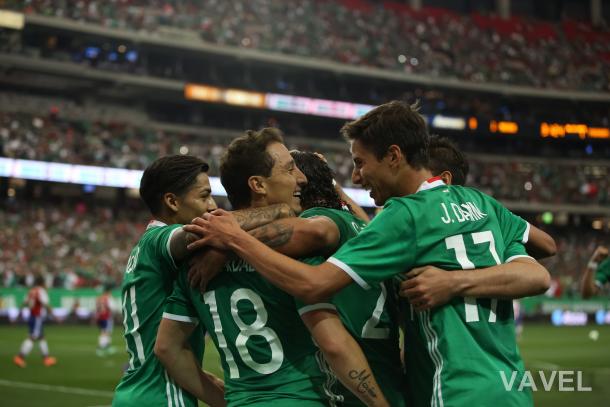 Second half for Tests
The second half saw the debuts of various players on the 23-man rosters for both nations, which was ideal for Mexico to hold on to their lead and for Paraguay to try to attack as much as they could in search of an equalizer. The first big chance came in the 48th minute when Robert Piris Da Motta's shot from outside the box was well saved by Ochoa.
Mexico, however, continued to attack as they looked for a second goal. They nearly got it from Chicharito Hernandez, but his strike was saved by substitute goalkeeper Antony Silva. In the last big attempt for an equalizer, Fabian Balbuena's header from the center of the box went wide of the right side of the Mexican goal, following a Romero cross following a corner.
n the end, Mexico was able to get the win to prepare themselves for their Copa America debut, but will have to play Chile in a final tuneup friendly in San Diego on Tuesday, before their debut in the tournament against Uruguay next Sunday in Glendale. As for Paraguay, they will have a week to prepare for their Copa America debut against Costa Rica on June 5 against Costa Rica.