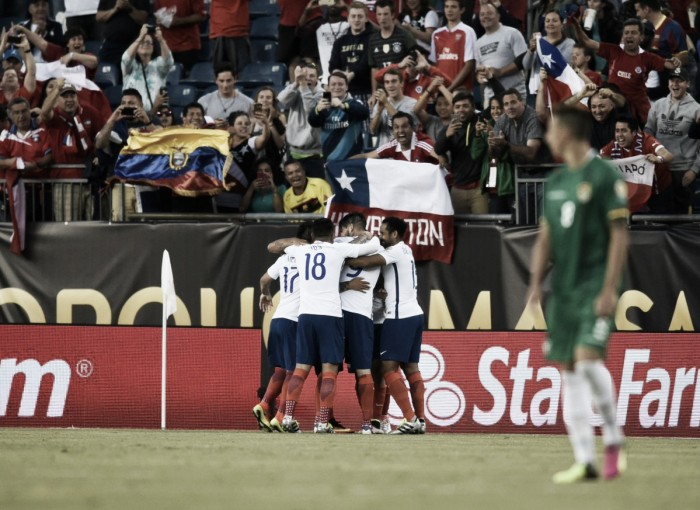 Doesn't it feel like we're watching a more likable version of Chile's National Team? La Roja defeated Bolivia by a curious 2-1 score for their second match of Copa America Centenario's group B at Gillette Stadium in Foxborough, Massachusetts. Although it wasn't the way they wanted, the Chileans got a good conclusión before the definitive game they will have against Panama.
Despite playing a match without giving their 100%, Juan Antonio Pizzi's boys did things way more than the last match against Argentina. The coach found a savior in Pedro Pablo Hernández's performance. In this writer's opinión, the man of the match.
Holding La Verde
Chile was always known as a full posession team and the game against Bolivia was no exception. Pizzi posed a team that had enough courage to endure the bolivians.
Predominantly in the second half, Bolivia woke up in a great way by putting number '10' Jhasmani Campos to the field. One of the best moves made by head coach Julio César Valdivieso was changing the sketch during the halftime.
Many people arround the world are saying that Campos's goal over Claudio Bravo could be the greatest of the tournament. And in my opinión, i agree.
'Ref' played his own match too
American referee, Jair Marrufo, made some few mistakes over the 90 minutes of the game. During the begining of the first half, the handball made by Erwin Saavedra was clearly a penalty sanction.
Things did heated up over the final minutes of the first 45 when Marrufo didn't make up for the penalty after the same player tackled up Alexis Sanchez on the goal area.
The big deal, in where many journalists agree, was when the definitive penalty for chile was made over the last minutes. Bolivians must be having one of the most unfair moments in their sports history
Chile has a lot of question marks to solve if they want to make it through Panama for the last game of the group stage. Thus, with their game, Bolivia might not be ready to stop a force like Argentina.