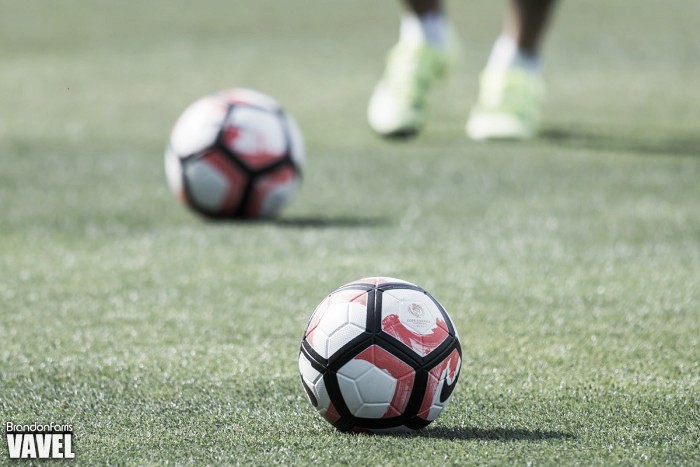 With the knockout stages of the Copa America Centenario set to kick off tonight, we asked our writers to participate in a roundtable of questions regarding the knockout rounds. Writers Vijay Vemu, Roberto Rojas, Eevry Goren, and one of our soccer editors Liam McMahon answered some questions.
1) Who will win the tournament and why?
Vijay : This is Argentina's tournament to lose and there looks to be no team that can stop them at the moment. Lionel Messi is healthy and so is the rest of their attacking players. Argentina has some world class players going forward and when they are on their game, they are almost unstoppable. The only problem I can see Argentina having is with their defense. All four defenders and goalkeeper Sergio Romero are prone to silly errors leading to goals, as we saw against Chile. But if they are able to keep their backline stable, they are the favorites.
Roberto : Argentina. For a side that has been sensationally well so far, even with or without Messi, they're my pick to win it all.
Eevry : Chile or Argentina as I think they both built slowly, but surely, in terms of their performances and are peaking just at the right moment
2) Dream matchup in the final?
Vijay : The dream matchup would be Argentina vs Chile in the final once again. It was the final during the last Copa America and it was a brilliant final at that. Argentina will be looking for revenge for their loss in the final while Chile will look to establish that they are a South American power once again. These two teams met in the first matchup of Group D, a 2-1 Argentina win. It was a fun game then and let's hope it will be a fun final if they met in the Meadowlands.
Roberto : Argentina vs Mexico
Eevry : The United States - Mexico. It would be an absolute statement for CONCACAF in a CONMEBOL tournament and an opportunity for revenge for the United States.
3) Who is your player of the group stage?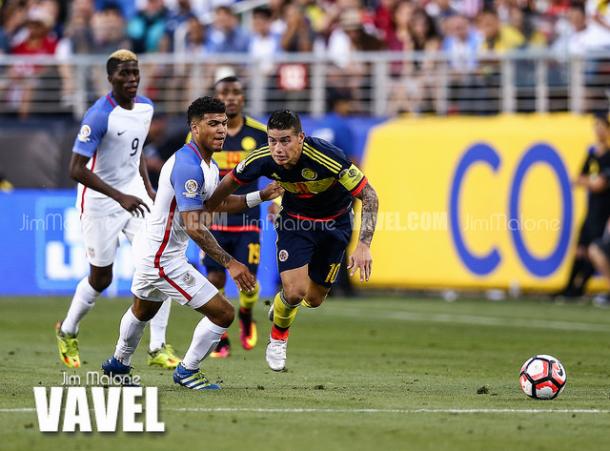 Vijay : The player of the group stage is James Rodriguez of Colombia. Although the likes of Lionel Messi and Clint Dempsey could be put in this conversation, the Colombia midfielder is absolutely key to his country when it comes to moving up in the attack. We saw against Costa Rica when he was out of the lineup and they lost 3-2 to a team that had nothing to play for. Everything goes through him and he has shown that his struggling season at Real Madrid is behind him. If Colombia wants to win the Copa America, they would have to get a big performance from James.
Roberto : James Rodriguez, for being someone who has been able to score in crucial moments and has been fundamental for Colombia's success so far
Eevry : Salomón Rondón of Venezuela. What he's done for his nation in terms of inspiring the other players being part of the defend first attitude of the team and scoring and being a general outlet and threat for them has been fantastic.
4) Which team surprised you the most in the group stage?
Vijay : Venezuela was the biggest surprise in the group stage. The team was in shambles going into the tournament. The country was in a financial crisis and the teams inconsistent play didn't help one bit. They beat Colombia in last year's Copa America but failed to capitalize on their early success. This year they beat Jamaica 1-0 in their first group stage game and then proceeded to stun Uruguay. The draw against Mexico was a great result as well. Venezuela on paper may not look like a team that can scare anyone but they have a chance. Stranger things have happened in the Copa America.
Roberto : Venezuela! Coming out of a hard group and beating Uruguay and Jamaica as well as drawing Mexico is something you have to pay massive respect to.
Eevry : Venezuela, their unity and overall level of play were a shock, I did not expect them to play as well as they did or get out of the group stage (the opposite could be said for Uruguay).
5) Which team disappointed you the most in the group stage?
Vijay : Brazil were the big losers in this tournament. Not only did the manager Dunga lose his job, but after losing in the knockouts in Copa last year, a group exit is downright embarrassing. Even without some of their quality players, Brazil is still good enough to get out of the group they were put in. Their only win was a 7-1 win against Haiti and that's not good enough to prove doubters wrong. The Brazilians have to rebuild.
Roberto : Brazil, especially for being so poor in their group and having only scored against Haiti in all 3 matches.
Eevry : Uruguay by far. They showed in 2014 World Cup qualifying that they could manage without Luis Suarez and then proved themselves wrong at the Copa America.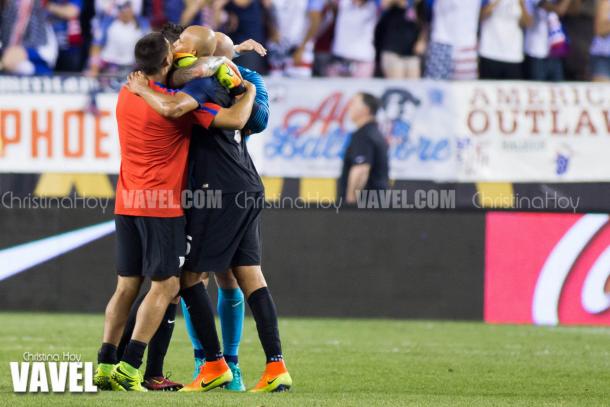 6) What does the United States need to do to advance deep into the Copa America knockouts?
Vijay : It will take the United States some amazing efforts from key players. Guys like Clint Dempsey, Michael Bradley, and John Brooks will all have to step up and overachieve. These guys are the heart and soul of the U.S. and are expected to be the leaders in their respective positions. They will also have to get some production out of guys like Gyasi Zardes and Bobby Wood, two young guys who have not produced yet. It will be hard for the U.S. to advance deep into the Copa America but if they get some key play it's possible.
Roberto : Attack and defend properly, but also don't lose any of that fighting spirit.
Eevry : Stay defensively compact, as the rounds go on they'll potentially face teams like Argentina who've got so many attacking tools, and to have even the slightest chance, they're going to need to make sure they can shut those guys down.
7) What is your take on how the fans are approaching this tournament? Are they embracing it?
Vijay : I think the fans are taking this tournament in great style. The prices for tickets are absurdly high, but the viewers are tuning into to broadcasts and the United States playing well certainly adds to that. I think Americans are embracing it.
Roberto : They're loving it and the diversity is being demonstrated at its best.
Eevry : You wouldn't think so based on some of the attendances but having seen the passion, music, and dancing in the parking lots, I think they absolutely have. For many it combines two things, any opportunity to visit the United States and plenty of great soccer to watch!
8) Favorite game of the group stage
Vijay : Best game of the tournament was Argentina-Chile. It was fast paced and quality players were on both sides of the ball. The game was close to the end and although it wasn't as good as the final, it was a pretty good game.
Roberto : Colombia 2-1 Paraguay
Eevry : Chile vs Panama, goals goals goals!