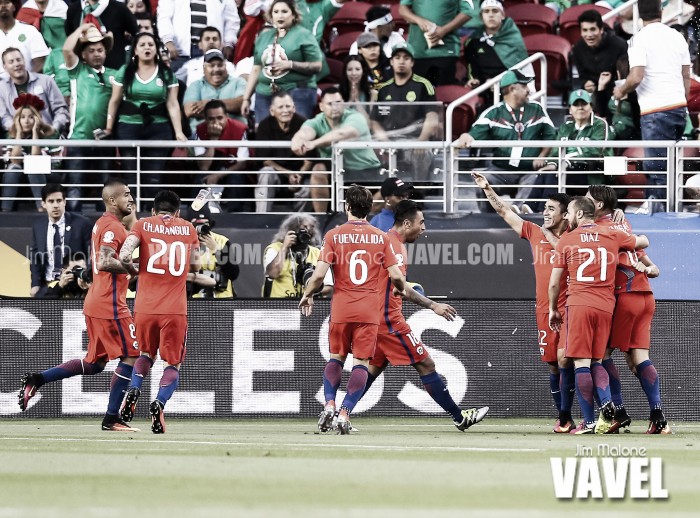 In a sport where scoring is at a premium, a blowout in soccer is remembered for years. It's remembered by many in stunned disbelief that one team beat another team so badly and made them look like amateurs. We thought we had seen the worst beating when Germany thrashed Brazil in the World Cup semifinal in 2014. The 7-1 scoreline was an absolute embarrassment for a Brazilian team that looked destined to win the trophy in their home country. But they were hit by the German machine and never recovered. That was regarded by many as one of the most embarrassing defeats in world football and is the one people still talk about today. That is, until the quarterfinal between Chile and Mexico.
Chile looking to keep up the momentum
When it was all said in done it was a beatdown for Mexico at the hands of Chile. La Roja put seven goals, yes seven, past the Mexican defense. It was astonishing considering that in the group stage, Mexico was one of the most impressive teams in that part of the tournament. They were a sneaky pick to win Copa America but they were completely outclassed by a Chilean attack. The combination of Eduardo Vargas and Alexis Sanchez tore up the backline of Mexico and helped made life horrendous for them.
In contrast to Mexico, Chile has undergone a huge change in form and it has them right back in the talk of winning the Copa America Centenario. They look like a completely different team that was beaten by Argentina in the opening game or the team that barely got by Bolivia thanks to a last minute penalty. Chile now looks like the team that won the Copa America last year and the team that made it to the round of 16 of the World Cup in 2014. It's crazy how much a team can change from game to game and that is what we have seen from Chile.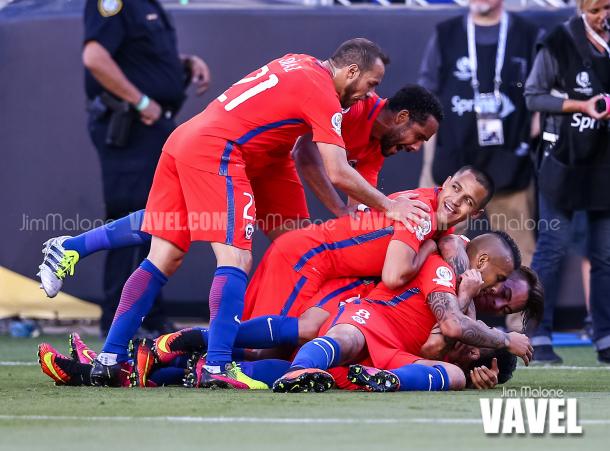 But they will be extremely shorthanded in the midfield. Midfielder and defensive stalwart Arturo Vidal will miss this match due to yellow card accumulation. His absence will leave a gigantic hole in the midfield and it will tough for Chile to replace the production that Vidal gives them. He is one of the top box to box midfielders in the world and his toughness is something that helps give the Chilean team this idenity of a tough nose team with a little bit of flair mixed in. The Chilean midfield will have to dig deep if they want to step up in his absence.
Colombia looking for redemption
It was a more nervous path to the semi-finals for Colombia than that of their semi-final opponent. They had to beat a tough Peru team 4-2 in penalties after drawing 0-0 after the 90. It was redemption for a Colombian team that has suffered some tough losses in their past two big competitions. They lost to Brazil in the quarter-finals of the World Cup and then lost to Argentina in penalties last year, also in the quarterfinals. It seems like they have gotten the monkey off their back and they are ready to step up for the challenge.
The key for Colombia will be midfielder James Rodriguez. After a tough year at Spanish club Real Madrid, many wrote off James and questioned if his outburst in the 2014 World Cup was just a fluke. He has proven the doubters wrong so far in this Copa America Centenario. Rodriguez is the motor behind Colombia and everything goes through him when they push to attack. He showed in the group stage that he can take over games offensively and his impact on the team. He missed the final group stage game against Costa Rica and watched his team lose 3-1 to a Costa Rican team that had nothing to play for. That result added to the showing that James is Colombia's most important player.
With Vidal not there in the midfield to cause him any problems, this will be an easier game than the former Monaco midfielder expected. He will have space to make plays and shoot from distance, something he is certainly capable of. If he can make a couple of plays and even score a goal, this game will swing in favor of Colombia.