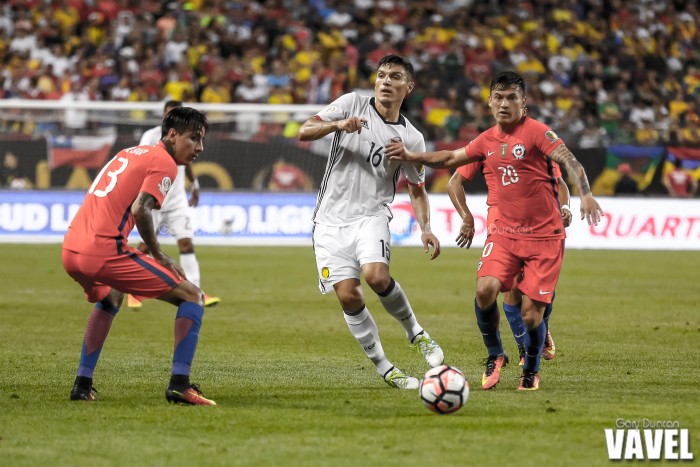 CHICAGO, Ill. – Chile is moving on to a Copa America Final rematch with Argentina following a 2-0 defeat of Colombia on Wednesday night in Chicago. La Roja scored two early first-half goals and held on to its lead after a two-and-a-half hour halftime delay.
First half
Charles Aranguiz made it 1-0 for Chile early on via a Colombian mishap in the box. Jose Pedro Fuenzalida crossed a ball in from the right wing towards Alexis Sanchez on the opposite side, but the ball was headed by Colombia's Juan Cuadrado right to the center of the six-yard box, where Aranguiz was waiting to easily slot a strike past David Ospina.
The lead doubled just four minutes later, with Alexis whipping a shot at Ospina's right post. Ospina kept the strike out and guided it to the woodwork, but the resulting ricochet bounced across the six to a wide open Fuenzalida, who plopped in the goal to make it 2-0.
Colombia got its first prime chance in the 24th minute, as Roger Martinez received a great ball and blasted it towards Claudio Bravo's right post. However, Bravo was quick to dive the way of the ball and parry the shot out of harm's way, keeping the score at 2-0 for the time being.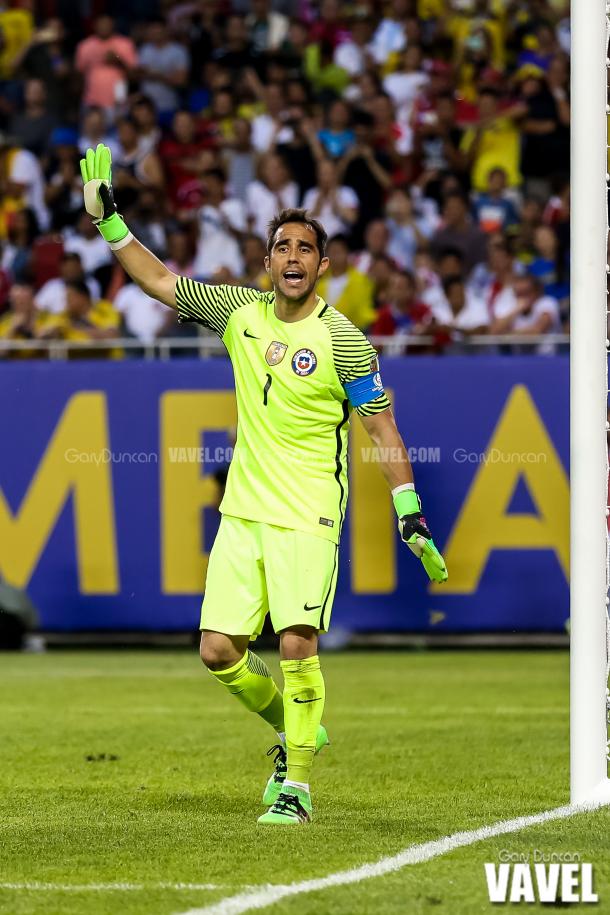 Santiago Arias had a close effort in the box in the 33rd minute, receiving a ball on the right-hand side of the eighteen-yard box and attempting to chip Bravo, who was not fooled and made the save, forcing an unfruitful corner kick.
Halftime delay
The game went into halftime at 2-0, only it was resumed with all momentum thrown away two-and-a-half hours later due to weather conditions. Fans were gathered in the concourses during the delay as the stands were evacuated with rain, lightning, thunder, and a couple of overexcited fans pouring onto the pitch.
Second half
Things only got worse for Colombia in the 56th minute, when Carlos Sanchez picked up a second yellow card and, as a result, was sent off the pitch. Left a man down, Los Cafeteros had an even tougher hill to climb, one that nearly got tougher in the 66th minute, when an Erick Pulgar header was majestically saved by a diving Ospina.
Claudio Bravo had close calls in the Chilean goal throughout the match, especially as the second half progressed. The FC Barcelona goalkeeper denied a fierce strike from outside the box by James Rodriguez in the 71st minute, nearly allowing the ball to scamper into Colombia's possession before lunging forward to stall play.
The frustration showed on both sides in the closing moments, with substituted-on Carlos Bacca and Rodriguez picking up yellow cards in the 89th and 90th minutes, respectively. A pair of pitch invaders caused a pause in stoppage time briefly, but soon, the final whistle sounded, the scoreboard still showing a 2-0 Chile victory.