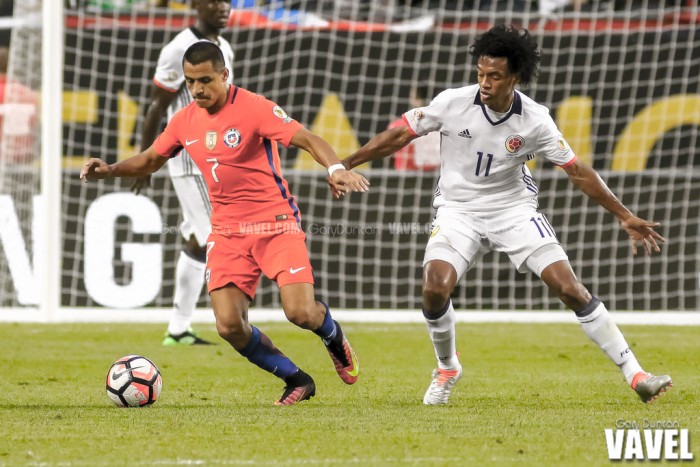 Coach Juan Antonio Pizzi and Chile couldn't have been happier following Wednesday night's 2-0 Copa America Centenario semifinal win over Colombia. Before the team left Soldier Field to move on to the MetLife Stadium final, Pizzi sat down in front of the media to reflect on the win and the state of the team.
The quotes
Initial post-match thoughts
"We are happy to have overcome a very difficult rival, to reach the finals again, to have overcome the troubles we've had from the last game to now. We're very happy to be able to reach the new finals in Copa America, which is very difficult to reach. The fact itself that you reach the finals is very comforting. In terms of the match itself, I think we got off to a good start with the typical pressure that we like to do. We used a lot of aggressiveness in fighting for the balls and a lot of anticipation. And the product of anticipating those balls is how we got the first goal by Charles and the second by Chapa.
From then on, it was predictable that a team at Colombia's level would try to fight back. In thinking about soccer, they were deft and had a few good chances. With Claudio, we had two or three instances also stopped our rivals to strike a goal. We did position a few players on specific spots on the first half where Colombia had created some danger, mostly on the right side with [Juan] Cuadrado and [Santiago] Arias. Once we controlled that, we began to have a real solid game. And then you add the red card on [Carlos] Sanchez, from then on we managed the game in a confident way. Logically, when one faces this type of rival, one is always nervous in trying to gain momentum. In terms of the general lineup, it was a very controlled game."
On his squad
"I've always tried to involve players more and more according to the level of play that they show. We had to do a real strong assessment with information we had and information we gathered in terms of what we were able to see during the past three months in each player. We did see that there were possibilities of involving some to make sure that the key players had a backups on a team that has really been involving a lot of experience and a really high level of play, and for them to continue to learn and to see how to interact with others, what the roles are, what the ethics are, and the general behavior to be able to represent their country. Without having so many games, we had to make decisions. We did take advantage of some moments of certain players at the end, in certain tournaments that we thought they were strong, and from then on we decided to create the final lineup at as high a level as we could.
We did know that we could have the variables and the alternatives as we did in this game. The final result is gladly satisfactory. We are very happy with all of the players that ended up coming. We do know that there are other players that could have come because they were able and suitable for coming. This lineup, this group of players has been involved and they have a mindset that is very similar and they have their own identity. They've been able to consolidate their own identity and they do know about the effort required to be able to win."
On how his players have evolved as a team over the tournament
"Players are able to relate to one another little by little by the objective. It's been 24 or 25 days. We have been gathering the camaraderie and the cohesiveness since we left Santiago. The camaraderie eating breakfast and lunch together, training together, sitting to have dinner together. You create a certain unity. It's a community and they all feel real confident in one another, knowing what the traits of one another are, what everyone is like, their virtues, their weaknesses."
On the status of Pedro Pablo Hernandez
"Both of us do feel that he will be ready to play. Well in regards to Pablo, he did have a problem in one of his knees. It's a slight rip, a slight tear. I don't think it's serious. It's possible in three or four days, for the next match, he may be able to play. In the same manner, it's kind of rushed and it's only been an hour. Tomorrow, I'm sure they will have the right tests to determine the extent of the damage."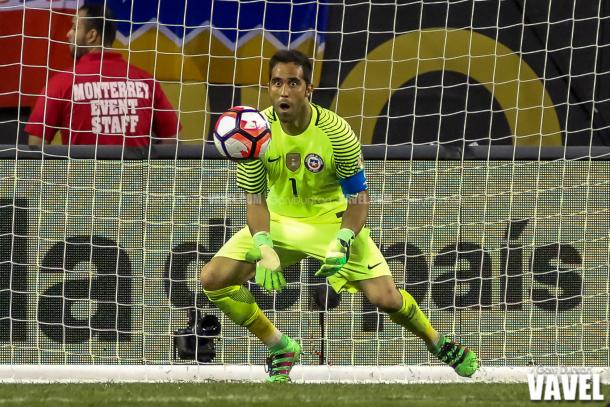 On Claudio Bravo
"Claudio is the leader of this team. We were just reflecting on all the virtues and qualities individually that he has, which translate into the collective effort. Out of all those virtues, Claudio is a leader, he's the captain. In addition to that, speaking in terms of soccer, in the game, he is a goalkeeper who has enough of a personality to bring everyone back to earth when we have difficulties. So when he plays, he has the credentials that he has, and his teammates designate him indirectly as a leader, with all the aspects that have to do with soccer and outside of soccer as well."
On the upcoming rematch with Argentina
"In terms of Argentina, the whole world knows the need they have. We do know the backing they have, the backing Argentina has in these finals. We do have a group of Chileans that maybe work around here, but we feel that what's most important is the support of the 17 million people that are in Chile suffering and supporting and sending us good vibes. We are going to use the win today and we're going to use that energy to be able to compete against one of the best teams in the world. We feel calm, we both have a good game plan, we plan ahead well, we must respect, as we always have, our rivals, and compete and try to win.
Both situations that I had to face Argentina were different from the one we're going to live now against Argentina. Mostly because these are the first finals we're playing against Argentina and the others were classified towards World Cup and a group stage match. The context is different. It doesn't make it less difficult. I think the approach will be different considering the situation that it's a different match than the one we played before."
On the halftime weather delay
"[It was] very uncomfortable. On our hand, it was three hours locked in a locker room without being able to do anything. It's very tiring, our heads think a lot of things, we see all possibilities ahead in the game. It was really very exhausting. I wish it was just 15 minutes, no more."
On the evolution of the team morale
"I do emphasize and repeat: please don't be mad at me if I repeat that all the things that we won, we deserve to win. Nobody gave us anything, nothing was free, no one facilitated anything. On the contrary, in terms of this match, what was difficult here, in terms of the game, was that there were huge.
We've had bad moments, we haven't been able to find the variables that we'd been showing in some matches before and some which we ourselves hadn't really noticed. Things changed, specifically in that match against Panama and then against Mexico, and now against Colombia. The team creates their self-confidence and that self-confidence allows them to perform at a very high level. When these players perform at this level, they're very competitive and it's very difficult to face them. And they generally win. I don't know if the word 'reinventing' is the most accurate thing. We've learned and with some stumbles, we've tried not to lose our identity."